BioLineRx's (BLRX) engages in identifying, in-licensing and developing therapeutic candidates. Its lead clinical therapeutic candidate under development is BL-1020, which is in Phase II/III clinical trials to improve cognitive function in schizophrenia patients. BL-1020 is an orally available, first in class GABA enhanced antipsychotic that combines dopamine antagonism with GABAergic activity.
BL-1020 is being tested against Johnson & Johnson's (JNJ) schizophrenia drug Risperdal, which generated worldwide sales of $24.2 billion from 2003 to 2010, reaching $4.5 billion in 2007.
Risperdal is the trade name for risperidone, an antipsychotic drug which is mainly used to treat schizophrenia but also used for other conditions. Due to its strong serotonin, dopaminergic, and adrenergic antagonism, risperidone was approved by the FDA in 1993 for the treatment of schizophrenia. In 2007, risperidone was approved as the only drug agent available for the treatment of this disease in youths, ages 13-17. It was also approved that same day in the treatment of bipolar disorder for people ages 10-17. In 2006, the FDA approved risperidone for the treatment of irritability in children and adolescents with autism. This decision was based in part on a study of autistic people with severe problems containing violent meltdowns, aggression, and self-injury.
With all of the above indications, it is evident risperidone is an important and versatile drug.
Recently, a pair of companies announced they were on track in the early development with another candidate using risperidone. Earlier this month, Durect Corporation (NASDAQ:DRRX) announced its licensee, Zogenix (NASDAQ:ZGNX) reported positive single-dose pharmacokinetic results from the Phase I clinical trial of Relday, a once-monthly subcutaneous formulation of risperidone for the treatment of schizophrenia.
Zogenix needed this bit of good news as its pain killer drug Zohydro was shot down by an FDA Advisory Committee by a vote of 11-2 against recommending the drug to the FDA for approval, causing its stock price to plummet 42% on December 10th, 2012.
BioLine uses risperidone as the positive control for antipsychotic efficacy in its phase II/III CLARITY trial. The study is designed as a randomized, double-blind clinical trial to examine acute (6 weeks) and long-term (6 months) antipsychotic and cognitive efficacy, safety and tolerability of BL-1020. The cognition primary endpoint measure will utilize the MATRICS Cognitive Consensus Battery (MCCB), and cognitive benefit will be assessed by comparing the change from baseline in total MCCB score. These scores will compare BL-1020 to risperidone at the landmarks of six, 12 and 24 weeks.
Significant upcoming Catalyst:
BioLine will present the Phase II/III CLARITY trial results during the week of March 18, 2013. These results will tell us just how effective the drug is. Although specific data will not be released, the strength of the cognition signal will be crystal clear to the Company and its investors.
For example, if the company reports that only, say, 100 patients are needed to complete the study (meaning a total of ~335 patients in the study, since the interim analysis will be done on ~235 patients), then this means that the cognition signal is much stronger than anticipated, since Bioline originally powered the study with an assumption that it would need 450 patients to achieve statistical significance. On the other hand, if it needs another 1,000 patients, it will be clear that the signal is very weak.

So what is the big deal with another schizophrenia drug? As mentioned above, JNJ's Risperdal has raked in billions of dollars in revenue before going off of patent protection in 2010. BL-1020 has patent protection through 2033. The preliminary results for BL-1020 indicate it's as effective, if not more effective and safer than Risperdal. If the data that is expected to be released in March confirms the previous results, we can expect a massive move in the stock price.
Acadia (ACAD), recently reported positive Phase III data for its drug Pimavanserin, which is in development as a potential treatment for Parkinson's disease psychosis (PDP). Pimavanserin is specific to PDP and has the potential to be a multi-billion dollar drug if approved as evident by Acadia's stock price surging over 200% intraday on 11/27/12, hitting a high of $6.50 (over $7 in the pre-market trading session).
Pimavanserin's first Phase III study failed to meet its primary endpoint, but after re-tailoring the trial, Acadia has now seen success with the drug. While PDP is different from schizophrenia, both are defined as a form of psychosis. The market potential for both combined is massive, demonstrated in part by Risperdal's 7 year revenue of over $24B.
It's also worth noting that Acadia ended development of its own schizophrenia drug AM-831 in July of 2012. Acadia and its partner Meiji Seika Pharma Co. stated that the drug did not meet certain criteria for advanced testing - drug companies know treatment for schizophrenia is a very lucrative market.
Below, let's take a look at a balance sheet summary for BioLine.
Balance Sheet

Total Cash (mrq):

$26.38M

Total Cash Per Share (mrq):

$1.75

Total Debt (mrq):

$44.85K

Total Debt/Equity (mrq):

0.24

Current Ratio (mrq):

3.91

Book Value Per Share (mrq):

1.25
| | |
| --- | --- |
| Shares Outstanding5: | 15.06M |
| Float: | 12.33M |
Market Cap (intraday): $43.08M
I have highlighted the numbers that stick out to me above in bold. Bioline having a $43M market cap has to be the result of the company flying under the radar of speculative investors and traders. If positive results are announced in March, I have to think the stock will at least gap up over 100% because BL-120 could be worth billions if ultimately approved for sale.
Bioline having $1.75 cash per share is good, along with $26.3M in cash and a current burn rate of about $4.5M a quarter. This gives the company over a year of breathing room to operate before they might have to engage in a possible cash raise.
BL-120 is not the only drug the company has in its pipeline:
BL-1020 Schizophrenia (Currently in Phase II/III trial)

BL-1040 AMI (Currently in CE Mark Registration Trial)

BL-5010 Skin lesions (Phase I/II complete)

BL-7040 Inflammatory Bowel Disease ( Phase II)

BL-8040 Acute myeloid leukemia & other hematological cancers (Phase II ready)

BL-1021 Neuropathic Pain (Currently in Phase I trial)
BL-8020 HCV

BL-6030/1 Bacterial Infection (BIJ)

BL-7010 Celiac Disease

BL-5040 Cachexia (BIJ)

BL-7020 Psoriasis (BIJ)

BL-7060/EDP29 AMI

BL-8010/EDP30 Retinopathy

BL-8030 HCV
I find the potential of Bioline to be very enticing since the company has only a $43M market cap and over $26M in the bank. As mentioned above, I feel Bioline has been flying under the radar and offers a good opportunity at its current price level in addition to the strong catalyst coming up soon.
Sarepta (SRPT) was flying under the radar until it recently grabbed investor attention with positive data releases for Eteplirsen, which is in Phase II clinical stage for the treatment of Duchenne muscular dystrophy (DMD). In July 2012, following a 1:6 reverse split, Sarepta was trading around $3.30 a share. Currently the stock trades for over $27 as investors and traders have taken notice of the huge developing story at Sarepta. I believe Sarepta could be one of the largest percentage gainers this year in the entire stock market, and could see a stock price nearing $75 a share if the FDA grants the company early marketing approval under the newer FDA Safety & Innovation Act and/or the Breakthrough Therapy Act.
While it's not likely that Bioline will see a stock price move near the eight fold move Sarepta made, I do feel it's a good bet its price could see a very large gain if the CLARITY trial results are positive in March. Additionally, the stock should experience solid appreciation in anticipation of the these results.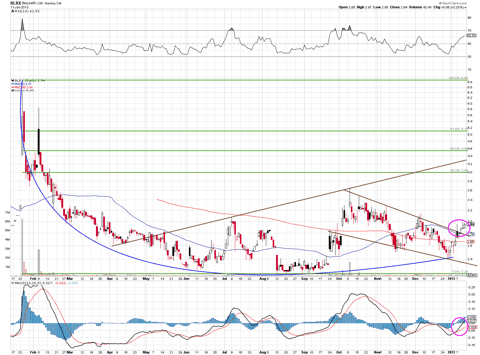 The stock has formed a longer term rounding bottom and is showing signs of reversal after breaking out of its down channel. The MACD and RSI are very bullish. First target appears to be the 38.2% retrace at $4.00.
Overall, I like Bioline for at least a nice catalyst trade, and expect the stock to be trading much higher over the next month. If the Phase II data release is positive, which it should be, I would expect a stock price over $5.
Disclosure: I am long BLRX. I wrote this article myself, and it expresses my own opinions. I am not receiving compensation for it. I have no business relationship with any company whose stock is mentioned in this article.
Additional disclosure: Disclaimer: This article is intended for informational and entertainment use only, and should not be construed as professional investment advice. They are my opinions only. Trading stocks is risky -- always be sure to know and understand your risk tolerance. You can incur substantial financial losses in any trade or investment. Always do your own due diligence before buying and selling any stock, and/or consult with a licensed financial adviser.