Introduction
I've read many articles and investors' analyses on how Pitney Bowes (PBI) is currently a great buy. Investors are thrilled with the company's low valuation, dominant market share, and high dividend yield of 12.5%. Instead of glamorizing these two attributes, investors should really be thinking, "How can the company support such a hefty dividend?". High dividends aren't always the best thing for a company to have. For example, Warren Buffett has never issued a dividend through his conglomerate, Berkshire Hathaway (NYSE:BRK.A). Instead, Buffett chose to plow back the company's earnings into the company. Why wouldn't he give any of these excellent returns directly to shareholders? He simply believed he could add more shareholder value by investing that money in other ventures. We all know how that worked out for him. In the case of Pitney Bowes, it's best to analyze where the company is getting its money from.
Understanding the Business
Pitney Bowes is a provider of mail finishing, mail creation, shipping equipment, and software to small, medium, and enterprise business. In addition, a small portion of its revenues come from management, mail and marketing services. Since 1920, the company has established a dominant, 80% market share in the postal meter industry. That may sound like a fantastic competitive advantage, but the volume of physical mail has been steadily declining over the past ten years. The company's most profitable segment, North American mailing, accounts for 67% of profits. This year, profits from that segment have decreased 4%, and they decreased 2% the year before. Although physical mail will continue to be around for many years, there's no question that much of it is shifting online. As technology develops, Pitney Bowes' business will continue to fade away. There's no doubt this is starting to hurt the company. Operating income has decreased from a high of $1.12 billion in 2006, to $414 million this year. That's a 63% decrease.
Why the Dividend Will Ruin Pitney Bowes
As I said before, Pitney Bowes has a dividend yield of 12.5%. Let's decompose how much of the company's earnings are used to pay this dividend.
| | | | | | |
| --- | --- | --- | --- | --- | --- |
| | 2007 | 2008 | 2009 | 2010 | 2011 |
| Income from Continuing Ops | $361 mil | $447 mil | $453 mil | $329 | $370 mil |
| Cost of Dividend | $289 mil | $292 mil | $317 mil | $321 mil | $318 mil |
| Payout Ratio | 80% | 65% | 70% | 98% | 86% |
Now you may be wondering why I used Income from Continuing Operations instead of net income. Well, sometimes net income is heavily boosted by one-time events. For example, this year Pitney Bowes received a $266 million tax settlement that's recorded as income. Since that income isn't produced from the business, it wouldn't make sense to include it in the calculation of the payout ratio. Notice in the chart above how high the company's payout ratio is. This in no way is a good sign for Pitney Bowes. With a payout ratio of 98% in 2010, that means the company could only plow back 2% of earnings. How can a company grow if they only leave 2% of earnings for reinvestment? In a better scenario an investor could only have to worry about growth, but with $7.15 billion in debt, investors have much more to worry about.
How the Company Pays Its Bills
To understand how the company affords these hefty expenditures, it's best to analyze its cash flow statement.
Operating Cash Flows

For fiscal 2012, the company reported $920 million in operating cash flows. In the chart above, I've highlighted net income, depreciation, and investment/asset impairment. Net income has been highlighted to once again point out that $266 million of it was from a one-time tax settlement. Without that, net income would be much lower. Secondly, both depreciation and asset impairment account for $550 million of operating cash flows. Here's why that's a problem. When a company composes its income statement, they usually take out a certain amount of earnings for a depreciation expense. That expense normally comes from the depreciation of an asset, and the company's impending purchase of a replacement down the road. Although this expense reduces income, it is not a cash outflow, and therefore is added back into the cash flow statement. Like I said before, the asset will eventually lose its value, and therefore will no longer have any positive impact on operating cash flows. Notice how depreciation has decreased from $383 million in 2007, to $272 million now. That's a 29% decrease. That eventually will no longer be around to boost Pitney Bowes' cash flows. The same goes for $278 million asset impairment, which was only a one time thing. They just aren't stable cash flows.
Investing & Financing Cash Flows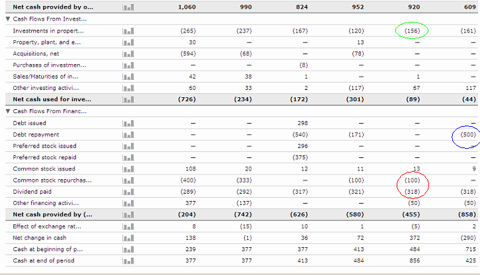 I've highlighted a couple things. In investing activities, take note how the company is still spending $156 million in property, plant, and equipment investments. Secondly, note that the company spent $416 million in share buybacks and dividend payments last year. Remember earlier when I said the company only earned $370 million in continuing operations? Those buybacks and dividends are already over the company's earnings from continuing operations. The biggest hindrance to Pitney Bowes will be their impending debt payments. Here's what their long-term debt looks like for the next five years:
| | | | | | |
| --- | --- | --- | --- | --- | --- |
| | 2013 | 2014 | 2015 | 2016 | 2017 |
| Payment | $375 million | $450 million | $400 million | $500 million | $500 million |
That's a total of $2.25 billion in just long-term debt over the next five years. The company has also just paid off $400 million they owed in long-term debt this year. This year, Pitney Bowes is already going to be $718 million in the hole after paying dividends and its debt. It is only going to get worse later on as the company's debt payments increase, and income begins decreasing. That being said, Pitney Bowes will have trouble staying cash positive in the short future. The upcoming earnings announcement could materialize this weakness even further.
Conclusion
Investors need to realize the high-level of risk that comes from investing in Pitney Bowes, before they proclaim it's a value steal. At this rate, the company could be cash flow negative very shortly. It is almost a certainty the company will have to eliminate or reduce its dividend to stay afloat. The company needs to stop fantasizing that they can pay this dividend, and instead think of alternative options to boost shareholder value. The dividend is ticking, and soon enough it will cause the company to implode.
Disclosure: I have no positions in any stocks mentioned, but may initiate a short position in PBI over the next 72 hours. I wrote this article myself, and it expresses my own opinions. I am not receiving compensation for it (other than from Seeking Alpha). I have no business relationship with any company whose stock is mentioned in this article.