The stock market closed mixed again on Monday. Apple (NASDAQ:AAPL) dropped 3.57% on reports that production of the iPhone was cut on weak demand. Sprint Nextel (NYSE:S) declined 3.89% as Sprint was downgraded by J. P. Morgan Securities and UBS to neutral. Dow Jones was the only major index closed in green with 0.14% increase. Nasdaq led the loss with 0.26%, and S&P 500 closed with 0.09% drop. DIA, QQQ and SPY still closed well above their 50-day and 200-day MAs. The technology sector led the loss with 0.40% decline, and the transportation led all sectors with 0.56% advance.
The market sentiment is driven by extreme greed now with Fear & Greed Index at 86, which had increased from the previous closing of 85. As reported by CBOE, the total put/call ratio for today was 0.81, and the index put/call ratio was 0.97. The equity put/call ratio was 0.52, and the CBOE volatility index (VIX) put/call ratio was 0.46. In the following, top stocks had been identified through our daily options scanning process, with the scanning criteria where the daily call volume ratio was above 2.00 (2x of the average call volume) with a call volume above 20,000.
| | | | |
| --- | --- | --- | --- |
| Name (Ticker) | Call Volume | Average Call Volume | Daily Volume Ratio |
| Cisco Systems, Inc. (NASDAQ:CSCO) | 92,420 | 39,334 | 2.35 |
| Arena Pharmaceuticals, Inc. (NASDAQ:ARNA) | 22,907 | 9,341 | 2.45 |
| Hewlett-Packard Company (NYSE:HPQ) | 103,773 | 28,036 | 3.70 |
Source: Schaeffer's Research
HPQ opened higher on Monday with a positive report which expects steady growth in the networking equipment market over the next few years. HPQ then surged at around 2PM with the news release that Dell (DELL), HPQ's major competitor, was in talks with private equity firms on a potential buyout. Bloomberg tweets, "several large banks have already been contacted about financing an offer." Both HPQ and DELL had been suffering from a decline in consumer interest in PCs, where PC sales were down almost 5% during holidays, according to Gartner. HPQ's investors are cheered with Dell news as HPQ could benefit while Dell is going through the transitional period. HPQ also regained the top spot from Lenovo, while PC shipments declined. According to Bloomberg's report,
"While Lenovo's sales growth of 8.2 percent from a year earlier was the fastest of the top five computer makers, Hewlett Packard's dominance in professional PCs helped it retake top spot, market researcher Gartner said in a report yesterday. Hewlett-Packard shipped 16.2 percent of PCs last quarter compared with 15.5 percent a year earlier. "
Arena Pharmaceuticals, Inc. is a clinical-stage biopharmaceutical company focused on discovering, developing and commercializing oral drugs that target G protein-coupled receptors, GPCRs. ARNA is currently waiting on European approval for its obesity drug, Belviq. Technically, ARNA is bullish while MACD (12, 26, 9) is showing a bullish trend and RSI (14) is picking up with increasing buying momentum at 67.12. ARNA is currently trading above its 50-day MA of $8.85 and 200-day MA of $7.73. By closing at $10.20 on Monday, ARNA had broken through and closed above its R2 pivot point of $10.13, as seen from the chart below.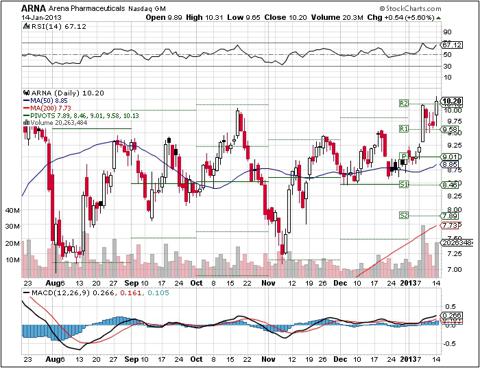 Source: StockCharts.com
The top bullish pick for the day is Cisco Systems, Inc.
Cisco Systems, Inc.
Cisco Systems, Inc. is the world's leading supplier of data networking equipment and software. Along with HQP, CSCO was boosted on Monday by a report which expects steady growth in the networking equipment. According to the report by market tracker Research and Markets, "Global sales of enterprise networking equipment will grow at a compound annual growth rate of 3.61% from 2012 to 2016." The report indicated that key drivers for the growth are improved security features that can identify security threats and the increasing use of mobile devices that access the Internet. CSCO's Chief Executive John Chambers is determined to turn around the company's lagging security business at whatever the cost. Chambers had granted Chris Young, Cisco's first executive for security at a senior vice president level, a "blank check" for the next two to three years to hire and acquire as he sees fit to overhaul Cisco's security business and spark a rebound.
Analysts' Call and Earnings Estimates
On Monday, the analyst at William Blair raised CSCO to "Outperform" from "Market Perform," whereas analysts at Robert Baird upgraded the company to "Outperform" from "Neutral" with a $25 price estimate. The analyst at William Blair asserted that "the company has emerged from a difficult, soul-searching period significantly leaner, focused, and more self-aware." The analyst further cited that the company has recommitted to its core switching and routing markets (around 50% of sales), exited the consumer space, restructured the cost side (reducing annual expenses by $1 billion), reduced management bureaucracy, set realistic financial goals to the Street, and initiated a dividend to return cash to shareholders.
Analysts, on average, are expecting an EPS of $0.48 with revenue of $12.06B for the current quarter ending in January, 2013. Analysts are also estimating an EPS of $1.96 with revenue of $48.71B for fiscal 2013. For 2014, analysts are projecting an EPS of $2.11 with revenue of $51.38B, which is 5.50% higher than 2013, as seen from the table below.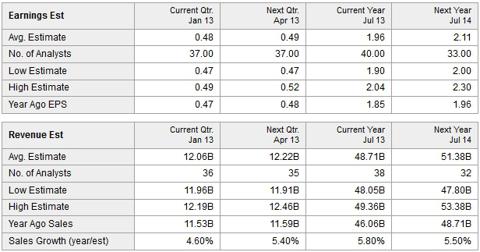 Source: Yahoo! Finance
Key Stats and Valuation
CSCO has an enterprise value of $80.06B and a market cap of $111.33B. CSCO has a total cash of $45.00B with a total debt of $16.33B. CSCO has a book value of $9.92 per share. CSCO generates an operating cash flow of $11.62B with a levered free cash flow of $9.27B. By using Morningstar's data, CSCO's key stats will be compared to its peers in the industry of communication equipment, including HPQ, Alcatel-Lucent (ALU) and Juniper Networks, Inc. (NYSE:JNPR). CSCO has higher revenue growth (3 year average) of 8.4, as compared to the industry average of -3.5. CSCO has higher operating margin of 22.5%, ttm, and net margin of 17.9%, ttm, comparing to the industry averages of 9.9% and 7.3%, ttm, respectively. CSCO has ROE of 16.7, ttm, comparing to the average of 10.1.
CSCO has P/E of 13.2 and P/B of 2.1, which are lower than the industry averages of 29.9 and 2.2, as well as CSCO's 5 year averages of 16.0 and 2.5. CSCO has a forward P/E of 9.8, which is lower than S&P 500's average of 13.3. CSCO has a PEG ratio of 2.7.
Technical Analysis
CSCO closed at $20.97 with 2.39% increase on Monday. The volume of 55.16M was 45.89% more than the 30 day average of 37.81M. CSCO had been trading in the range of $14.96-$21.30 in the past 52 weeks. CSCO has a beta of 1.24. The MACD (12, 26, 9) had turned to show a bullish sign on Monday. The momentum indicator, RSI (14), is showing a strong bullish momentum and has entered the over-bought territory at 72.46. CSCO is currently trading above its 50-day MA of $19.06 and 200-day MA of $18.07. The next resistance is $21.30, the R2 pivot point, as seen from the chart below.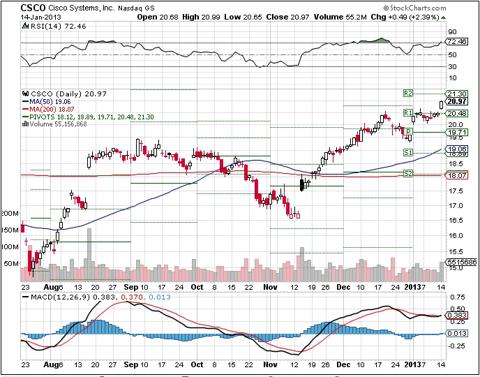 Source: StockCharts.com
Unusual Call Activities
Unusual option activities can be an indicator or precursor of a major movement for the underlying stock. The most active in-the-money call was Jan. 18, 2013 call at the strike price of $20.00 with a volume of 207,533 and an open interest of 177,377. The implied volatility is 17.5, and the chance of breakeven is 49.60. The most active out-of-money call was Jan. 18, 2013 call at the strike price of $21.00 with a volume of 74,215 and an open interest of 56,622. The implied volatility is 17.3, and the chance of breakeven is 32.88. The historical volatility for CSCO is 17.62 for 1 month, 20.76 for 3 months, and 25.48 for 1 year.
Long-term bullish investors can review the credit put spread options strategy with April 20, 2013 $18/$19 put, which will allow investors to acquire the stock with the price below $19.00 while gaining some upside potentials with the capped downside limit.
Note: All numbers/prices are quoted from the closing of January 14, 2013 with the data provided from Barron's, Morningstar, Schaeffer's Investment Research, Inc., Google Finance, and Yahoo! Finance. Investors and traders are recommended to do their own due diligence and research before making any trading/investing decisions.
Disclosure: I have no positions in any stocks mentioned, but may initiate a long position in CSCO over the next 72 hours. I wrote this article myself, and it expresses my own opinions. I am not receiving compensation for it (other than from Seeking Alpha). I have no business relationship with any company whose stock is mentioned in this article.
Additional disclosure: Long S