On Fast Money Monday evening, The Divine Ms. Kfine and I debated the state of the US consumer. Karen is a formidable opponent and I needed to bring my A-game. In my view, the consumer's insatiable appetite is the direct function of the ability to borrow and the ability/willingness to borrow is driven by income. The following charts depict the total amount of consumer credit outstanding and disposable income - these charts support my view that disposable income and credit are twinned.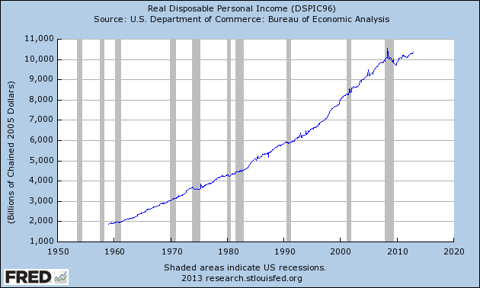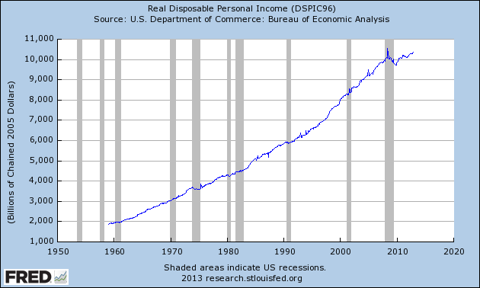 The knowledge of this pairing sheds light on my concern about the payroll tax increase. Prima facie a 2% decline in disposable income is unlikely to prevent the consumer from downloading the newest app or buying a new hoodie. However, shocks to the wallet are rarely linear and often have an outsized psychological impact. Viewed in the light of declining consumer confidence, the concept of a non-linear decline in consumer spending may indeed become crystallized.
Not even valuation gives solace to those seeking refuge in the words of Benjamin Graham. The Consumer Discretionary ETF (NYSEARCA:XLY) has been a frozen rope up since the market lows in 2009 - unfortunately so has its valuation.
On both a Price to Earnings and Price to Book basis, the consumer discretionary sector is trading at extremes for this cycle.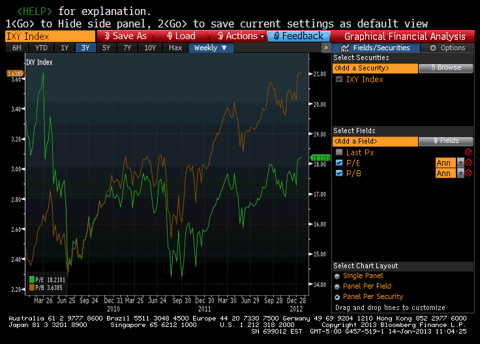 The Divine Ms. Kfine's analysis is based on a broad improvement in the US employment picture - which could/should make up for any spending shortfall due to lowered disposable income. The consumer is the heart of the American economy, if indeed more jobs are created then we will enter a virtuous cycle and I will be proven wrong. If however, the consumer finds more reason to retrench then maybe, just maybe time will be on my side.
Disclosure: Shelter Harbor Capital has no position in XLY
Disclosure: I have no positions in any stocks mentioned, and no plans to initiate any positions within the next 72 hours. I wrote this article myself, and it expresses my own opinions. I am not receiving compensation for it (other than from Seeking Alpha). I have no business relationship with any company whose stock is mentioned in this article.