Yesterday we took the opportunity to book some profits in one of our positions after an upgrade and we will look for other places to invest that capital in the coming weeks. We have had a strong move upwards in equities since the fiscal cliff was solved, however with the debt ceiling issue quickly approaching we fear that the market will be in for another roller coaster ride. This is reason enough to raise some cash and keep off to the side, especially if one is on margin at this time. Deleverage before any pullback, and releverage the portfolio should our thinking of a pullback materialize. There is no doubt that the debt ceiling will have to be raised and shall be raised, but the real question is what sort of misery our leaders in Washington put us through in order to get to a final compromise.
Commodity prices this morning are as follows:
Gold: $1680.90/ounce up by $11.50/ounce
Silver: $31.265/ounce up by $0.155/ounce
Oil: $94.11/barrel down by $0.03/barrel
RBOB Gas: $2.7486/gallon down by $0.0055/gallon
Natural Gas: $3.339/MMbtu down by $0.034/MMbtu
Oil & Natural Gas
Reuters put out another article in what is best described as their 'series' on oil company CEOs who have been involved in questionable activities as it relates to management decisions and the way shareholder funds are used. The latest article (which can be viewed here) focuses on SandRidge Energy (NYSE:SD) and their CEO Tom Ward, while drawing parallels to Chesapeake CEO Aubrey McClendon, who he previously worked with. With two large shareholders, TPG-Axom and Mount Kellett, moving for a sale of the company along with a replacement at CEO for Ward and new board members these are the types of stories which tend to get smaller investors on board to large scale changes. If forced to put a wager on who was behind the stories and some of the details, our money would be on the hedge funds advocating for change.
Yesterday we closed out our position in Rosetta Resources (NASDAQ:ROSE) for a 5%+ gain. It was a trading position which we established to play the channel which had developed with the shares whereby they found support just below the mid $40s and traded into the $47-50/share range. After the company received an upgrade from Global Hunter Securities to a 'Buy' from an 'Accumulate' rating we decided it was time to book profits and take that trading capital elsewhere, especially as we have the issue with certain options expiring and the possible need to exercise them should premiums not deflate in the coming days.
For long-term investors we still like the stock and so too do analysts. The most recent upgrade (yesterday's from Global Hunter) included a price target of $57/share and this is on top of the analyst who initiated coverage on the stock Friday. The story is solid here and the company will continue to drill out their acreage in the Eagle Ford, but at this time we see better opportunities elsewhere where production ramp up will drive growth in a much more meaningful manner. We may revisit Rosetta for another trade but at this time it simply remains on our watch list.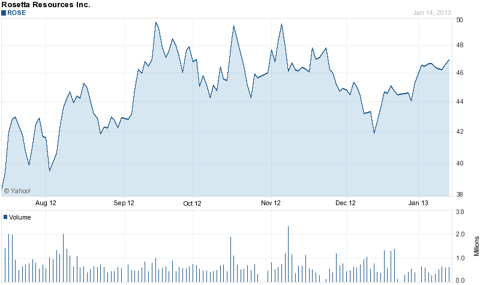 Chart courtesy of Yahoo Finance.
We bought near support to sell once the stock rebounded to the high $40s. We may have left some money on the table, but booking profits is always a better play. Better to have left money on the table than to have lost money at the table we always like to say!
We wanted to provide an update on Halcon Resources (NYSE:HK) which we know some readers still hold after our call when shares were selling off after the secondary announcement. The stock currently sits at a 3 month high and based on the chart it appears to be breaking out of a one year downward trend. The company has done a good job managing the balance sheet and maintaining liquidity while undertaking a very aggressive drilling plan across various plays and we would expect the company to only increase their capital expenditure plans in the next few months. The company has made no secret of the fact that they plan on selling the assets in the next few years, so as long as the debt load does not interfere with their overall bargaining position we think that it is only a positive. One can argue against this statement, however if the company is to be sold in the next few years, it would be far more beneficial to shareholders to have debt used to fund exploration rather than equity issued which would lower the ownership interest of each share.
Uranium
Most of the news we bring you is news which can be found in the public domain and we interpret it for our readers while also giving some ideas for how to allocate capital. This morning we want to bring you news which focuses on the industry where we got our start, the uranium mining industry. We have discussed the names over the past few weeks and months, with the frequency picking up lately, as we see uranium as a play setting itself up for a big move in 2014. For long-term readers you know that we have been discussing the fact that the Russians were big buyers of uranium deposits and miners over the past few years and yesterday they actually went and purchased the portion of Uranium One which they did not already own. This should be seen as beneficial for all uranium miners moving forward as it most certainly guarantees that the Russians will take their enriched uranium off of the market and force both long-term contract pricing and spot pricing higher when they withdraw from the 'Megatons to Megawatts'. This will have an impact upon Cameco (NYSE:CCJ) as they lose the ability to resell that cheap source of product but it should also increase pricing power and allow the company to speed up development plans on projects in their pipeline. The real winners will be the junior miners, especially those with actual deposits which are only marginally economical, or not economical right now. Africa, Asia and South America have some interesting plays, but the real money has been made in Africa over the years and there are still a few decent plays left for investors there so long as one is comfortable with the pink sheets for foreign stocks.
Precious Metals
Aurizon Mines (AZK) saw shares rally $1.12 (32.37%) to close at $4.58/share after the company received a buyout offer from Alamos Gold which already holds a roughly 16% stake in the company. The offer values each Aurizon share at C$4.65/share payable in cash or 0.28 of a share of Alamos. The deal does stipulate that the cash portion is not to exceed C$305 million in total and the share portion is not to exceed 23.5 million shares in total. Alamos stated that the new combined company will apply to list on the NYSE and will move their American listing there if approved.
Disclosure: I have no positions in any stocks mentioned, and no plans to initiate any positions within the next 72 hours. I wrote this article myself, and it expresses my own opinions. I am not receiving compensation for it (other than from Seeking Alpha). I have no business relationship with any company whose stock is mentioned in this article.