The Japanese yen (NYSEARCA:FXY) experienced a quick plunge after Akira Amari, Japanese economic and fiscal policy minister, expressed concern about the yen getting too weak. According to The Japan Times Online, Amari stated on television that he thinks USD/JPY at 89 is a "fairly good level" and triple digits would be excessive. Amari is apparently concerned that at some point soon the negative impact of higher import prices, like for fuel, will outweigh the benefits to exporters of the weaker yen.
Amari's assessment hit the pause button on the yen. Since the persistent sell-off began in earnest two months ago, the yen has fallen with breathtaking speed (rising USD/JPY). While I anticipated that "this time" the weakness in the yen would last, I did not come close to anticipating just how fast and how strongly the sell-off would unfold. In mid-December, I even recommended paring down bullish positions on the Australian dollar versus the Japanese yen (AUD/JPY). It is as if many years of a stubbornly bullish bias towards the yen is trying to unwind all at once in anticipation of an interventionist government doing what it takes to end Japanese deflation. At the time of writing, the profit-taking on short yen positions has not even come close to denting the current uptrend in yen crosses, but I will be watching for key breaks in the momentum.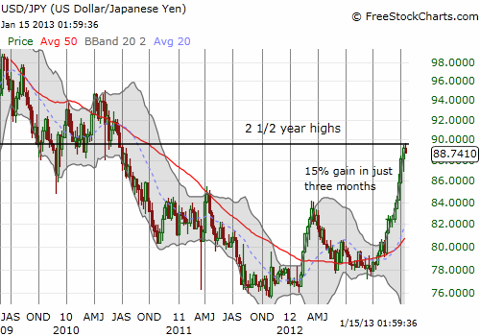 Weekly chart demonstrates the steepness of the current run-up. Is a pullback finally at hand, thanks to Amari?
Since I have been unwilling to chase the momentum higher, I have instead been relegated to buying small positions in whatever shallow dips the market has offered and then selling into the subsequent rally. I am assuming that the current dip will also be temporary, especially when some other Japanese government official clarifies that a weaker yen is indeed good for the economy. However, since this is the first time (I believe) during the run-up that a Japanese official has publicly expressed doubts about an ever-weakening yen, the chances of a steeper sell-off are higher than ever. I am scaling my latest position accordingly. The following daily chart shows the steep uptrend remains well intact. A pullback to about 87.5 (20-day moving average (DMA)) would mark a very good buying opportunity. An even larger pullback to 85 (the 50DMA) would be a gift. Ultimately, Amari has given the market a "free range" from around 89 to 99 on USD/JPY although most analyst price targets I have seen peg USD/JPY around 90 for the year.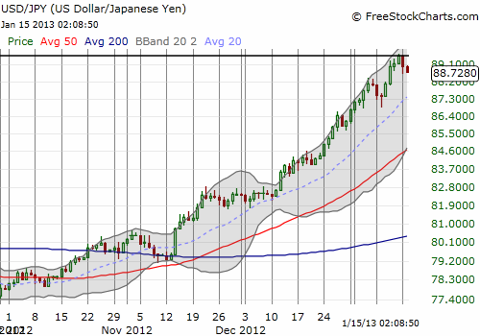 A daily close-up of a near-unstoppable rally
Source: FreeStockCharts.com
Be careful out there!
Disclosure: I have no positions in any stocks mentioned, and no plans to initiate any positions within the next 72 hours. I wrote this article myself, and it expresses my own opinions. I am not receiving compensation for it (other than from Seeking Alpha). I have no business relationship with any company whose stock is mentioned in this article.
Additional disclosure: In forex, I am long USD/JPY