After the bell on Monday, shares of Canadian apparel maker lululemon (NASDAQ:LULU) tumbled after the company pre-announced results for the company's fiscal fourth quarter. Revenue guidance was a bit below analyst estimates, while earnings per share guidance was in line. You may think this is a negative, but there were a bunch of items overlooked with this news. Today, I'll show why the fall in the stock was an overreaction, and this might be a good reason to buy LULU. I still believe this is the best buy in retail.
What they said:
Here is what the company stated in terms of guidance:
For the fourth quarter, the Company now anticipates that net revenue will be at the high end of its original guidance range of $475 million to $480 million based on a comparable-store sales percentage increase in the high single digits on a constant-dollar basis. The Company also now expects diluted earnings per share will be $0.74 for the quarter. The previous guidance for the fourth quarter was a range of 0.71 to $0.73. EPS guidance continues to assume 145.9 million diluted weighted-average shares outstanding and a 29.4% tax rate.
The following is a quote from lululemon CEO Christine Day:
"Our store managers, key leaders and educators stepped up and did a fantastic job this year as the calendar compressed holiday shopping patterns into a couple of key weeks. We are also pleased that our gross margin is running slightly ahead of plan, and that we are entering 2013 in a clean inventory position. Along with our new back to gym product, we are beginning to flow a beautiful new spring assortment into our stores this week and look forward to introducing new innovation and function to our guests in 2013."
Now, here is what you might not have heard or realized.
First: this was not a warning!
If you read any of the headline stories, you would think the company is warning that either revenues or earnings will miss. In fact, this is quite the opposite. The company is stating that revenues will come in at the high end of their range. Second, they actually said that earnings per share would be higher than the range they originally provided.
But here's the key takeaway. These are not your normal preliminary results. Normally, you see warnings from companies after their quarters end, but before they report. If they are going to substantially miss on the top or bottom line, the company tells you. They warn. In this situation, companies essentially know where the numbers finished.
The difference here is that lululemon's quarter has not ended yet! The company still has two weeks or so left in its fiscal fourth quarter and fiscal year. Their calendar, like some retailers, ends at the end of January. Basically, these are preliminary results, and are based on what's happened so far. They could easily report numbers that are even better than this guidance (of course, they could miss too).
Second, the analysts don't get it:
The reason why so many people frowned over this quarter is that analysts expected way too much. When lululemon provided the original guidance for this quarter, analysts were looking for $491 million and $0.75. Now, just 90 days prior to that, analysts were expecting $0.67 in earnings, so they really jacked up their estimates.
But entering this news on Monday evening, analysts had only revised their numbers to $489 million and $0.74. Analysts totally ignored the company's guidance. The analysts were looking for too much originally, and when the company gave guidance, analysts expected a huge beat. In my opinion, they expected way too much, and that's why shares did not rally a lot after the latest report.
You may remember in my previous article how I mentioned lululemon consistently beating its own guidance. Well guess what? They are going to beat their own guidance again. It's just a matter of them not matching unreasonable estimates from analysts who just don't listen.
My guess is that analysts will now take down their estimates as we head towards the company's actual report. The analysts probably will end up bringing down the numbers enough that the company will beat, and the stock will then jump on that "beat." Really, the stock shouldn't be jumping then, because it shouldn't have been falling now. More on that later.
Additionally, the company said that "gross margins are running ahead of plan." That is a good sign, since those that are bearish on this name think margins will contract going forward. Think about it this way. The company is expected to "miss" analyst expectations for revenues by $9 million, but yet earnings per share are expected to match. This company is keeping costs under control, and that's a very good sign.
Third - the growth is still coming:
Even if you take down the 4th quarter revenue number to the appropriate range, lululemon will grow revenues by about 36% or so this year. Yes, that's 36%. There were a lot of concerns about the company stating that comparable-store sales percentage would increase in the high-single digits on a constant-dollar basis.
When it comes to growth companies, they are not reliant on same store sales! A company like lululemon grows by expanding its retail footprint, which I detailed in my previous article. At the end of Q3, the company had 201 stores, up from 165 a year ago. They also expect to open 10 new stores, 8 in the United States, during fiscal Q4.
But the real growth of this company hasn't even started yet. The 10-store increase will boost their store count by 5% in this quarter alone. However, as I previously mentioned, the company has started pre-seeding for up to 15 new countries. This is expected to take place over the next two years. This company currently operates in 4 countries, and hasn't even finished growing in those. Imagine what the growth will be like as they enter up to 15 more countries. Those that are worried about growth now just need to wait.
Fourth - we are lower?
On December 5th, shares of lululemon closed at $68.59. That was the day before the company reported its third quarter results, and gave its original guidance for Q4. Since then, shares had trended upward. But after this news came out Monday evening, shares dropped by $4.99 to $67.31, a decline of nearly 7%. They were even lower at times during the extended hour's session.
So let me recap. The company announced that revenues would be at the high end of its range, and that earnings per share would be above the high end of its range. Since that announcement, the stock is down $1.28, or 1.87%. Does that make sense to anyone?
Fifth - valuation and comparisons:
When it comes to lululemon, the one name that is most comparable is Under Armour (NYSE:UA), the US athletic apparel maker. The comparison works, as both are high growth companies focused on athletic apparel. So the table below shows some key comparisons between the two. A couple of notes on what you see here. First, all dollar values are in thousands. Second, all financial data is as of the most recent quarter ("mrq"). Third, I've adjusted lululemon's revenue growth numbers to account for $480 million in Q4, the high end of the range. Fourth, the P/E numbers are based on the last quoted prices in Monday's extended hours session, and current estimates for each company's respective fiscal year. Finally, Under Armour's fiscal year is a calendar year, and lululemon's ends in January.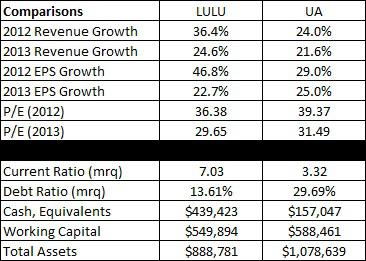 When it comes to growth, lululemon is expected to show a lot more growth this year. Additionally, revenue growth for LULU is expected to be higher in the following year. At the moment, lululemon is expected to show less earnings per share growth, but I don't think that will be the case in the end.
Why do I believe so? Well, it comes down to the second half of that table. As you'll notice, despite LULU having about $190 million less in total assets, LULU's working capital is only about $40 million less, and LULU has a much more sizable cash position. That giant cash hoard will allow lululemon to expand a bit faster than most think, or they could use it for a dividend or stock buyback. Plus, lululemon has a much higher current ratio, and a much lower debt (liabilities to assets) ratio. Under Armour's balance sheet is in very good condition, but it is no match for that of lululemon. If this was a prize fight, LULU would win in a first round knockout.
But yet, Under Armour trades at a premium, and this has been the case for quite some time. Given the extra growth and stronger balance sheet, you would expect quite the opposite, but it's not the case. This is why the valuation is quite reasonable for LULU, and the company may be a bit undervalued, especially after Monday evening's fall.
Conclusion - use the fall to your advantage:
Monday's news regarding lululemon sent shares tumbling in the afterhours. But to recap, the company stated it would be at the high end of its revenue range, that margins were doing well, and earnings would beat their original expectations. Since that original guidance, the stock is now down almost 2%. The company also trades at a discount to the closest name in comparison, Under Armour, despite Under Armour having less growth and a weaker balance sheet.
For those that were looking to acquire lululemon shares on the cheap, now may be your chance. If analysts come out and lower their expectations, shares will rise when the company actually reports. Remember, their quarter hasn't finished yet. Unfortunately, I have my money tied up in a couple of trades I can't get out of for a few days, so I can't get into LULU until later in the week. By then, the stock may have recovered, and I might miss the trade. For those believing in the long-term growth potential of lululemon, Monday's news was good. It only proves that the analysts don't get it. Use that to your advantage, to get a high growth company with a pristine balance sheet on the cheap.
Disclosure: I have no positions in any stocks mentioned, but may initiate a long position in LULU over the next 72 hours. I wrote this article myself, and it expresses my own opinions. I am not receiving compensation for it (other than from Seeking Alpha). I have no business relationship with any company whose stock is mentioned in this article.
Additional disclosure: Investors are always reminded that before making any investment, you should do your own proper due diligence on any name directly or indirectly mentioned in this article. Investors should also consider seeking advice from a broker or financial adviser before making any investment decisions. Any material in this article should be considered general information, and not relied on as a formal investment recommendation.