Yesterday Consol (NYSE:CNX) issued a press release pertaining to 2013 Gas & Coal investment guidance. Tucked away in this press release - in fact, at the end of the last sentence of guidance - Consol has given the annual gas production figure for 2012. Subtracting out the prior 3 quarters' production figures, we can see that Q4 production was 41.8 Bcf, just below the bottom of the previously guided range.
Guidance as of Oct 25, 2012 earnings release was a range of 42.5 - 44.5 Bcf.
So, how significant is this production miss? Prior quarter gas production was 39.5 Bcf, so the quarter-on-quarter increase was 2.3 Bcf as opposed to midpoint guidance of 4.0 Bcf. In other words, Consol's quarter-on-quarter gas production increase was only 57.5% of the increase previously expected by management.
Also in yesterday's press release, management states "We will continue to evaluate the number of dry gas wells that we drill in light of the commodity price curve and exercise appropriate capital discipline."
This opens the door in my mind to the possibility that the production miss may not be due to execution problems, but may instead be due to management deciding to slow the production, an indication that Consol may actually be losing money on each unit of gas that is produced. Gas prices have fallen considerably since managements' previous earnings call guidance which includes the statement "we're going to grow rapidly on the gas and liquids side." That was Oct 25. The high marked below with an orange dot was recorded just 3 days prior to that date leading to my speculation that management may have chosen to grow somewhat less rapidly.
Natural Gas - March 2013 chart courtesy of marketwatch.com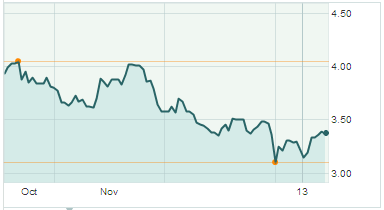 I'm not sure if yesterday's press release constitutes the warning that was postulated here on Seeking Alpha just over a week ago, or if there is still the possibility of a warning. As coal has also fallen considerably in recent months (not to mention in recent years) there is a distinct possibility of an operating loss being reported on Jan 31 when Q4 earnings are due to be announced.
Disclosure: I am short CNX. I wrote this article myself, and it expresses my own opinions. I am not receiving compensation for it (other than from Seeking Alpha). I have no business relationship with any company whose stock is mentioned in this article.