Amazon.com Inc. (NASDAQ: AMZN) is a juggernaut in e-commerce and it has been growing at an impressive rate of 34.16% in the past five years. Amazon reported astronomic holiday season sales that pushed the stock to unprecedented heights, despite reporting its first loss in a quarter in nearly a decade in its earnings report released on October 2012. The cost pressures remain the obstacle for Amazon to continue trading at its current stock price.
Sacrificing profits for market share
Amazon CEO Jeff Bezos has stated that he is not concerned about profits; at least not in the short-term. This comes as no surprise when you learn that Amazon is looking to make significant ground in the worldwide e-commerce market that is expect to hit $1 trillion in 2016, according to a Morgan Stanley analyst.
The only thing Amazon and its CEO Jeff Bezos are looking to maximize right now is the absolute dollar free cash flow per share. It's certainly a smart strategy to follow given that worldwide e-commerce sales is expected to go over $1.25 trillion this year with the absence of any fiscal cliff and debt ceiling problems.
Investors have gotten behind the idea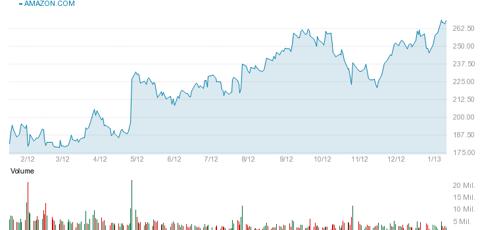 2012 was a great year for Amazon's stock price
The stock price has continued to advance in 2013 with it hitting an all-time high of $269.73 last Monday. And what's more, Amazon isn't trying to make money now, but ensure that there will be great profits made in the future. The stock price reflects that investors have bought this message and considering the growth prospects, Amazon is seemingly trading at a discount relative to its long-term value. Indeed, it is one of the tech world's most valuable companies.
Amazon has expanded its lucrative Amazon Web Services (AWS) division and the online retailer expects this line of business to bring in $1B in revenue in 2013. This is a high growth division that is expected to add to its non-retail business revenue of almost $50B in 2012. Still, AWS has its share of challenges with the recent outage that barred millions of Netflix (NASDAQ:NFLX) customers in the Americas from viewing television shows and movies on Christmas Eve being one.
Challenges: Costs and competition
The way forward is filled with challenges for Amazon and it has competition from the likes of Wal-Mart (NYSE:WMT) and eBay (NASDAQ:EBAY). Amazon will have to cut its already low profit margins in order to compete with Wal-Mart that has a national presence and warehouses that will ensure that the same-day delivery model they are testing could potentially succeed. eBay has jumped on the bandwagon with its process of stocking inventories with offline retailers and charging for same-day delivery.
Still more big names that have been affected are ready to take market share from Amazon. Target (NYSE:TGT) and Best Buy (NYSE:BBY) have adopted a price matching policy to ensure that customers buy from their stores rather than purchase at a discount online.
Investors are going to need a lot of convincing from Amazon that the company can continue to offer freebies and cut prices without the goal of making money but rather getting cash flow going. As it is, Amazon expends $4B on capital expenditures and $700M on content costs annually. These costs should all go up in order for Amazon to stay competitive and ahead of the playing field. Specifically, the content costs since its competitor Netflix spends $2.5B on its content costs.
Amazon by the numbers: The Q3 2012 earnings report
The Net Profit Margin of -0.76%, the Operating Margin of -0.20% and the Return on Average Equity of -14.60% among other figures all mean nothing after Amazon's growth strategy and its action steps to achieve them have been highlighted here. That was the main reason why it was important to give a big picture outlook before diving in and crunching the numbers.
Instead, the numbers that investors need to cast their eyes on are the P/E ratio of 3581.13, the market cap of 121.37B and its Beta of 0.93 which reveals that Amazon is actually a low risk investment.
There was a valuation done on Amazon here on Seeking Alpha that revealed a range of $184-$254 per share. We have gone two weeks into the New Year and the stock has already nearly hit $270 and analysts expect it to rise further. As a matter of fact, any sort of valuation is subjective in nature and has many inherent assumptions. The key takeaway is that Bezos is CEO and he has confirmed Amazon's intentions to grow at a rapid pace by sacrificing profits. The numbers definitely point to that and all investors need to do is to trust Bezos and his world-class personnel in building lasting value to the shareholders of a great American company.
The technical picture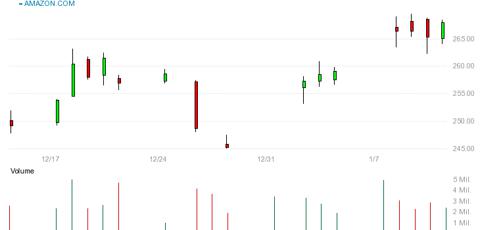 It appears like a reversal of the uptrend could happen
The candlesticks sure tell a story of their own. The stock has been making a series of higher highs and higher lows over this one month period from December 2012. It certainly looks good for a chartist since it bottomed out at $245 per share somewhere around Christmas.
The stock has broken out over the 50 day moving average (50 DMA) of $254.21 and is much higher than its 200 day moving average (200 DMA) of $242.20. Traders will obviously be highly excited to note this; that is the bulls among us. The good news is that the upward movement (higher highs, higher lows) is going strong and bodes well for the bulls.
How to trade Amazon
This is the crucial part of this analysis; it's what short-term traders need to do. We all agree on the long-term value of this high growth stock, but how can we make money off it in the near term? The good news is that analysts at Benchmark and Bank of America - Merrill Lynch have upgraded the price target for the stock to the $300 region. In the last week, 25 research analysts have given Amazon a "buy" rating and thirteen others have rated it as "hold". Goldman Sachs analysts set a price target of $315 in a Wednesday research note to investors.
It's still interesting to note that there are more puts on the stock than calls for March expiration as indicated by AMZN's Schaeffer's put/call open interest ratio of 1.42. Still, there was quite a few "overweight" ratings that holders of Amazon stock will be pleased to hear.
The next event that traders need to watch out for is the Q42012 earnings report scheduled to be released on January 31, 2013. Amazon's revenues will be at a record level given the increase in sales the online retailer experienced over the holiday season. Amazon has also moved significantly to non-retail business and this will have a positive effect on its margins. The trend of consumers increasingly shopping online will be in Amazon's favor.
The stock should soar higher when the company reports earnings in less than three weeks. Speculators should consider buying stock despite the extremely high stock multiples - price to book ratio 14.91/P/E 3581.13 and the low margins (profit margin 0.07/operating margin 0.93).
Disclosure: I have no positions in any stocks mentioned, but may initiate a long position in AMZN over the next 72 hours. I wrote this article myself, and it expresses my own opinions. I am not receiving compensation for it (other than from Seeking Alpha). I have no business relationship with any company whose stock is mentioned in this article.