By: Brendan Gilmartin
eBay (NASDAQ:EBAY) is scheduled to report 4Q 2012 earnings after the closing bell on Wednesday, January 16. The numbers are typically released at 4:15 p.m. EST and will be followed with a conference call at 5:00 p.m. eBay is expected to deliver solid results for the recent 4Q on strength in the PayPal and Marketplaces segments.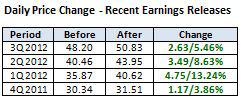 Outliers and Strategy
Back in October, eBay gave the following guidance for 4Q 2012:
Non-GAAP Earnings Per Share in the range of $0.66 to $0.69. The Street estimate is $0.69. (Source: Yahoo

Finance)
Revenues are forecast in the range of $3.85 billion to $4.00 billion. The consensus is $3.97 bln.
With 4Q 2012 results potentially priced in, much of the focus will center on the outlook for 1Q 2013.
The current consensus for Non-GAAP EPS for the 4Q 2012 period is $0.63.
The consensus for Revenues in the 1Q 2013 period is $3.79 bln.
Any adjustments to the outlook for FY2012 could also have consequences for eBay shares. Back in October, eBay said it expects net revenues in the range of $13.95 bln to $14.1 bln with non-GAAP earnings per diluted share in the range of $2.32 - $2.35.
eBay is seen posting solid results for 4Q 2012, thanks to ongoing strength in the PayPal business and its expanding leadership position in global payments, along with a pickup in the Marketplace segment.
eBay recently hit a 52-week high of $54.20 and is up more than 25% since late summer. Following the advance, eBay is now trading at 5.2x sales and 20.5x cash flow, well above the 5-year averages (3.6x & 15.1x, respectively), implying the bar is set pretty high ahead of 4Q earnings.
Recent News
01/14: Credit Suisse slightly increased its price target on eBay from $49 to $50, according to a post on Benzinga.com. The firm cited an increase in active users, product enhancements, and designs intended to boost user purchases. Despite the positive view, however, the firm maintains a Neutral rating due to current valuation.
01/08: Evercore Partners boosted its price target on eBay from $53 to $60, thanks to enhancements in the Marketplace business, according to a post on StreetInsider.com. The firm cites improved transactional volumes and user engagement.
01/02: Canaccord Genuity raised its price target on eBay from $50 to $56, according to a post on Barron's Online, based on earnings upside. The firm cites strength in the Marketplace business.
10/29: eBay announced a planned 4Q 2012 pretax restructuring charge of approximately $15

mlns

due to staff reductions at the PayPal business unit. It is not expected to affect non-GAAP results.

Technical Review
eBay shares are trading at the highest level since early 2005, recently touching a peak at $54.20 (1/8/2013). In recent weeks, however, the shares have eased into a narrow trading channel between $52.00 and $54.00. Using the February $52.50 Strikes, equity options are implying a 6% - 8% move off the earnings release. With that said, the shares are vulnerable to initial support near $52.00 (20-Day SMA) in the event that earnings disappoint, followed by the 50-Day SMA near $50.50 and $49.00. (Chart courtesy of StockCharts.com).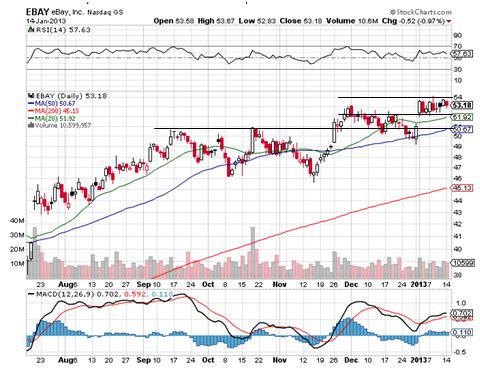 Summary
eBay shares are trading near the highest level in eight years, benefiting from rapid growth in the PayPal business, coupled with expansion in the Marketplaces segment, following a number of product enhancements, enabling it to compete more effectively with the likes of Amazon.com (NASDAQ:AMZN). But eBay is now trading at 18.4x earnings, well above the 5-year average multiple of 14.7x and 5.2x sales (5-year average is 3.6x), leaving the shares vulnerable to even the slightest misstep when it reports earnings on Wednesday.
DISCLAIMER: By using this report, you acknowledge that Selerity, Inc. is in no way liable for losses or gains arising out of commentary, analysis, and or data in this report. Your investment decisions and recommendations are made entirely at your discretion. Selerity does not own securities in companies that they write about, is not an investment adviser, and the content contained herein is not an endorsement to buy or sell any securities. No content published as part of this report constitutes a recommendation that any particular investment, security, portfolio of securities, transaction or investment strategy is suitable for any specific person.
Disclosure: I have no positions in any stocks mentioned, and no plans to initiate any positions within the next 72 hours. I wrote this article myself, and it expresses my own opinions. I am not receiving compensation for it (other than from Seeking Alpha). I have no business relationship with any company whose stock is mentioned in this article.