The speculation on a Dell (NASDAQ:DELL) bid doesn't make much sense to me. Unless Michael Dell himself is behind the buyout and wants to increase his holdings in the process. With the help of cheap money, he can take out the company while nobody is watching. It is clear that the stock is undervalued as the market is focusing on short-term impact issues from tablets and virtualization. I believe that Dell can rise another 30%.
Under-loved
To illustrate that investors have forgotten Dell, I can simply check my Seeking Alpha article statistics. Last month, I wrote this article on Dell with a 18.70 USD price target that only received 1,300 hits. Seeking Alpha average hits per article was well above that over the month of December. That shows that the investor interest for the stock is very low. When a stock has been out of the market's attention, there is a larger potential for upside if and when positive news emerges.
A less detailed article about a fuzzy rumor coming from some Apple (NASDAQ:AAPL) supplier will get ten thousand hits and a hundred comments. I made my Apple case in October and valued the company at 500 USD. Ironically, the same iPad mini reasoning is also relevant for Dell. The market now believes that computing has changed forever. It seems that computing will happen out of server parks in Alaska. Consumers and professionals then only need a user interface as light and portable as a tablet, stylish and expensive from Apple or cheap and commercial from Amazon (NASDAQ:AMZN). The market now discounts that computing has entered the app-processing era powered by ARM (NASDAQ:ARMH). This is a radical shift from the Moore's Law expectation that computing power doubles every 2 years in order to keep pace with consumer application demand. That reasoning explains also why Dell and Intel (NASDAQ:INTC) are trading below 10x PE and ARM is trading on 80x PE.
Tablet is only an extension of the PC
The tablet hype is still well under way and has certainly taken a big bite out of the PC-budget.
I regard tablets more like a smart screen technology, not a processing unit. It is fine for browsing, shopping or social networking. Doing something more demanding like word processing, gaming or editing HD video will disappoint you. Even as a hosted service, the experience will never match that of a PC workhorse. Intel is still pouring tens of billions of dollars in its state-of-the-art manufacturing fabs to shrink the transistor line width. This will enable them to come up with less power craving chips that will lift the tablet experience to a higher level. Consider it a crossing between tablet and ultrabook. Turn the screen into a touch screen and let the keyboard double as a cover. Dell can do the laundry. The PC has become a four letter word, but I don't believe it will disappear. It has an image problem and needs some rebranding to defend its place in the home. The replacement cycle has definitely lengthened. I will not repeat my last article where I explain the math behind a lengthening replacement cycle.
Even with an extra year in the lifespan of the PC, laptop, netbook, ultrabook or power tablet, the numbers still add up. Growth is overrated, while value is underrated. If investors don't pick up the obvious bargains, others will do it for them. In the mean time, the Apple hype premium is spilling over to sillier stories like Amazon.com. As if there is only 1 line in the financial statements of a company: sales. At least Apple was making a decent profit before its correction.
Dell DCF target = 18.7 USD.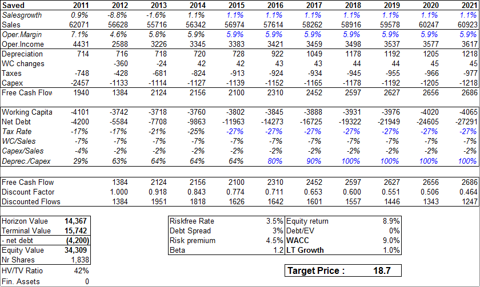 Disclosure: I am long INTC, DELL. I wrote this article myself, and it expresses my own opinions. I am not receiving compensation for it (other than from Seeking Alpha). I have no business relationship with any company whose stock is mentioned in this article.
Additional disclosure: I am short AMZN