On January 30th, Audiocodes (NASDAQ:AUDC) will report its fourth quarter (Q4) and full year 2012 earnings. In addition, management will be attending Needham's 15th Annual Growth Conference in New York City starting today. I believe that AUDC's "One Voice" press release yesterday sends out very positive tones on the state of its current and future business in front of meeting many institutional investors over the coming month. Here's my preview of Audiocodes, pre-Needham conference and pre-earnings release.
One Voice
Audiocodes still maintains a massive discounted valuation compared to its two peers: Acme Packet (NASDAQ:APKT) and Sonus Networks (NASDAQ:SONS). I feel that this discount can soon be filled after January's conferences as both buy-side and sell-side institutions fully comprehend Audiocodes' "One Voice" press release. As my research has uncovered and quite frankly as Audiocodes' management has been publicly stating, the relationship between Microsoft (NASDAQ:MSFT) and Audiocodes is very strong and only seems to be getting stronger per the "One Voice" strategy. One Voice makes Audiocodes a one stop shop for enterprises no matter how large or small. This strategy puts Microsoft on a par with Cisco Systems (NASDAQ:CSCO) when it comes to bidding for new Unified Communications (UC) platforms as they can now make one bid for the whole system. This automatically puts IT and CIO managers at ease when saying yes to a Microsoft Lync system. Audiocodes allows Microsoft to put a plug n play solution on the table to enterprises that already own its browser. A huge piece of news for Audiocodes and a big advantage for Microsoft to gain even more traction on Lync. I am looking ahead to February 18th-21st when Microsoft hosts its annual Lync Conference to potentially see the quantitative effects of this One Voice strategy.
Forget my analysis, here's what Microsoft's General Manager, Giovanni Mezgec, had to say about Audiocodes in yesterday's press release: "We see the Audiocodes One Voice for Microsoft Lync program as an opportunity to accelerate deployment of voice-enabled Microsoft Lync deployments. Simplifying the buying, integration and support processes enables quick realization of Microsoft Lync advantages. We are very pleased to have Audiocodes implement such a program and see clear benefits for our voice partners."
Furthermore, the press release also quotes the VoIP, UC and IMS industry analyst from Infonetics Research, Diane Myers: "Our most recent report covering the Unified Communications market shows Microsoft continuing to have strong gains attaining the #1 position in terms of Communicator licenses in the third of 2012. Audiocodes One Voice for Lync offering is a broad complement of solutions to the growing base of Microsoft UC deployments."
This is a game changing event for Audiocodes as it should push revenues across all products lines in 2013, making the shares even cheaper than our model suggests. This could result in Audiocodes becoming a core networking company as its legacy products have mostly been reduced to a very small percentage of sales.
Over The Top (OTT)
Another recent development that seems to have been overlooked by most is the news that Facebook (NASDAQ:FB) will be testing a voice calling app in Canada. It will be an OTT app that will compete with Apple's (NASDAQ:AAPL) FaceTime, Google's (NASDAQ:GOOG) Google Talk and Microsoft's Skype. Another OTT app that Facebook launched worldwide is a voice messaging service that lets friends send each other minute long voice messages. An OTT app is one that runs over the internet and there are no network costs associated with running it. Service carriers do not like OTT apps as they are taking business and revenues away from them. In a bid to compete with OTT, the service carriers are launching Voice over LTE (VoLTE). However, this is a costly endeavor as they have to build out the network infrastructure and as such I believe that OTT will beat out VoLTE in the next few years. If my analysis is correct then it will bolster sales of Audiocodes' E-SBCs, MSBRs and its mobile OTT software.
Institutional Disconnect
I realize that Audiocodes lacks institutional holders as it maintains only a 21% Institutional ownership base vs 96% for APKT and 51% for SONS. Audiocodes has plenty of room to play catch up here. This news makes me confident that the company will hit its stride in the 4th quarter and I feel confident about 2013. The CEO wouldn't release this news with bad news behind it, I mean, it pre-announced all its bad quarters during the prior year and now I believe the company has the integrity to do the same on the upswing.
I now believe that after institutions listen to AUDC's presentation and ask the right questions regarding Lync and OTT then they will finally realize it is time to get long AUDC in meaningful fashion. I believe that they will be willing to pay up to $6 short term for a profitable company which has strong links to Microsoft's Lync, especially if they can fully digest the importance of AUDC's relationship with MSFT. The $6 level would still be sub SONS valuation by $2 per share. I also believe that this news increases the attractiveness of AUDC as a takeover candidate by the likes of Microsoft, Dell (NASDAQ:DELL), Avaya, BroadSoft (NASDAQ:BSFT), Hewlett Packard (NYSE:HPQ), Juniper Networks (NYSE:JNPR) and Acme Packet, any one of which could leverage the relationship with Microsoft into greater profits by rolling Audiocodes up into it. I estimate that any of the above companies could see $1 - $1.20 in EPS from Audiocodes with logical expense cuts. I remind you all that many Israeli small-cap technology companies get gobbled up for their deep IP by US companies. The CEO/founder, co-founder, employees and a 10% hedge fund own approximately 40% of the shares. Any positive news from the company or an upgrade would gap the shares up to $4.25 - $4.50 per share overnight.
Valuation
Click to enlarge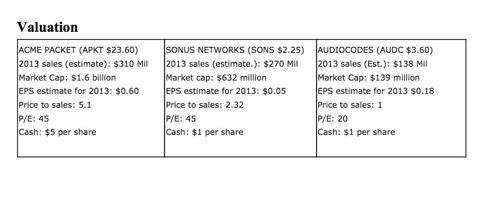 Chart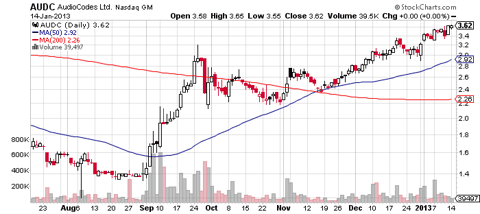 Looking at the daily chart we can see that since November AUDC has been trading higher with a strong upward move that has seen only the briefest of pullbacks. Clearly the trend is up and the wind is at AUDC's back. The 52 week high is $4.25 and that is in sight now, when Audiocodes makes a new high it will bring the stock to the attention of many new investors and we should expect to see an upsurge in volume as the stock goes higher.
We believe that institutional investors will come to the stock and own AUDC post Needham Conference, or post earnings call which is only two weeks away. I further believe that AUDC is executing on its guidance and that institutional investors both buy-side and sell-side will be jumping on board sooner rather later.
Conclusion
Audiocodes started 2013 with One Voice to simplify the Microsoft Lync sales process. Today, they'll present at Needham to simplify its business model to Wall Street as its legacy business is a thing of the past and its new core networking products allow institutions to see the value in this pure play VoIP networking company. On January 30th, I believe Audiocodes should prove to investors that its business execution is as tight as its One Voice strategy. That said, I believe the One Voice strategy will allow me to stop being the one voice to get investors to uncover this one stop, pure play on next generation VoIP. The volume will be the One Voice that tells you when Audiocodes has been accepted by the masses and my target of $7-8 is touchable.
Disclosure: I am long AUDC. I wrote this article myself, and it expresses my own opinions. I am not receiving compensation for it. I have no business relationship with any company whose stock is mentioned in this article.