Crude oil futures came into the Wednesday trading session slightly higher after overnight short covering. Crude oil and fuel futures traded lower in the previous NYMEX floor session as doubts swirled about OPEC resolve. The OPEC ministerial meeting in Algeria was expected to result in output reductions of as much as 2 million barrels a day, but member nations' propensity for cheating shaded traders' price notions.
Speaking of expectations, crude oil stocks were forecast to rise by 200,000 barrels following a 392,000-barrel build the previous week. When the Energy Information Administration (NYSEMKT:EIA) released its weekly supply report this morning, however, inventories showed a 500,000-barrel increase.
Oil Patch insiders also expected production slowdowns. Refineries were forecast to run at 87.1% of capacity, down 0.3% from the previous week. A reduction they got. A big reduction, but with refineries actually cutting utilization. Refineries, says EIA, operated at 84.1% of capacity as refining shifted to favor gasoline. Last week, gasoline production rose but distillate fuel production - including diesel and heating oil - decreased.
Analysts' calls for an 800,000-barrel increase in gasoline inventories proved too bullish. Supplies of finished motor fuel actually increased by 1.3 million barrels last week.

Estimates for a 1-million-barrel build in distillate fuel stocks were way too bullish. Fuel inventories increased by 2.9 million barrels, according to EIA.

The bearishness that ensued in petroleum trading following the EIA release was soon countered by news breaking from Algeria that OPEC ministers agreed to a 4.2-million-barrel reduction in daily output. Traders' views wavered, however, when it was learned that the advertised production cuts were figured from September levels, putting the actual reduction more in line with expectations.
Refining Margins
Cheapening oil has boosted refining margins to levels not seen since July 2007. The margin implied by the NYMEX nearby crack stood at 17% at yesterday's close, helped in large part by the amelioration in gasoline yields. Also factoring in to the improvement is the burgeoning contango in back-month futures. The oil market's contango danced its way to a new record yesterday, rising to $7.31 for the nearby quarter.
Contango Vs. Refining Margins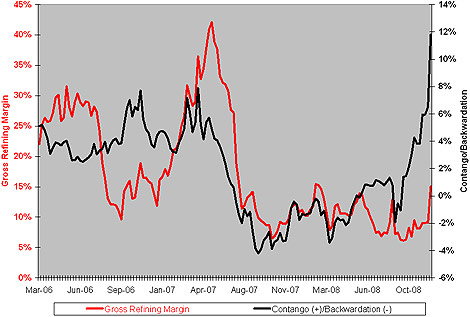 Technical signals for the oil market remain bearish. The psychologically important support level of $40.00 is the next downside target. Closes above the 20-day moving average at $48 would confirm that a short-term low has been posted.