What do all the following contain?
While I'm sure most of you will have been able to work out the answer immediately, for those who have not, the answer is ... tungsten.
In order, these are pictures of:
Why Tungsten?
In the first three instances, it is because tungsten is heavy. In fact, tungsten is one of our heaviest metals.
| | |
| --- | --- |
| Metal | Density (g/cm3) |
| Iridium | 22.65 |
| Osmium | 22.61 |
| Platinum | 21.09 |
| Rhenium | 21.02 |
| | 20.45 |
| Plutonium | 19.82 |
| Gold | 19.30 |
| Tungsten | 19.25 |
Approximate density at room temp.
In the last instance, the balls in ballpoint pens (which are made of cemented (tungsten) carbide [WC], quite apart from being of exacting precision (but also rough), need to be not only extremely hard, but also resistant to corrosion: ink is incredibly corrosive. As carbide compounds (W2C and WC), tungsten carbides are some of the hardest available.
In addition to its exceptional properties (high thermal and electrical conductivity, very high thermal creep resistance and very high moduli of both compression and elasticity), can be added three surperlatives:
after carbon, the highest melting point of any element: 3,422°C or 6,192°F (its boiling point, 5,555°C or 10,031°F, is about as hot as the sun's surface);
the lowest vapor pressure of all metals; and,
the lowest coefficient of expansion of all metals.
Other, More General, Uses
The four most general uses of tungsten are in:
Hard Metals, or cemented carbides, which are nearly as hard as diamonds and used in a wide range of applications from carpentry tools to hot rolls for rolling mills in the steel industry; and dies, punches and cutting tools for stone, cast iron, nonferrous alloys and steel.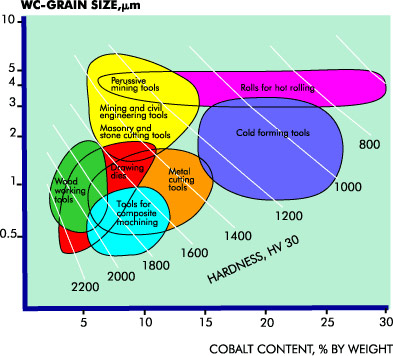 Source: International Tungsten Industry Association (ITIA)
Tiny hard metal "microdrills" are even used in machine-printed circuit boards.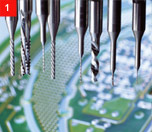 Source: ALD Vacuum Technologies GmbH
Steels/Alloys, in particular, high-speed steels, for tool bits and drill bits.
Mill Products such as metal rods, sheet and wire, contacts in electronics and light filaments, together with tungsten alloys. These last include such superalloys as Hastelloy (see Chromium: Not Just Fancy Trim) and Stellite, both of which are used in turbine blades, tungsten heavy-metal alloys and tungsten alloys with titanium, tantalum or rhenium and dispersion-strengthened tungsten composites.
Other applications, such as specialist chemicals for lubricants, pigments and glazes, photochromic glass, various catalysts, X-ray machines, fireproofing compounds and, like beryllium (see Beryllium: Bombs And More (Much More), in nuclear reactors.
Around the world, the use of tungsten in hard metal applications predominates.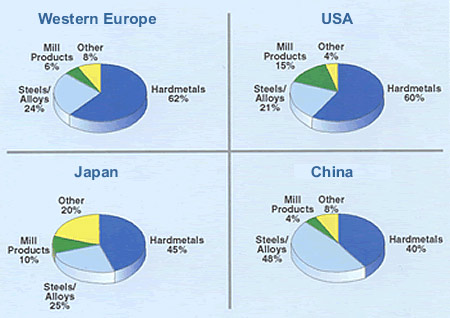 Source: International Tungsten Industry Association (ITIA)
Tungsten Supply
Tungsten does not occur, by itself, in nature. It is only present in various chemical compounds. For industrial purposes, the two most important tungsten-bearing minerals are wolframite ((Fe,Mn)WO4) - or, as some would like to call it Ferberite-Huberite, and scheelite (CaWO4). These are the two minerals that are most commonly mined to produce tungsten.
China now dominates world primary tungsten output. The U.S. Geological Survey's [USGS] estimates for world mine production in 2007 have China producing some 77,000 tonnes of the metal, 86% of global production.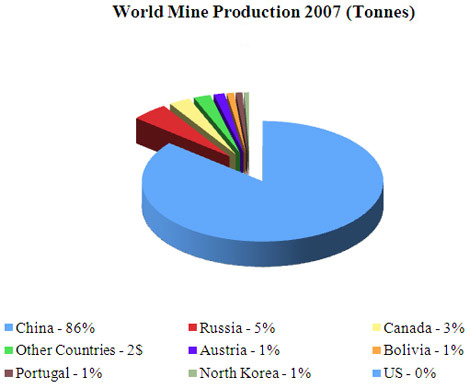 Source: USG
Note: The Andrew Mine, northeast of Los Angeles, operated by Curtis Tungsten, started shipping tungsten concentrates in October 2007, but figures for these shipments are not disclosed.
More recent figures published by China Market Report in October this year, however, put the output figure for 2007 as even higher, at some 80,438 tonnes.
Chinese Tungsten Concentrate Output 1996-2007 (Tonnes)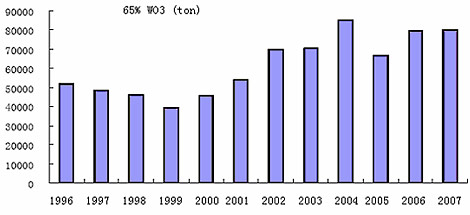 Source: ChinaMetal.com
In addition, the USGS calculates that China's reserve base accounts for some 67% of the world's total reserve base.
World Tungsten Reserves (Tonnes)
| | | |
| --- | --- | --- |
| Country | Reserves | Reserve Base |
| China | 1,800,000 | 4,200,000 |
| Other Countries | 420,000 | 740,000 |
| Canada | 260,000 | 490,000 |
| Russia | 250,000 | 420,000 |
| US | 140,000 | 200,000 |
| Bolivia | 53,000 | 100,000 |
| Portugal | 4,700 | 62,000 |
| North Korea | NA | 35,000 |
| Austria | 10,000 | 15,000 |
| Total | 2,937,700 | 2,262,000 |
Source: USGS
Tungsten Demand
In addition to dominating the world's supply of tungsten, China is also the metal's prime consumer.
Global consumption of tungsten in 2007 was 62,879 tonnes, of which China accounted for 31.55%, or 19,838 tonnes. Its consumption of the metal has more than doubled over the last decade.
Globally, from 1998 to end-2007, consumption of tungsten grew at 5.37% per annum, with the other significant tungsten consumers being the U.S., Western Europe and Japan.
The USGS puts the apparent consumption in the U.S. of tungsten (in all forms) during 2007 at an estimated 14,400 tonnes, of which "tungsten contained in scrap consumed by processors and end users represented approximately 31% of apparent consumption of tungsten in all forms." More recently, reported consumption in 2007 has been given by the USGS as 11,100 tonnes (tungsten content).
The country's primary supplier, not surprisingly, was China.
Whither Tungsten Now?
In the current economic climate, the once-rosy future for tungsten has now become somewhat uncertain. As one tungsten mining company so succinctly describes it: "Tungsten tracks world-wide industrial economic activity." And with the global economy currently facing challenges, it is, I believe, only safe to assume that the demand for tungsten will not remain as healthy as it has recently been.
If prices in the market are anything to go by, this is certainly the case. The prices for both ferrotungsten and ammonium paratungstate (NYSEMKT:APT) have recently plummeted.
APT (US$/Tonne)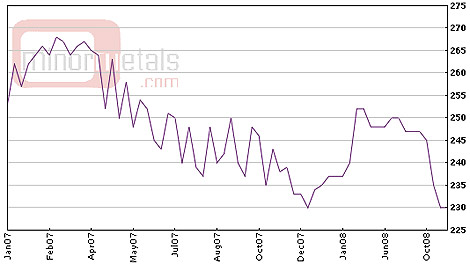 Source: minormetals.com
APT (US$/Kg)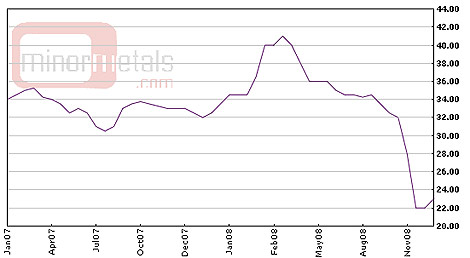 Source: minormetals.com
It is, therefore, a matter of conjecture as to whether, in the current (and foreseeable) market conditions, the various concerns that, according to the USGS, are "developing tungsten deposits or reopening inactive tungsten mines in Australia, Canada, China, Kyrgyzstan, Mexico, Spain, Thailand, the United States, Uzbekistan, and Vietnam" will survive and, even if they do, prosper. If, even in the current downturn, China continues to restrict both the domestic production and export of tungsten, they might. I think it is, though, as yet, too early to tell.
Are There Any Opportunities In Tungsten?
There will, of course, remain a demand for tungsten; the question is, though, of course, just how great a demand. For those interested in looking at China, while China Minmetals Nonferrous Metals, one of the largest tungsten producers in China (the minerals and metals trading arm of which - Minmetals Development Co. (Bloomberg Ticker - 600058:CH) - is quoted on the Shanghai exchange), is state-owned, Xiamen Tungsten Co., Ltd (Bloomberg Ticker - 600549:CH) (which produces a number of other nonferrous metals in addition to tungsten) is quoted on the Shanghai exchange. In addition to molybdenum, China Molybdenum Co., Ltd., (Bloomberg Ticker - CMCLF:US) also mines tungsten.
Closer to home, I have mentioned before the review that is currently under way of the U.S. defense stockpile. One specific issue it is addressing is the country's current reliance on the foreign supply of a number of such materials for its strategic needs - hardly an ideal scenario. Tungsten is one such material and one on which the country had a net import reliance - somewhere between 66% and 71%, depending on whose figure you use - in 2007.
In the case of beryllium (see Beryllium: Bombs And More (Much More), we have already seen that the U.S. government has been prepared to offer significant subvention for the construction of new production facilities for the metal in Cleveland, Ohio, in order to help secure domestic supplies of the metal.
So, despite the current economic downturn, it may perhaps not be so idle to speculate as to what the administration might be looking to do to secure the country's tungsten supplies from sources closer to, or even in, the US. As The Weekend Miner put it in an article back in 2005: "The Western US has an awful lot of Tungsten in it and was historically a major Tungsten producing region."
As has been reported by the USGS, Curtis Tungsten, Inc. recommenced operations at its Andrew Mine in southern California - which had been shut down in the early '90s - in 2007. No such operations have been reported as restarted, though, at the Jackrabbit tungsten mine in Inyo County, California, that, itself, closed down some time prior to Andrew Mine. The possibility of other domestic mines reopening in future, though, remains.
In Canada, having seen some uncertain times in the middle of the current decade (and, like everyone else, facing particularly uncertain times now), North American Tungsten Corporation Ltd (Bloomberg Ticker - NTC:CN), with its Mactung and Cantung projects in the Northwest Territories, remains the largest producer of tungsten concentrate in the Western hemisphere.
Conclusion
While tungsten may track "worldwide economic activity" and currently be somewhat in the doldrums, it remains a strategically important metal for many countries, particularly the U.S.
Tungsten is stockpiled both in the U.S. and Japan, and, most probably, also in China. In fact, in 2007, together with chromium and manganese, the metal accounted for 76% of the inventory (by value) of the Defense National Stockpile in the U.S.
However, because of the seemingly increasing emphasis by the administration on securing domestic and "reliable foreign supplies" of strategic materials, there may be some interesting long-term opportunities on the tungsten supply side close to home.
Afterword
Although scrap may now be considered by many even more of a dirty word than it was, it should be remembered that, in the case of tungsten, scrap is a major source of the metal in the U.S. While for the most part privately owned, there are still some very efficient specialized metal recovery companies out there. And they are still in business.
Resources
U.S. Geological Survey [USGS]