With the current decline in Apple shares (NASDAQ:AAPL), there is a debate about whether it is a calamity or an opportunity. It is a calamity in the short term, but we think it is a reasonable opportunity in the intermediate-term to long-term.
The upcoming first quarter (October - December) sales and earnings report for Apple will likely be decisive for the near-term stock price. The optimists and pessimists are in a tug of war, and so far the pessimists are winning.
The big debate is whether Apple has lost its innovation lead, whether sales are slowing, and whether Android devices and maybe Windows mobile devices will eat too much into Apple's growth opportunity. There is also the huge question about whether China Mobile (NYSE:CHL) will take on the Apple phone line, and whether the iPad-mini is eating into margins, to be exacerbated further by a possible low cost iPhone.
Of course sales must eventually slow as a percentage. Sales can't go to infinity in absolute terms -- but is a company that goes from growing very much faster than the overall S&P 500 earnings, to only much faster, but that has modest valuation multiples, really a bad deal? We don't think so.
Does the price chart make us queasy? You bet. On a one-year basis, the S&P 500 has now beaten Apple, and the Apple chart has completely fallen apart. Even corporate bonds have a one-year return in the same general realm as the Apple return (9.4% vs. 15.9%).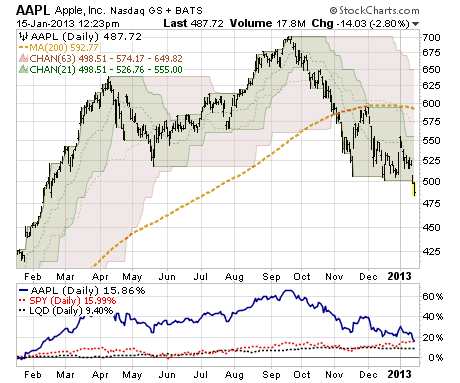 Nearly everybody who is a trader or a momentum follower is out by now, we imagine. Value players and dividend investors may be taking a closer look.
Bernstein Research notes that fewer growth mutual funds hold Apple than before, and at a lower portfolio weight; but that more value funds own Apple than before.
It's nice to know that Apple can, and appears inclined to, pay patient holders with dividends that are likely to grow significantly, as it works through to its next product innovation or territorial penetration.
The Apple dividend yield is almost as high as that of the S&P 500. Its payout ratio is lower at about 24% versus 30%. Its sales and earnings growth rate exceeds that of the S&P 500, and its valuation multiples are lower than that of the S&P 500.
The company also has financial engineering options to borrow money at a favorable spread between interest costs and earnings yield to buy back shares, to raise the EPS and thereby the price. Apple could also or alternatively increase its dividend to a level still well below that of the overall market, but such that the yield would drive the price higher.
The fact is that the current net "cash" (cash, cash equivalents, short-term investments and long-term marketable securities less total liabilities) of Apple is sufficient to maintain the current $10.60 per share annualized dividend for over six years without any contribution from future earnings.
If Apple were to double its payout, the yield would be about 4% before price movements. That would make Apple competitive with utility companies in terms of yield, before (as we presume) the price would adjust upward to bring the yield down to at least 3.5%.
Microsoft (NASDAQ:MSFT) yields about 3.5%. A 3.5% yield on a $21.20 dividend translates to a price of $605. If the doubled dividend were priced by the market at a 3% yield (more than the S&P 500, a bit less than Microsoft and about where a 10-year Treasury might belong), the shares would trade at $706.
We think Apple will conclude a deal with China Mobile - probably a less lucrative one per phone than with other carriers, but with a huge potential increase in iPhone and iPad owners in China.
But back to the present, Apple will present its Q1 earnings report (traditionally its best quarter) on January 24. That day will be an exciting day to say the least.
To put that report into context, here is a table with six years of Q1 data for net sales by territory, gross margin, unit sales by device type, diluted earnings per share, net "cash" and net "cash" as a percent of market-cap. The press is full of "disembodied" numbers, like "will Apple have sold 50 million iPhones?" - compared to what? - well, compared to the data in this table.
Keep it by your side when you read or listen to the quarterly report. It's all about next week for now. There will be big winners and big losers then, we expect. At least a lot of the heated debate will come to some resolution. We can go back to fretting over the fiscal cliff and the debt ceiling cliff, and put the Apple cliff aside for a while.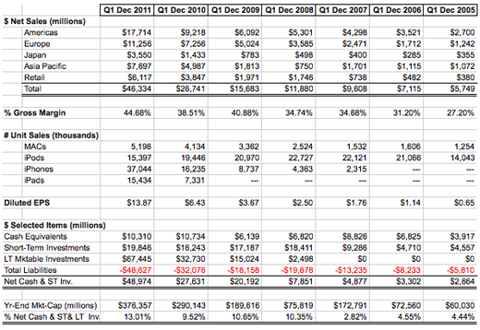 Disclosure: QVM has positions in AAPL in some accounts as of the creation date of this article (January 15, 2012). We certify that except as cited herein, this is our work product. We received no compensation or other inducement from any party to produce this article, but are compensated retroactively by Seeking Alpha based on readership of this specific article.
General Disclaimer: This article provides opinions and information, but does not contain recommendations or personal investment advice to any specific person for any particular purpose. Do your own research or obtain suitable personal advice. You are responsible for your own investment decisions. This article is presented subject to our full disclaimer found on the QVM site available here.