A couple of weeks ago, I detailed ten names that had seen some tremendous movement in the amount of shares short. The idea behind these articles was to analyze the reasons behind the moves in shares short, and to determine if shorts were starting to cover their positions in these names. Now that we've gotten the next set of short interest data, I'm here today to provide an important update on five of the names that have seen shorts continue to cover. In some cases, the covering has been rather sizable. As always, all of my data comes from the Nasdaq short selling data page. Here are the original two articles on these names.
Apple (NASDAQ:AAPL):
Apple is not one of the more shorted names out there, but I included it for a good reason. From mid-April to mid-November, the number of shares short for Apple went from 8.1 million to over 21.6 million. That's not a lot when you consider Apple has about 940 million shares outstanding, but that's a large jump in percentage terms. Obviously, as Apple went from $500 to $700, many became skeptical. The peak of the short interest came after Apple's fiscal fourth quarter earnings report. Apple beat on the top line and missed on the bottom line, but they only beat on the revenue number because analysts had been taking down estimates quite a bit in the weeks prior to the report.
I noted in my original article that the Apple short case isn't as strong at $485, where we are now, as opposed to where it was at $600, $650, or even $700. Additionally, we are getting closer to Apple's first quarter earnings report, scheduled for January 23. For the third straight update, Apple has seen the number of shares short come down. From mid-December to the end of the month (in terms of the settlement date), another 1.27 million shares were covered. Over the past three updates, a month and a half, nearly 3.8 million shares short were covered. That's nearly 17.5% of shorts that are covering. As you can see in the chart below, the number of shares short for Apple is at a roughly two month low.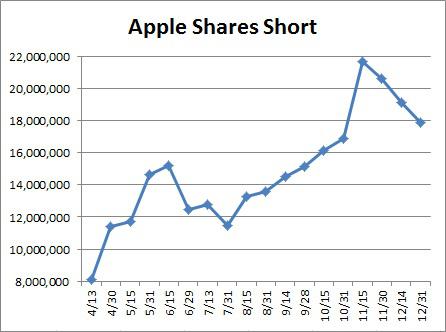 Deckers Outdoor (NASDAQ:DECK):
Deckers is one of the more curious ones out there. A warm winter last year led to poor sales for the company, and with high sheepskin prices, margins were squeezed and earnings have fallen in 2012. Deckers believes that earnings will fall about a third this year, despite the company buying back plenty of stock this year. Deckers has essentially given lower than expected guidance for four straight quarters, which led shares to plummet nearly 47% in 2012, and that's after a drop in late 2011.
At this point, expectations are incredibly low for 2013, so if Deckers surprises, the shorts will get burned. From the end of January 2012 until mid December, the number of shares short more than tripled from 5.32 million to 16.29 million. That's a large number considering that the current outstanding share count is just over 35 million. Since my last update, we have seen some shorts cover, with just over 15 million shares short now. But that's still a large percentage. Another item to consider is the constant buyout rumor. Many Deckers bulls believe that the company will get bought out, and CNBC's Jim Cramer has thought this too, with VF Corp being the logical candidate. Every time we see a buyout rumor pop up, we see a small short squeeze in this stock. If a buyout eventually comes, the shorts will be roasted. Until then, a large majority believe that this company will continue to disappoint.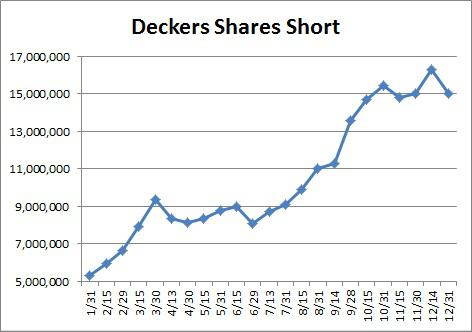 Facebook (NASDAQ:FB):
Here's a surprise for most investors. The number of shares short for Facebook is at its lowest point for any update on the NASDAQ site. A lot of shorts have been covering, as Facebook has continued higher on the promise of mobile. A lot of analysts have been jumping on the Facebook bandwagon lately, raising estimates and price targets. Many of those analysts are echoing the same themes, that Facebook has figured out mobile, ad dollars are coming in, and items like Gifts will begin to provide meaningful revenues and earnings. Facebook stock has rallied from $19 to $31.50 in less than two months, with about $4 of that coming in 2013 alone.
With such a huge rally in the stock, it's not that surprising that the short share count has come down, but you'd expect at some point for shorts to come back with such a large rally. So far, that is not happening. At the end of December, less than 26.4 million shares were short. That's down from the mid-December update of more than 55 million, and mid-November's high of 95.3 million. We are even lower than the first data point, the end of May, which came in at 34 million. Facebook is scheduled to report on January 30th, so we should have the mid-January number in by then. With shares continuing to soar, it will be interesting if we get a new low mark, or we start going back up into the earnings report on skepticism.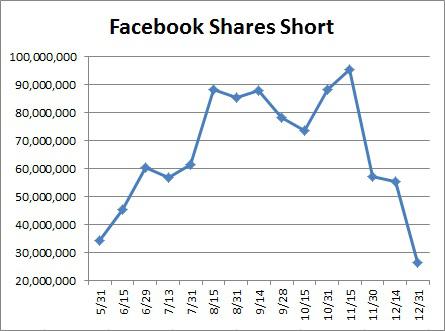 Netflix (NASDAQ:NFLX):
Netflix shares recently broke $100 for the first time since April, and that has sent some shorts covering. As I mentioned in the original article, the news that Carl Icahn had bought shares, as well as a content deal with Disney (NYSE:DIS) sent shares racing higher. Investors have continued to bid up shares as Netflix recently signed a new content deal with Warner Brothers, although that news is not reflected in the end of December short count as it came in 2013. The new content deal for Netflix was clearly a reaction to the one signed a few days earlier by competitor Amazon (NASDAQ:AMZN).
The end of December short share count was under 13.2 million, which is the lowest point since the middle of July. That is especially interesting given that Netflix was forced to give up its goal to add 7 million domestic streaming subscribers in 2012. The number is looking closer to 5 million, and we'll get the official number on January 23. Investors don't seem to care about Netflix's reduced profits currently. Current expectations for $0.40 in earnings this year would mark a drop of more than 90% from 2011's figure. At that expectation, Netflix is currently trading for 259 times this year's earnings. Shorts have been running away from Netflix, but they may return as we approach earnings and after the report if it is bad. Recent news that the US Postal Service is giving Netflix an unfair advantage may hurt DVD margins if the company is forced to pay more going forward.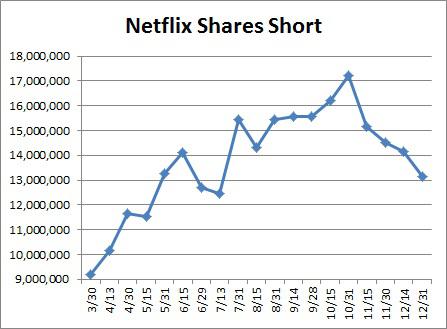 Green Mountain Coffee Roasters (NASDAQ:GMCR):
As I stated in my original article, Green Mountain shares were off to the races after a great fourth quarter report. Green Mountain shares went from $29 to $37 on the report initially, and have continued higher since. Shares nearly hit $44 a couple of days ago, their highest point since the collapse in early May.
Analyst expectations have certainly come up since that report, which has scared off some of the shorts. Since that report, analysts have hiked their Q1 revenue growth forecast from 11.7% to 15.1%, and earnings forecast from $0.59 to $0.65. Remember, the company is buying back shares currently, so that has an impact on the share count. In terms of the current fiscal year, the revenue growth average has come up from 15.0% to 16.7%, and earnings per share estimate has been hiked from $2.51 to $2.69.
A large number of the short base has disappeared in the last few weeks. Just since my last update, we've gone from nearly 40 million shares short to just over 32 million. More than 18.5 million shares short have been covered in the past month. The current count, like Netflix, is at its lowest point since mid July. Remember, Green Mountain shares were down near $15 at one point (in an after hours session after earnings), and now we're at $39. Not many shorts can hold on after a move like that.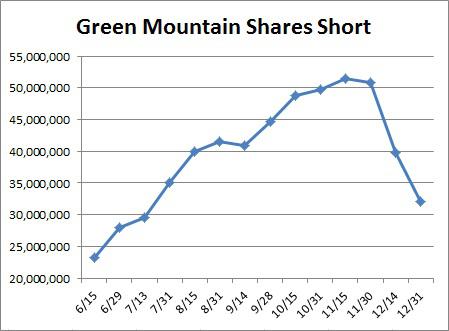 Disclosure: I have no positions in any stocks mentioned, but may initiate a long position in AAPL, DECK over the next 72 hours. I wrote this article myself, and it expresses my own opinions. I am not receiving compensation for it (other than from Seeking Alpha). I have no business relationship with any company whose stock is mentioned in this article. Investors are always reminded that before making any investment, you should do your own proper due diligence on any name directly or indirectly mentioned in this article. Investors should also consider seeking advice from a broker or financial adviser before making any investment decisions. Any material in this article should be considered general information, and not relied on as a formal investment recommendation.