Arena's (NASDAQ:ARNA) obesity drug, Belviq, was approved on June 27, 2012 and should receive final scheduling by the DEA soon. The DEA recommended Schedule 4 and is collecting comments through January 18, 2013, then a final decision should be forthwith. European approval may also be imminent (see Seeking Alpha), which could be a game changer. Vivus' (NASDAQ:VVUS) drug Qsymia did not get European approval, which will give Belviq exclusivity in the European obesity market. The European sales potential for Belviq and a relatively weak start for Qsymia sales has lead to a change in my previous opinion, published by Seeking Alpha, for Arena's growth potential.
Belviq may enjoy exclusivity for a while. The only other drugs, Phentermine and Orlistat (Xenical) by Roche (OTCQX:RHHBY), do not sell well. Orexigen's (NASDAQ:OREX) obesity drug, Contrave, is currently undergoing cardiovascular outcome trials (CVOTs) and awaits approval. Both Belviq and Qsymia are under going post-market FDA ordered CVOTs, which is something for share holders to monitor near the end of 2013 and throughout 2014. The obesity drug Meridia, by Abbott (NYSE:ABT), was withdrawn from the market because of cardiovascular risk. Because of Glaxo's (NYSE:GSK) diabetes drug Avandia's association with Myocardial Infarctions (MIs), new diabetes drugs are required to have large CVOTs prior to FDA approval, a situation similar to Orexigen's Contrave. Comparing the prescribing information for Qsymia to Belviq is also a useful analysis for gaining an opinion on sales potential.
A model taking in into account that Arena receives 31.5% (and up to 36.5% for sales over $750 million) of Belviq's revenue and assuming a high margin (70%), because Arena is not actually marketing Belviq, a model was developed assuming varying total Belviq revenues and Arena PE ratios.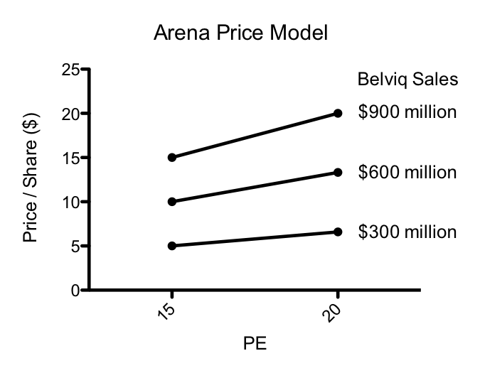 Arena Share Price Model
| | | | |
| --- | --- | --- | --- |
| Revenue (mil $) | Earning/ sh ($) | PE | Share price ($) |
| 300 | 0.33 | 15 | 5 |
|   |   | 20 | 6.60 |
| 600 | 0.66 | 15 | 10 |
|   |   | 20 | 13.33 |
| 900 | 1 | 15 | 15 |
|   |   | 20 | 20 |
The model predicts that if total sales of Belviq approach $600 million, target Arena prices would be substantially higher than $10 per share for the next year. Although Arena has appreciated somewhat since another Seeking Alpha article suggested acquiring Arena below $10 was reasonable. Arena closed at $10.20 Monday, January 14, 2013. There's time, but the train is leaving the station.
Disclosure: I am long ARNA, VVUS. I wrote this article myself, and it expresses my own opinions. I am not receiving compensation for it (other than from Seeking Alpha). I have no business relationship with any company whose stock is mentioned in this article.