On Monday, shares of Research in Motion (RIMM) rocketed higher, rallying more than 10% and closing just under $15. If you exclude the after-hours session following the company's latest earnings report, Monday's trading marked the first time shares traded north of $15 since early 2012. While there was no company specific news, investors were punishing Apple (NASDAQ:AAPL) for a reported large cut in component orders, and may have bid up RIM on the hopes that BlackBerry 10 would see increased sales.
That BlackBerry 10 launch date is not far off now, as we're just two weeks away. RIM shares have rocketed higher in recent months as revenues and earnings have not been as bad as expected. But the rally could continue going forward. Today, my goal is to detail a few reasons why we could see $20 on the promise of BlackBerry 10. First though, I'll start with some recent news.
Recent company and competitor news:
Last week, we got a sneak peak at the BlackBerry 10 launch and plans for 2013. According to CMO Frank Boulben, the company plans at least six BB10 devices in 2013, beginning with an all-touch device and a phone with a Qwerty keyboard, which it will announce January 30th. The company will look to hit a variety of markets and price points during 2013 because the company does not have any exclusive deals with carriers.
Last Thursday, shares of RIM got a boost as phone maker Nokia (NYSE:NOK) pre-announced its Q4 results. Nokia shares rallied nearly 19% on the day after the company stated that it "exceeded expectations and achieved underlying profitability." Lumia shipments totaled 4.4 million, well above Q3's 2.9 million, and generally above expectations. The company also announced that average selling prices jumped to €182 from Q3's €155. Why is this important for RIM? Well, many investors were counting out both Nokia and RIM. It's possible that both aren't doing as bad as expected, and maybe in fact stealing away some share from other names.
Friday was a very interesting day for Research in Motion. First, the stock was downgraded to Sell by BMO, with a reduced price target of $9. However, shares shrugged off the downgrade, and ended up rallying almost 14% for the day. Part of the reason was probably due to some short covering, which I'll detail a bit later. Another reason was perhaps leaked photos of the new Z10, RIM's first touchscreen-only BB10 device.
Then on Monday we got the Apple news, sending Apple shares below the key $500 level at times. To me, the Apple news is not very surprising. We knew that Apple's fiscal Q1, which ended in December, was going to be a huge selling quarter for the iPhone. Don't forget, Apple released the iPhone 5 in late September, so they already sold a few million units in their previous year's fiscal Q4. The fact that Apple is cutting component orders for calendar Q1, the company's fiscal Q2, just means that they are slowing production, which I believe is due to a new phone coming quicker.
We've heard rumors that Apple could launch a new version of the iPhone 5 in June. If that is true, it would make sense that Apple is cutting back production on what would end up being an "older version" of the phone. A fair number of analysts are calling the component cuts old news, and most analysts were forecasting reduced iPhone sales in Apple's fiscal Q2 compared to Q1 anyway. Don't forget, Apple started selling the iPhone 5 in China during December. Last year, as they told us in their 10-Q, the iPhone didn't go on sale in China until January. I think Apple is going to have a huge Q1 in terms of iPhone sales, and then we'll see Q2 sales down a bit. That's not a surprise, and the news seems like a bit of an overreaction.
But the appearance of weak demand for the iPhone gave a boost to RIM shares on Monday. A loss of say 100,000 iPhone sales here and there might not seem like much to Apple when it sells 25, 35, or even 45 million iPhones in a quarter. However, you have to look at the flip slide. If Research in Motion steals those 100,000 units, it's a lot for RIM, a company that's selling roughly 7 million to 8 million units a quarter. Additionally, for a stock that's been so beaten down, any additional sales will be seen as a huge boost.
Now that I've covered a bit of recent news regarding Research in Motion and other players in the space, it's time to look at what could continue to drive shares higher.
Reason one - short squeeze potential:
I described above that some of the company's recent moves may have been due to short covering in the stock. We heard a similar theme prior to the company's latest quarterly report, but yet, the number of shares short still was going higher. The chart below shows short interest in the company over the past 8 months.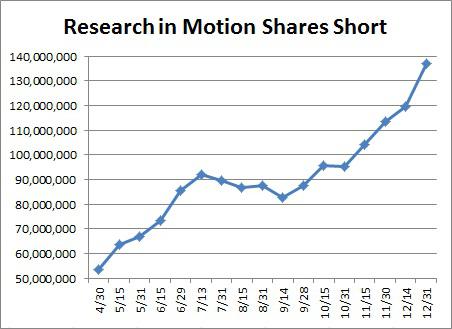 From the end of April to the end of 2012, the number of shares short in Research in Motion skyrocketed from 53.7 million to more than 137 million. That's a rise of more than 155%. As of the end of December, approximately 26.1% of the more than 524 million shares outstanding were short. That's a substantial amount of shares short, and there are a lot of non-believers out there.
Additionally, the number of shares short continued to rise after the third quarter earnings report, which is surprising. The company beat again, but investors were not satisfied. Shares plunged after the report, which I guess had to do with the increase in shares short. But look at the recent pop. At the beginning of November, the short count was roughly 95.4 million. At the beginning of December, it was up to 113.7 million. The count rose by another 23 million plus in December.
The key takeaway here is that a large short count could lead to a huge short squeeze, and maybe the upcoming BlackBerry 10 launch will do that. You might say that we've seen some short covering, but remember that as the price goes higher and higher, we could in fact see more non-believers. Even with such high trading volume the last couple of days, I don't think that 50 million or 60 million shares have been covered. We probably won't get the mid-January numbers for another week or so, but I don't expect them to post a substantial drop. It's possible that maybe 20 million or 30 million shares short were covered, but even at that point, you are still around 105 million or more, which is still 20% of the outstanding share count. Nervous shorts could push this name higher, and quickly, as we approach the BB10 launch.
Reason two - increased expectations:
In the latter part of the summer of 2012, Research in Motion was nearly left for dead. Expectations were extremely low, and that's why the stock was down at $6.22 at one point.
But the company has continued to beat expectations since then. Shares were already starting to rebound in late September, but when the company's second quarter earnings report came in great, shares started their upward trend. We haven't seen a $6 handle in the stock since then. Since November, the $8, $9, and $10 levels have all been taken out. In fact, November 21st was the last day Research in Motion traded in the single digits.
Additionally, as I mentioned above, the third quarter earnings report was also better than expected. It was the second straight quarter of beats on both the top and bottom line. But the stock got killed as investors saw the company's guidance as disappointing. When I mentioned above that RIM will be targeting multiple price points going forward, investors seemed a little worried about the company's margins. It seemed the company would be a bit more focused on revenues, and not necessarily what it would cost to get those revenues.
Because the company has now beat two quarters in a row, analysts have raised their expectations, and quite substantially. The table below shows roughly where expectations have fared over time. The fiscal 2013 figures are for the fiscal year ending in February 2013, with the fiscal 2014 figures being for the year after that. As a point of reference, the company reported revenues of $18.52 billion and a profit of $4.20 in fiscal 2012.

Current estimates are the same as the 1/2 numbers. These aren't exactly small revisions in analyst estimates. Revenue estimates for the current fiscal year are up nearly 11%, and the expected loss has narrowed quite substantially. The biggest difference is in the revenue estimate for the fiscal 2014 year. Back in August, analysts expected revenues to fall further after this year's drop. Now, they expect a rise of nearly 9%, meaning the revenue estimate is up more than 23%. The expected loss has not come down tremendously, but I wouldn't expect it to this far out. We still need to see the BB10 launch and what the company is actually going to do.
Reason three - the balance sheet:
One of the key worries was that the company would start burning through cash as we approached the launch of the BB10 devices. When you add in the company's restructuring plans, company bears did not believe the company's cash position would be sufficient going forward. Even though the company had a great deal of cash, losses were expected to continue, and that could pressure the balance sheet. However, the company's balance sheet remains in fairly decent shape. The table below shows selected balance sheet data over the past year, with the dollar values in millions.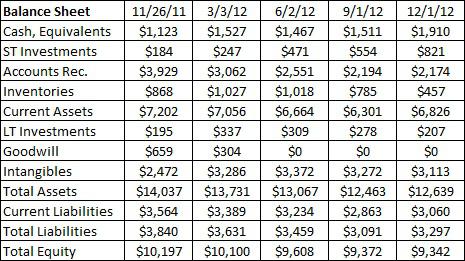 Those that were critical of the company have claimed that the rise in the cash position is "pure accounting garbage", that the only reason why cash is rising is because the company is collecting accounts receivable. But think about that for a minute. Would you rather the company be owed so much? A year ago, the accounts receivable balance was nearly $3.93 billion. Accounts receivable accounted for more than 54.5% of current assets, and 28% of total assets. Over the past year, the company has worked to collect those due bills. The balance in accounts receivable at the end of the past quarter was $2.17 billion, just 31.85% of current assets and 17.2% of total assets. Net collections are more than $1.75 billion in the past twelve months.
At the same time, the company has worked on reducing its inventory balance. Inventories totaled more than $1 billion at the end of last year's fiscal Q4 and this year's fiscal Q1, and that balance is down to just $457 million. This is a good thing. As we move towards the launch of BlackBerry 10, you want the old inventory to disappear.
Let's use a hypothetical example to prove my point. Assume that 6 months ago, the company had a phone that was carried at $200 on their books (so it accounted for $200 in inventory). Assume that 6 months ago, that phone would have sold for $250, but it hadn't been sold as of 3 months ago, and was now only worth $225. Even if in Q3, they were only able to sell it for $200, that still may be a win for the company. Now that BlackBerry 10 is almost here, that phone might only sell for $175 or $150 now. After the BB10 launch, they might struggle to get $100 for it. Now the pricing drop I used may have been a bit dramatic, but it's about the overall point, and not necessarily the numbers. Getting old inventory out the door early was a good move, even if they gave up a little on pricing then. It's a lot better than giving up a lot on pricing going forward.
In terms of financial strength, the company is doing fairly well. I think the balance sheet is much cleaner and more efficient now with more cash and less accounts receivable. The table below shows some key financial ratios over the past year.

*Includes cash and equivalents, short and long-term investments.
The company's cash pile has nearly doubled over the past year, and that provides more financial flexibility. When the company needs to spend on marketing or inventory, they need cash. Yes, initially these purchases go down as accounts payable probably, but eventually, they need to be paid. Do you think the company's vendors want to be paid in accounts receivable, that a company may never get back? I don't think so. Cash is king, and Research in Motion has quite a bit of it. A year ago, cash and short-term investments represented just 18.15% of current assets, and 9.31% of total assets. As of the most recent quarter, those numbers were up to 40.01% and 21.61%, respectively.
Now, I do expect the company to start using some of that cash in the current quarter as they launch BB10. The company may also continue to collect accounts receivable, so how much they spend may not be 100% clear. However, this company's balance sheet is fairly strong, and has actually improved over the past year. In addition to being more financially flexible with a higher percentage of cash, working capital and the current ratio have increased over the past twelve months. The company's debt (liabilities to assets) ratio has also improved over the prior year's Q3.
Conclusion - the rally could extend:
Over the first half of 2012, I was one of the most bearish out there on Research in Motion. You can look back at my articles and see that. Even after the company's Q2 positive surprise, I wasn't totally sold that the company was back. But when a stock was priced as low as RIM was, just a small shift in expectations could go a long way.
It did. Research in Motion shares are at their highest point in several months as we approach the launch of the BlackBerry 10 devices. Even with the strong rally, we could see shares go even higher. Analysts have been raising their expectations, and this company isn't dead anymore. The company has a very good, and now clean, balance sheet, which gives it the financial flexibility to roll out the new devices.
Now, I'm not claiming that the BlackBerry 10 devices will destroy the iPhone or become the world's leading phone overnight. Not at all. What I am saying is that this company is doing a bit better than most had thought, and the new devices should help this company get back on track. Add in a huge short base, and you could get a rally that could extend quite a bit further. As we continue towards the launch and more details are leaked, I wouldn't be surprised to see more shorts panic and cover their positions. The company currently lists March 28th as their next reporting date, which is still a bit off. By then, the company should have a good idea of how things are going. I would not be surprised if the company sees $20 on the launch. The stock may not get there by the launch date, but any general optimism over these products will help. It could take until that earnings date to reach the $20 level, but if the BlackBerry 10 launch goes well, I think it is just a matter of time.
Strangely enough, the last time we saw shares of Research in Motion above the $20 level was in 2011, and that day was: Halloween.
Disclosure: I have no positions in any stocks mentioned, and no plans to initiate any positions within the next 72 hours. I wrote this article myself, and it expresses my own opinions. I am not receiving compensation for it (other than from Seeking Alpha). I have no business relationship with any company whose stock is mentioned in this article.
Additional disclosure: Investors are always reminded that before making any investment, you should do your own proper due diligence on any name directly or indirectly mentioned in this article. Investors should also consider seeking advice from a broker or financial adviser before making any investment decisions. Any material in this article should be considered general information, and not relied on as a formal investment recommendation.