When Apple Inc. (NASDAQ:AAPL) first announced that it was going to start paying a dividend in March 2012, the stock was trading around $600 per share. The initial dividend yield on the stock at that time was around 1.8%. The stock subsequently made a new high around $705 in September 2012, pushing the forward dividend yield down to 1.5%.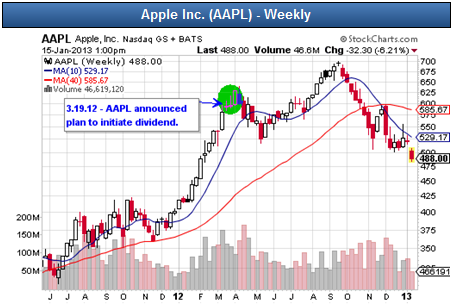 Since peaking, Apple shares have been in a freefall due to worries about slowing growth and fears that the company's most innovative days are behind them.
While these fears have some merit, the selloff seems to be getting a little long in the tooth and investors should now shift their focus on the most compelling reason to buy Apple's stock...the dividend!
At the current price of $490, Apple's forward dividend yield is now 2.2%. This may be low by some dividend investor's standards, but we expect Apple to aggressively increase this dividend over the next 3-5 years.
How Does Apple Stack Up As A Dividend Stock?
Below is a table that compares Apple to some of its large-cap, dividend-paying technology peers.

While many of its peers currently have a much higher dividend yield, Apple's overall Parsimony rating is much higher. When you peel back the onion a bit (and look at Apple's sub ratings), it becomes clear why the stock has a higher overall rating. The table below summarizes some of the key data points that we analyze when ranking our dividend stocks.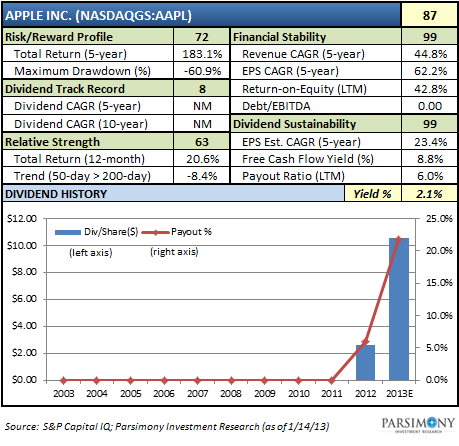 Apple carries our highest possible rating (99) for Financial Stability and Dividend Sustainability. Unfortunately, Apple can't do anything about its short Dividend History, but dividend growth investors should be able to look past this short history given the Company's financial stability and future dividend potential.
A Dividend Growth Investor's Dream
This shouldn't be earth-shattering news to anyone, but Apple may very well become the best dividend growth stock of all-time.
What do dividend investors look for in a stock? Stable cash flow, you say? Well, how do you like these Apples?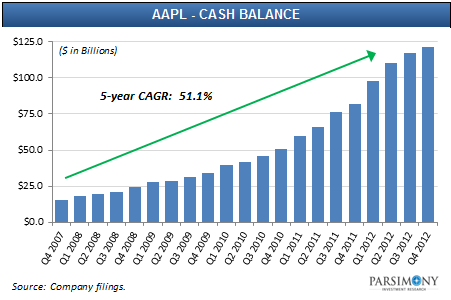 Apple has built a very strong balance sheet over the last few years. The company has no debt and it generates a significant amount of cash flow. As shown in the chart above, Apple has grown its cash balance from about $15 billion in 2007 to over $120 billion (as of 9/30/12).
As we said in a recent article, Apple is maturing as a company and investors need to recognize that. The iTV should be promising, but Apple's hyper-growth days are behind them. That said, the company has built an enormous ecosystem that will continue to generate a significant amount of cash flow in the future. That should be music to dividend investors ears.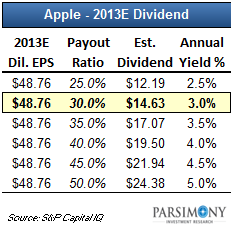 Apple currently has a low payout ratio of approximately 22% and a current yield of 2.2%. However, if the company were to increase its payout ratio modestly to 30% next year, your yield-on-cost based on today's trading price would be over 3.0% (see table to the right). If the company got aggressive and raised its payout ratio next year to 40% (which is still a relatively modest payout ratio), your yield-would be over 4.0%.
Conclusion
If you combine a modestly higher payout ratio with 10-15% future earnings growth, Apple investors will get the best of both worlds and they should enjoy a 15%-20% annual total return for the foreseeable future. Since Mr. Cook has already shown that he is willing to start sharing the company's large hoard of cash with shareholders, we believe that some future dividend hikes are just around the corner. Now is the time to lock in a great cost basis as a dividend growth investor.
Disclosure: I am long AAPL. I wrote this article myself, and it expresses my own opinions. I am not receiving compensation for it (other than from Seeking Alpha). I have no business relationship with any company whose stock is mentioned in this article.