Qihoo (NYSE:QIHU) has surged +40% in the past few months due to Wall Street analysts' optimism over the monetization potential of Qihoo's own search engine. Baidu (NASDAQ:BIDU) has declined nearly 20% during the time, but has recently regained much of those losses. I typically like to invest in stable, value stocks instead of momentum, high-growth stocks like QIHU and BIDU. However, I would like to spend some time applying the same fundamental valuation approach to Qihoo and Baidu as typically performed on value stocks, given that high growth stocks often trade too much on "story" and not enough on fundamentals. I will make no recommendation at the end of this article; I will just present the figures and allow the readers to come to their own conclusions.
China's Online Search Market
According to Analysis, as of Q2 2012 the market share of each major player in China's online search market was the following: Baidu (78.6%), Google China (NASDAQ:GOOG) (15.7%), Sohu's Sogou (NASDAQ:SOHU) (2.9%), Tencent's Soso (OTCPK:TCEHY) (1.5%), Others (1%) and Netease's Youdao (NASDAQ:NTES) (0.3%).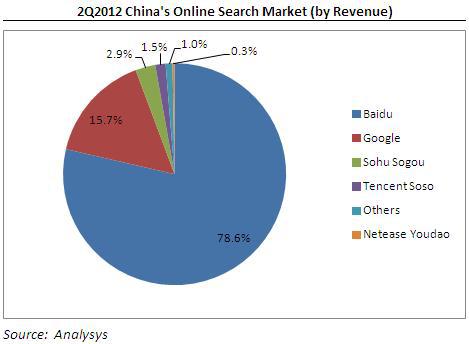 Historically, the other smaller players have not made much of an impact on Baidu's dominant market share, and Google China's market share has been on a steady decline, from 24.2% in 2Q2010 to just 15.7% in 2Q2012. Note that before Qihoo launched its own search engine in August 2012, Qihoo helped direct 65%-70% of the traffic for Google China (I'll discuss this more later in the article). Baidu's market share has increased from 70% to 78.6% during that time span.

In August 2012, Qihoo launched its own search engine and by December 2012, Qihoo's market share of China's online search engine unique views had jumped to 10.5%, and Baidu's market share declined to 71.5%, according to iResearch.
Qihoo's Indirect Market Share
Note one subtle but very important consideration when looking at Qihoo's 10.5% market share in December 2012. Prior to August 2012 when Qihoo did not have its own search engine yet, Qihoo's browser (2nd most popular Internet browser in China behind Microsoft Internet Explorer) would recommend and direct search traffic to Google China (and other search engines) and receive a percentage of the revenue from the search referral. Therefore prior to August 2012, Qihoo already had some indirect market share in online search through these search referral arrangements. It was not as if Qihoo's search engine captured 10.5% market share overnight. Below is a table from Wall Street research that illustrates this point: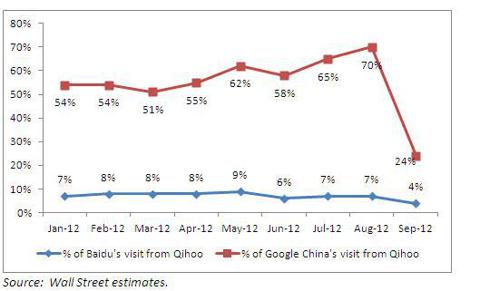 If you revised the previous market share data to account for Qihoo's indirect market share, the implied market share data would look more like this below, with Qihoo indirectly already having 15% market share in Q1 and Q2 2012, prior to launching its own search engine.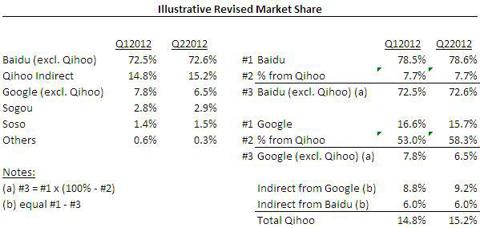 By switching to Qihoo's own search engine and referring search traffic to its own search site, Qihoo can now sell its own search ads, but it will also lose previous revenue from search referrals. Net/net, there probably will be additional revenue from Qihoo launching its own search engine and directly selling its own search ads (instead of depending on other search engines and collecting search referral fees), however the revenue is not 100% incremental (because of the lost search referral revenue).
Valuation Comparison
Let's now look at the valuation comparison between Baidu and Qihoo. As shown below, Baidu is approximately 10x bigger than Qihoo, whether you look at market capitalization or revenue. Qihoo is a bit more expensive at 11.1x 2012E TEV/Sales, compared with 9.4x for Baidu. On a non-GAAP 2012E P/E basis, Qihoo trades at 43.3x, compared with 21.6x for Baidu. Both companies have about 9% of their market cap in cash. Expected 2013 revenue growth is 41.6% for Baidu and 56.3% for Qihoo.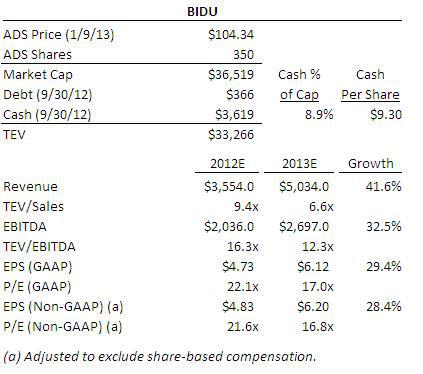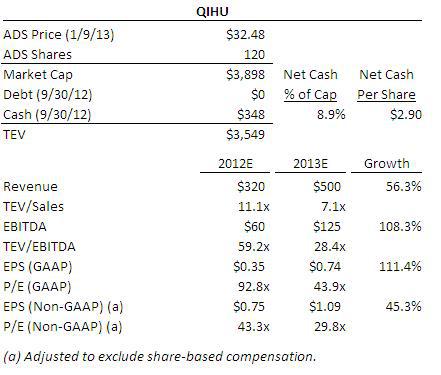 China's Online Search Market Growth
How does Baidu's and Qihoo's revenue growth compare with expected industry growth rates for online search in China? It looks like both companies are expected to grow faster than the industry growth rate of 38.8% for 2013E (which implies increasing market share, or faster growth from other revenue segments, or my industry data source is too conservative).

Revenue Contribution
When we look at revenue contribution, you will see that Baidu's revenue is almost 100% from online services (primarily online search ads). For Qihoo, its revenue contribution has changed dramatically over the years, as it has moved away from selling security software to online ads and online gaming revenue. In 2012E, Qihoo still has approximately 30% of its revenue coming from online gaming (note, Chinese online gaming stocks like NTES trade at 5-6x 2012E P/E). Note that the above mentioned search referral revenue and eventual online search revenue would both be in Online Ad for Qihoo.

Number of and Types of Advertisers
Another difference between Baidu and Qihoo is the number of advertisers and the types of advertisers. As shown below, as of Q32012, Baidu had 390,000 advertisers, compared with just 600 advertisers for Qihoo (this is up fro 300 advertisers in Q2 2012). This implies that while Baidu's average advertiser spends around $2,500 USD per quarter, Qihoo's advertisers spend almost $100,000 USD per quarter! I'll let the readers interpret exactly why that is and what that means (because I have no idea).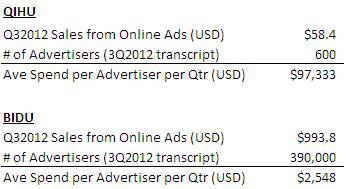 By the way, certain data points are sometimes not disclosed in the earnings press release and you have to read through the companies' earnings transcript to find it (Thanks to Seeking Alpha for access to earnings transcripts by the way). Here are Baidu Q32012 and Qihoo Q32012 transcripts, if you're interested of how I found the number of advertisers.
Now let's look at the type of advertisers. According to Qihoo's Q22012 earnings transcript, e-commerce was 40%, group-buying was 10%, and gaming was 9%, basically the 600 advertisers on Qihoo are primarily Chinese Internet companies. Baidu's 390,000 advertisers is much more diverse, with advertisers across various sectors including fashion/luxury, education, internet, travel, games, real estate, etc. (no exact percentage split that I have found).
Cost Components
Besides the revenue and advertiser mix differences between Baidu and Qihoo, another difference that shows up is in the cost components. For Q32012, Baidu's cost of goods sold is approximately 27% of sales, compared with just 9% for Qihoo (this implies gross margins of 91%). R&D expense is significantly higher for Qihoo than Baidu (49% vs. 10%), and SG&A is higher for Qihoo than Baidu (27% vs. 10%).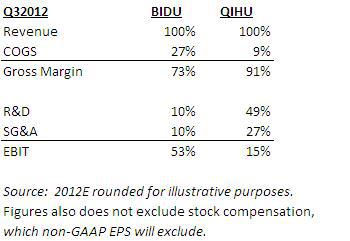 If you look at Baidu's COGS components, sales tax alone is around 7% of sales, with TAC, bandwidth, depreciation, operational, and other costs comprising the remaining portions. At a minimum, Qihoo has to incur the sales tax costs for operating online services in China. I'm not sure why the other costs (TAC, bandwidth, depreciation, operational, etc.) are so minimal for Qihoo (are those costs buried in R&D and SG&A instead, if so, why are they not up top with COGS, which are the direct costs associated with revenue), so I'll let the readers interpret on their own.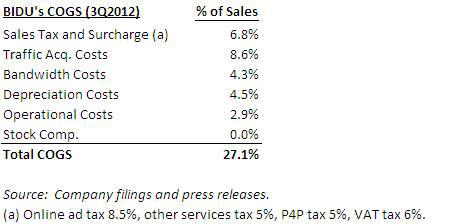 Conclusion
Hopefully this article was helpful to investors who want exposure to China's high-growth online search market, in determining whether Baidu or Qihoo is the better play for investing in that sector. Again, personally I tend to invest in stable, boring value stocks, but remember that the fundamental approach to valuing stocks can and should be applied as well to high-growth, momentum stocks. Don't just read headlines and invest in the "story," always do the homework as well.
Disclosure: I have no positions in any stocks mentioned, and no plans to initiate any positions within the next 72 hours. I wrote this article myself, and it expresses my own opinions. I am not receiving compensation for it (other than from Seeking Alpha). I have no business relationship with any company whose stock is mentioned in this article.