I don't have to read the details of the announcement of Facebook's (NASDAQ:FB) social search to know that it has bad implications for LinkedIn (LNKD). The extent of these implications is debatable, but the bottom line is that social search means less time on LinkedIn for both users and recruiters.
If recruiters can now more actively find candidates on Facebook, this could eat away at large revenues from the important recruiting segment to which LinkedIn relies on for a large share of its revenue. Recruiters are already adapting Facebook as a recruiting tool: A 2012 Jobvite social recruiting survey notes that Facebook saw the biggest gains in social recruiting. A couple key findings from the survey are as follows:
2/3 of recruiters use Facebook to find new talent, a growing trend since Facebook saw the biggest gain in usage, jumping 11 points from last year to 66% in 2012.
For the first time, more than half (54%) of recruiters now use Twitter for their talent search, revealing the importance of watching what you tweet.
LinkedIn remains the dominant recruiting network, used by 93% of respondents. (87% in 2011 and 78% in 2010).
Pair previous recruiting activities on Facebook with social search and this equates to more competition for LinkedIn. LinkedIn's recruiting platform is expensive, and any competitive threats could further squeeze already tight margins. Further, the fact that LinkedIn has already reached most corporate recruiters begs the question as to where the implied growth will come from in the long term.
Many will still argue that there is no direct competitor for LinkedIn: this is not so different that the argument I recall hearing about a year ago regarding Apple (NASDAQ:AAPL) and the iPhone. Up until recently all my friends had been ditching Blackberries for iPhones, however this is no longer the case. It appears that just about everyone is moving to Samsung, and some even awaiting the new Blackberry. While these are obviously different companies in different markets, the fact that abnormal growth and profits are not sustainable over the long run is well established in academia and history. The recent cut in iPhone orders on weak demand should be evidence enough of this harsh reality. LinkedIn has experienced exponential growth, and its current valuation implies that will continue into the future. It would truly have to be a "revolutionary" company to do so.
CEO Jeff Weiner has much discussed a "social graph" it may launch in the future. Looks like Mr. Zuckerberg is one step ahead of him on this one. While they may not be the exact same vision, advances in one network are ultimately negative for the other. Again, the two companies don't directly compete in a number of ways, but in some ways they do. Small shares or traffic and revenue moving from one site to the other can definitely become significant.
Insiders aren't exactly buying up the stock; they are dumping it at every opportunity. December was a record month for insider selling, and it appears like January wont be much different.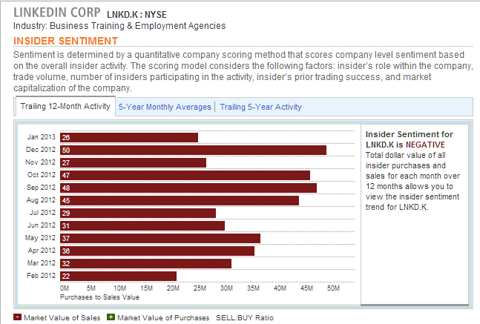 http://data.cnbc.com/quotes/LNKD/tab/8.3
If one looks at the weekly chart, there are couple key technical components that should be considered:
LinkedIn still hasn't been able to make meaningful new highs since those experienced on the IPO. Any talks of the stock's "outperformance" has been based from periods after the stock has sold off.

There appears to be lots of sellers between $120 and $125, and I think those are the two keys levels to watch near term. Until the stock can close above $125 on meaningful volume, I find it very difficult to be bullish.
The ascending triangle seen below is more often a bullish pattern, but can be bearish as well: the key will be the direction of the breakout. What adds to my bearish perspective is that there is divergence between price and both the MACDs as well as the RSI. These indicators basically illustrate that momentum is not confirming price action.
The September highs were also produced on one of the lowest volume periods; again another reason to question any further upside.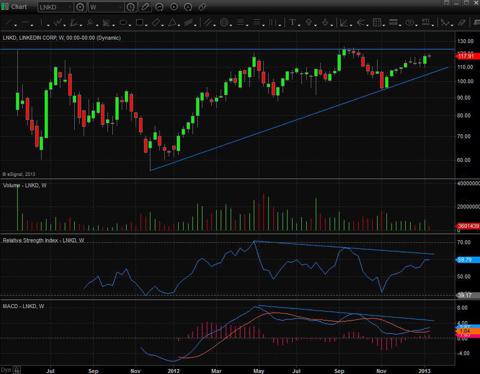 At $118, LinkedIn is trading at a 760 P/E, an astronomical valuation that already has significant growth built into it. In comparison, Facebook is trading at roughly a third of that. Any threats to this high implied growth grate should be concerning for anyone long. A $12.6 billion market cap for a company generating $0.15 EPS isn't exactly cheap. Further, one cannot forget that GAAP net income has actually declined for the last four quarters
Fundamentally I don't know what news or developments can come out that would make me bullish on LinkedIn. Even with consecutive earnings beats the stock has failed to rally above the IPO high; there is simply too much growth already built into the stock price. The news has been good for LinkedIn, but the stock just can't seem to get any momentum. That being said, it also hasn't sold off yet. Given the above pattern in the weekly chart it does appear that we will soon have a decisive breakout in one direction the other.
For any trader or investor, price is ultimately the only thing that pays, and my bearish outlook will be seriously challenged with a close above $120 and $125. Until then, I think this news and price action offers a very attractive risk to reward for anyone looking to initiate a short position as I did today.
*Thanks to Chris Vermeulen at The Technical Traders for this thoughts.
Disclosure: I am short LNKD. I wrote this article myself, and it expresses my own opinions. I am not receiving compensation for it (other than from Seeking Alpha). I have no business relationship with any company whose stock is mentioned in this article.