Stillwater Mining Company (NYSE:SWC), based in the Stillwater Valley near Nye Montana, is the only American producer of palladium and platinum and the largest primary producer of Platinum Group Metals (PGMs) outside of South Africa. Considering that Stillwater Mining Company directly owns the only palladium and platinum producing mine in the United States, I believe this stock could be a good addition to any portfolio. Throughout this article, I'd like to discuss what exactly palladium is and why it is such a huge part of business in multiple sectors.
What is Palladium (Pd 46)?
Palladium is a chemical element that aids in the production of many different products and usages in our market. The largest source of use for palladium is for automobile catalytic converters, aka autocatalysts. The autocatalyst converts over 90% of the harmful substances produced in the exhaust from gasoline engines into carbon dioxide, nitrogen and water vapor. As the number of car productions on the road increase each year, cuts in pollution per vehicle will be mandated a necessity to keep our air as clean as possible.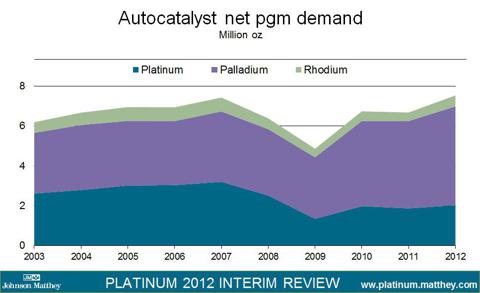 Another usage for palladium is electronics. Palladium is typically used in every type of electronic device, from consumer-based products that we can find in our household to military hardware. The biggest sector in electronics that uses palladium is in multi-layer ceramic capacitors (MLCCs).
Another extremely important role palladium plays in our economy is through jewelry. Palladium has been a precious metal since 1939, used as an alternative to platinum for making white gold. Other uses include dentistry, oil refining, fuel cells, coining, polyester, photography, water treatment, etc.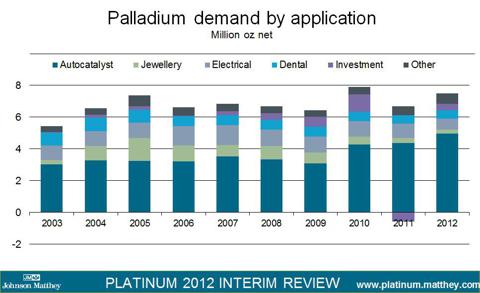 As you can see, there will always be a demand for palladium. The chart below breaks down the palladium demand by application for 2012. With 66% of demand allocated to autocatalysts, this stock is correlated directly to the automobile industry. So as long as cars continue to be produced, demand will remain for autocatalysts and the palladium that makes them.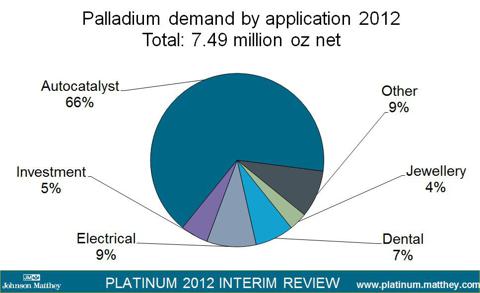 What about the company?
Now that we have an understanding of how essential this element is to our economy in multiple markets, we can begin to discuss the fundamentals and statistics of the company. Stillwater Mining Company's current mining operations are in south-central Montana, where it operates two underground mines along the J-M Reef, which is the world's richest known deposit of platinum group metals (PGMs). The company owns the Marathon PGM-copper deposit in Ontario, Canada, and also owns the Altar porphyry copper-gold deposit located in the San Juan province of Argentina. Since 10/12/12, the stock has steadily increased in share price from $10.22 to the current value of $13.90 (as of this writing). The stock has been steadily increasing in the past few weeks, and there's no reason to think this is the top. Unfortunately, the company does not pay a dividend, so constituting a buy on this company would only be justifiable if you believe in the appreciation of its stock. The stock has traded around the $25.00 level historically, and with the demand for energy solutions for vehicles, palladium for autocatalysts is in more demand. For the last two quarters, Stillwater has beaten Street estimates by a combined total of 0.17 -- 0.15 compared to 0.5, and 0.12 compared to 0.5 for a total surprise percentage of 362.5%. Its fourth quarter earnings report will be available February 19, and if Stillwater can continue to beat the odds, be ready to buy the stock.
Current Position
The current position for this stock is looking better and better each day. It closed at $13.90 (as of this writing), + 0.20 (1.46%). The high today was $13.96, and the low was $13.69. Volume has nearly doubled from its average to over 4 million today. People are becoming aware of this stock, as you can see in its volume. I don't think it's too late to trade on a trend, and I definitely see the possibility of this stock soaring to the $15-$16.00 region. Have an open mind, but invest carefully. An option position may be your best bet here, considering the stock does not offer any dividends.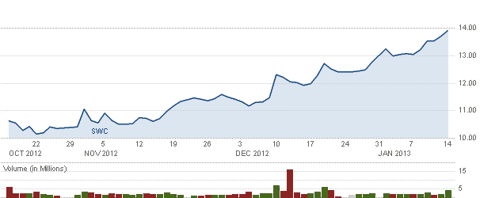 Final Thoughts
Personally, I'm optimistic about the stock. I've been watching it appreciate since the $12.00 level, and I think it's a stock to put on your watchlist. With the increased demand for pollution solutions, and also as an extreme contributor to the auto industry, there is a real market opportunity for palladium. This element is pivotal to a lot of products that we use in our daily lives without even knowing it. This company is the only business in the United States that possesses ownership in the element, and will therefore hold all profits/losses that it presents. If you believe in the demand for palladium, and can see this company increasing its production rate and creating a lasting, necessary product, then put your chips in Stillwater Mining Company. If not, keep this stock on your watchlist and watch for the high volume trends. It's not every day you come across a stock that has sole-ownership in a product.
I'll leave you with a statement from the Company's CEO, Frank McAllister:
"These are dynamic times in the PGM industry. Our mines continue to perform very well, with stable production, well controlled, competitive cost structures and comparatively modest sustaining capital requirements, while other PGM producers face very significant production, labor and cost challenges. The dynamics of our industry are driven by continued strong growth in demand, particularly for palladium, in the face of ever increasing supply constraints globally. At this point, we find ourselves one of the few PGM producers projecting a long-term growth profile in PGMs, which we believe is built atop a foundation of stable, highly cost-competitive and long-lived existing operations. In particular, I am pleased to observe that the significant investment we have made in the development of our Montana operations these past several years has now progressed to the point where we can begin to quantify the level of future growth achievable at those operations. Of special note in 2012 was the continuing improvement in the Company's safety performance: our reportable incident rate per 200,000 hours worked declined to 3.12 in 2012 from 3.34 in 2011, a 6.6% improvement. I congratulate each of our employees for another excellent year of dedicated performance and for continuing attention to workplace safety and productivity improvement."
Disclosure: I am long SWC. I wrote this article myself, and it expresses my own opinions. I am not receiving compensation for it (other than from Seeking Alpha). I have no business relationship with any company whose stock is mentioned in this article.
Additional disclosure: I have no affiliation with this company and have written this article solely on personal interests and for educational purposes.