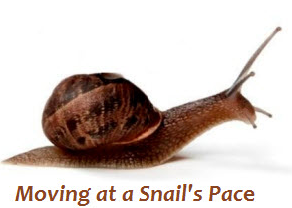 It's rare to see markets in such a slow crawl higher or lower. The recently higher trend is levitating on very little volume. It will take some positive earnings news from S&P 500 heavily weighted financial companies like banks, (NYSEARCA:KBE) and (NYSEARCA:XLF), to either fire up bulls or take us back down with disappointments. Wednesday, JP Morgan (NYSE:JPM) and Goldman Sachs (NYSE:GS) will offer their reports. Some analysts have sharply lowered expectations, which may allow for earnings beats, while others still expect disappointments. With financials moving above even long-term levels of resistance, these reports will be much watched.
Apple (NASDAQ:AAPL) continues its descent as the psychologically important $500 level fell, and with a near 20% weighting on tech indexes (NASDAQ:QQQ), (NYSEARCA:XLK), the sector was pulled lower. You can consider the absence of new gadgets in 2013 (that we know of) and soft supplier data a cause. In my mind, the stock was just over-owned. The average of Street analysts' price targets is $728. Well, the holidays are just 11 months away. Below is a table from Zero Hedge showing hedge fund ownership of Apple as of September 2012 quarter-end. It was all downhill from there.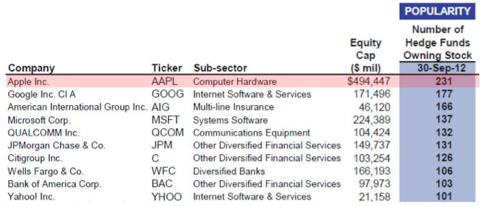 Economic data Tuesday featured the following: Retail Sales, depending on your view, climbed (.5% vs. .2% expected and prior .3%. Ex-Autos & Gas .6% vs. .5% expected and prior .7%); Empire State Mfg Survey was still weak (-7.78 vs. 0.00 expected and prior -8), and PPI was lower (-.2% vs. -.1% expected and prior -.8%. Ex-food and energy .1% vs. .2% expected and prior .1%).
The dollar (NYSEARCA:UUP) was stronger but oddly, so too was gold (NYSEARCA:GLD). With the latter, there was some rumblings as to why the German Bundesbank would want to take physical possession of its gold from the NY Fed. The old joke with Swiss banks is they, as transactions were made, would just move the metal from one side of the vault (seller) to the other (buyer). Those carts were on wheels, naturally. Bernanke also got gold going higher with remarks at the U of Michigan, basically saying unemployment is improving, but is too slow, as is the economy, while inflation is tame. (As long as they calculate unemployment without including those falling off the roles, and inflation calculations continue as they do, then he's right.) Commodities (NYSEARCA:DBC) overall were mixed as oil (NYSEARCA:USO) fell, while grains (NYSEARCA:JJG) were higher. Bonds (NYSEARCA:TLT) rallied.
Volume remains frustratingly light, as if all traders left the floor and didn't turn out the lights. Breadth per the WSJ was modestly positive.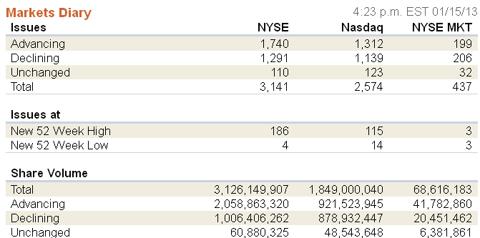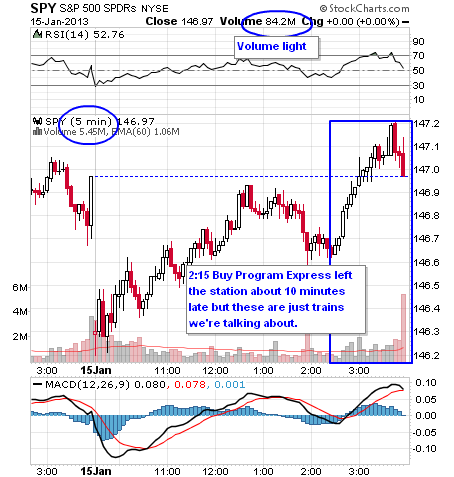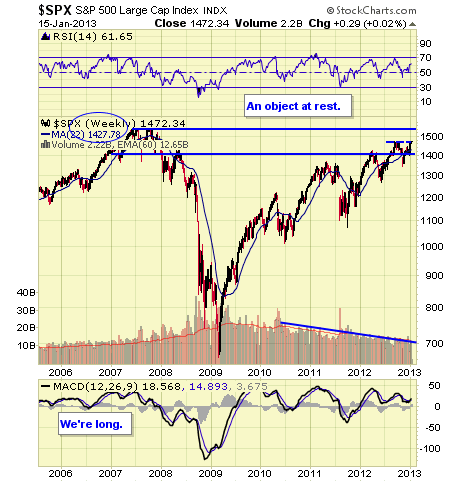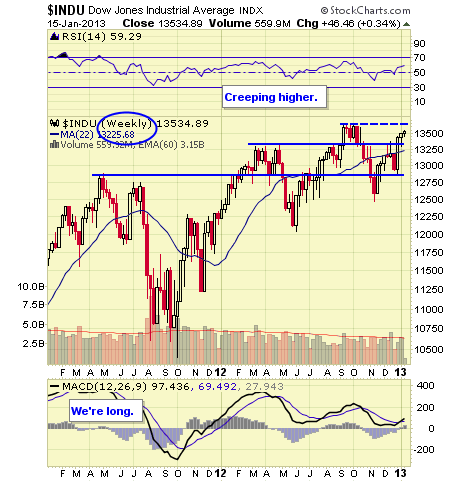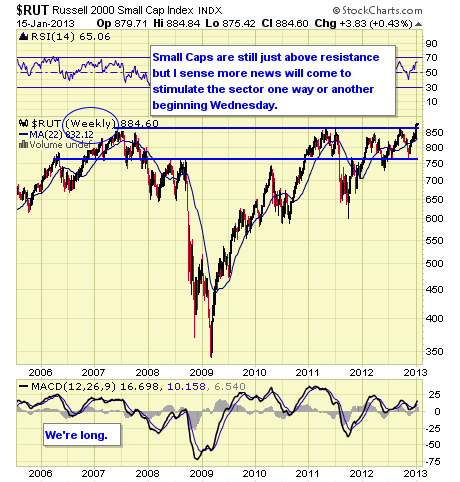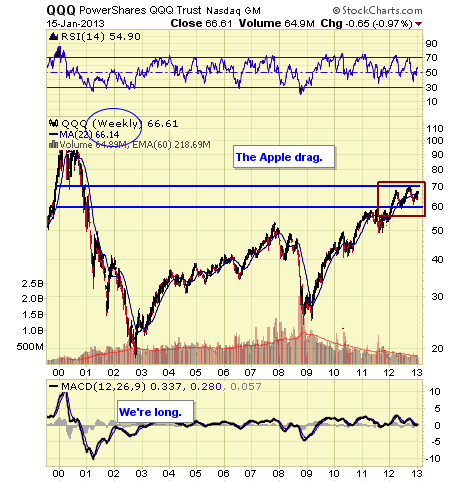 Continue to U.S. Sector, Stocks & Bond ETFs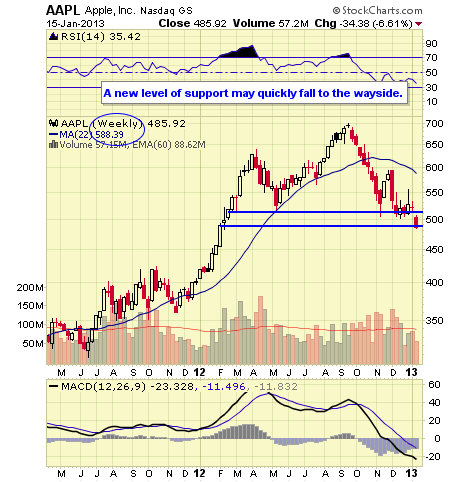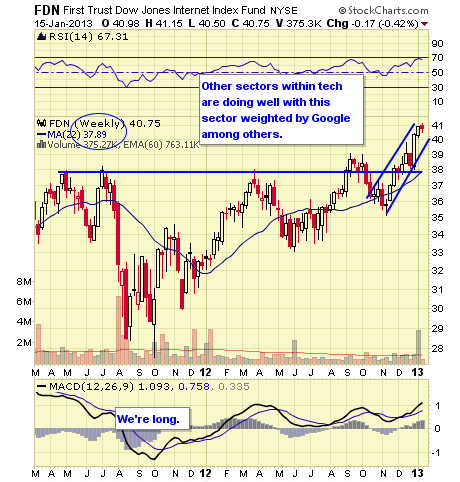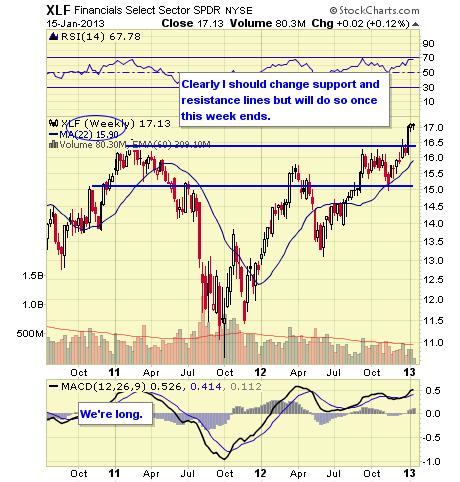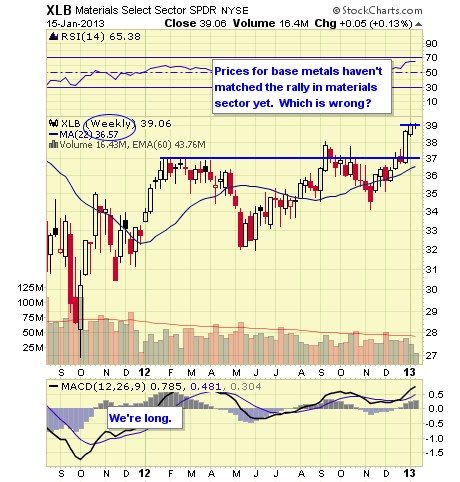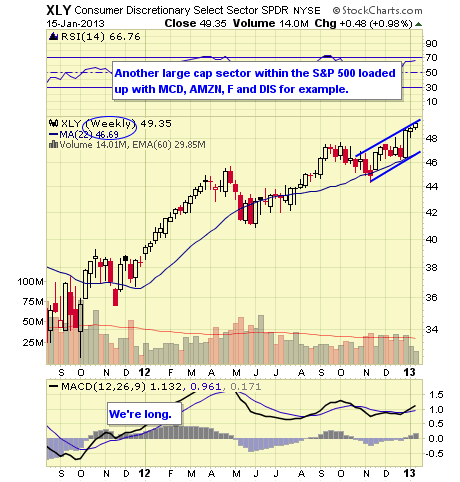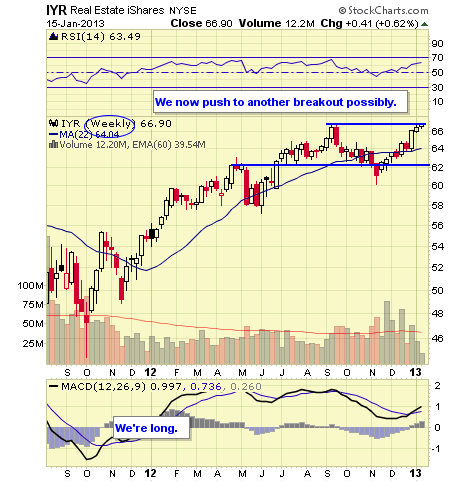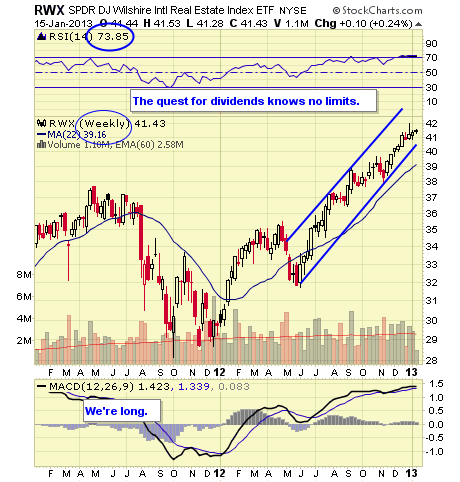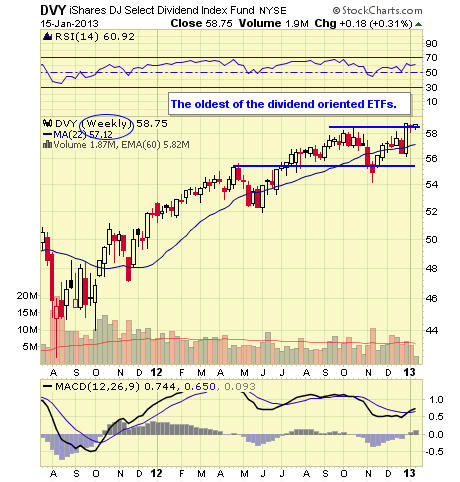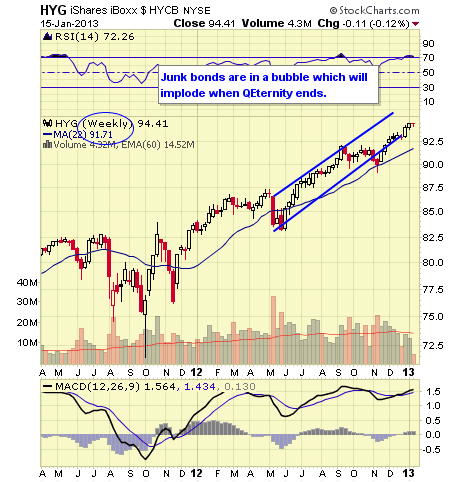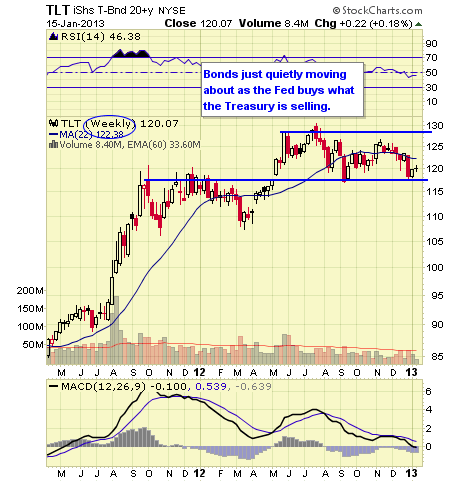 Continue to Currency & Commodity Market ETFs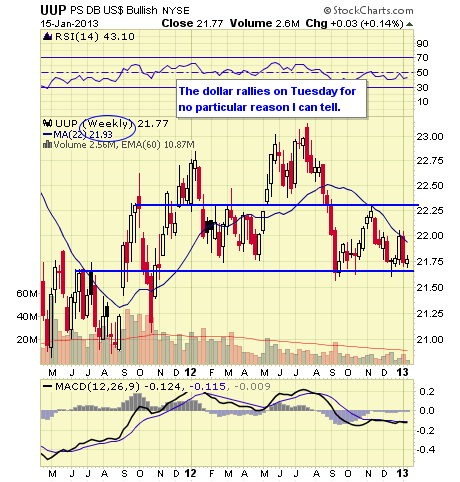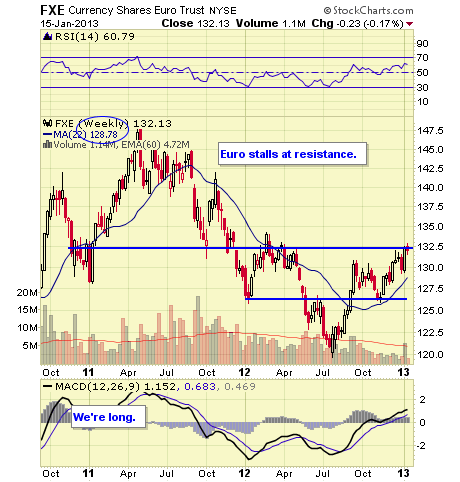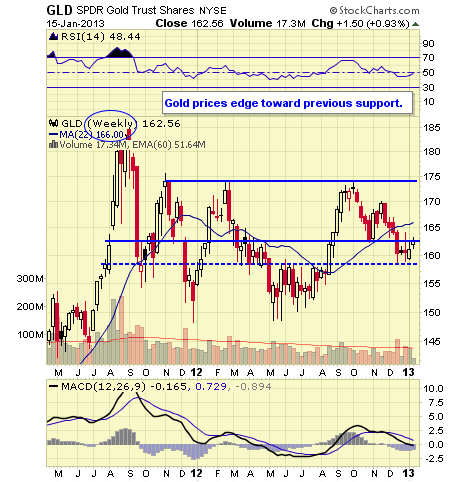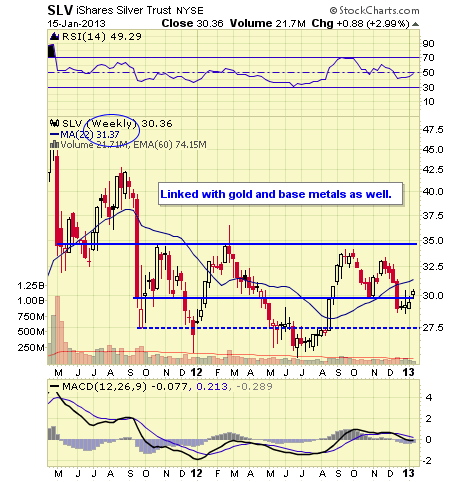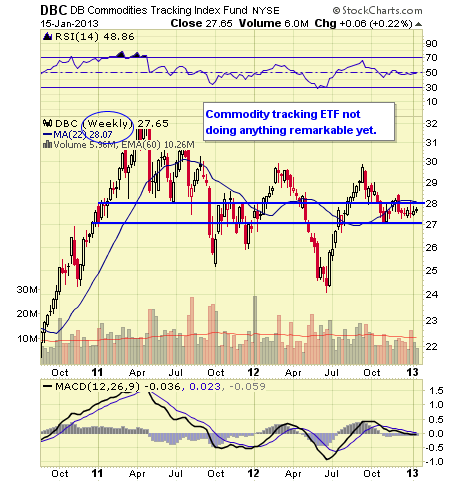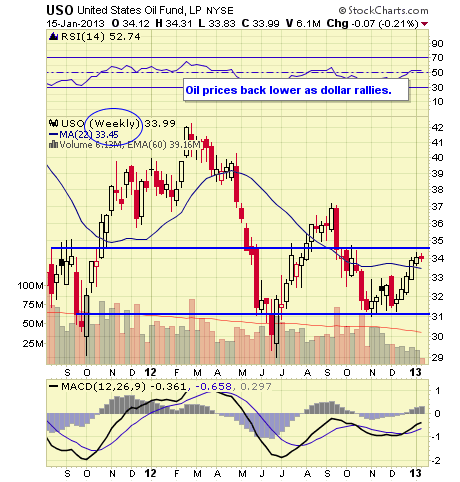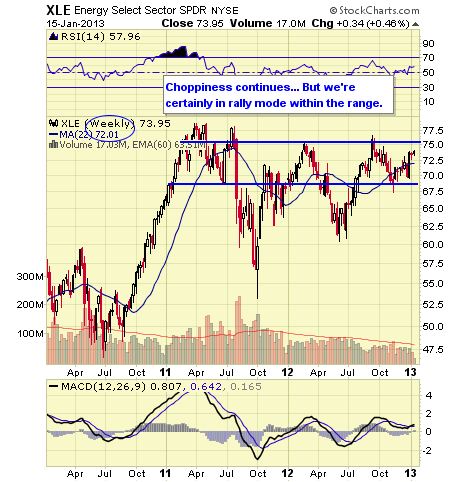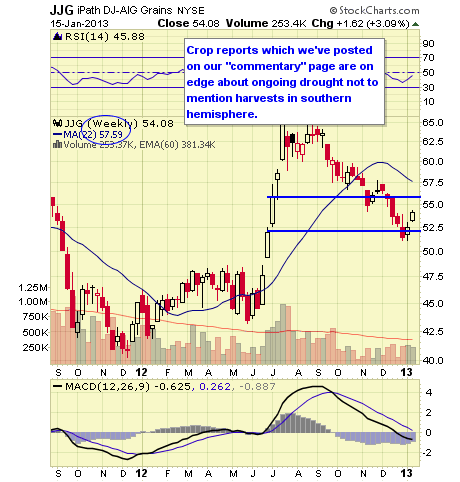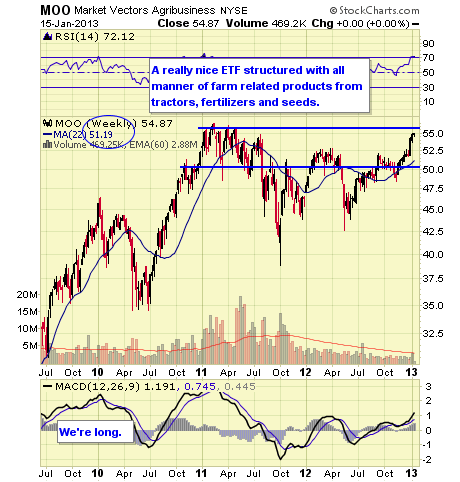 Continue to Overseas Sectors & ETFs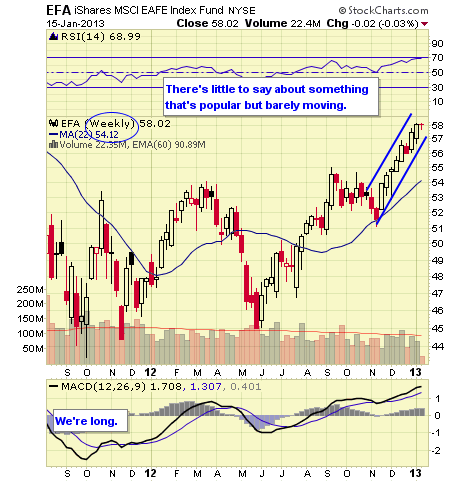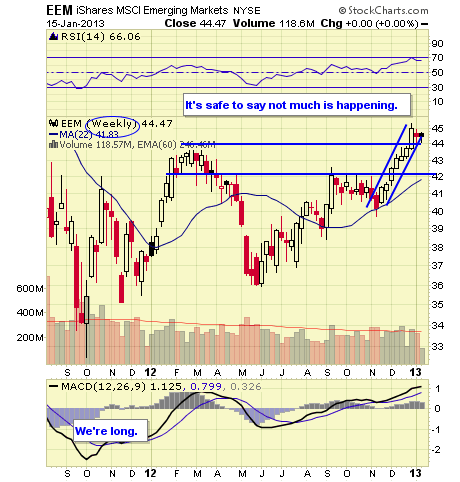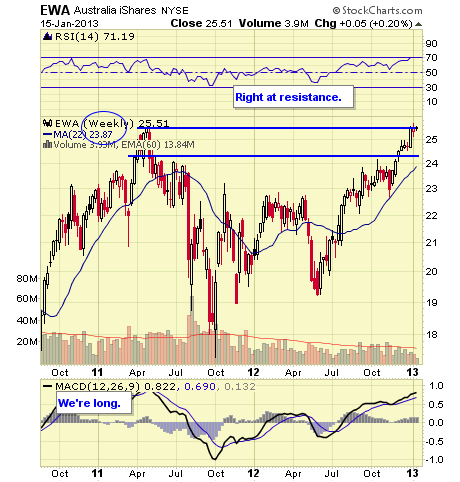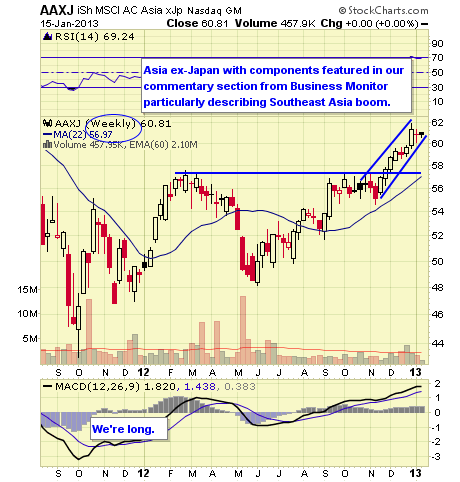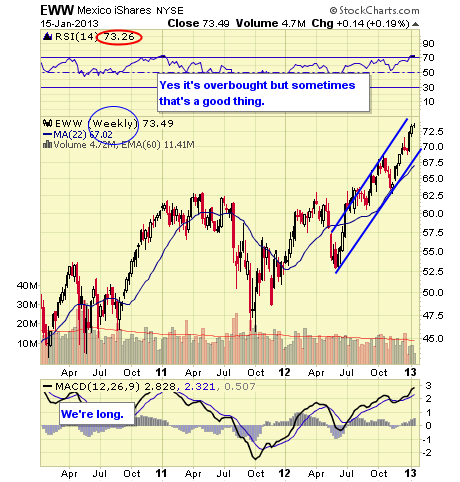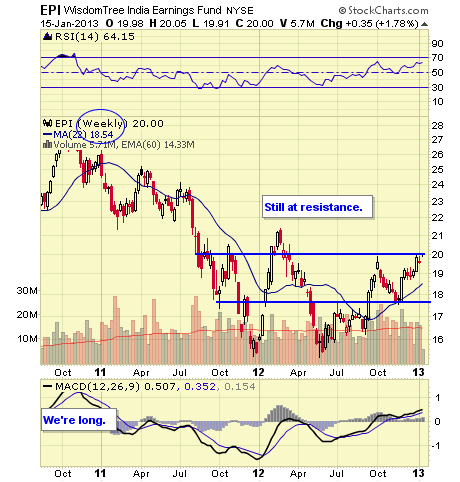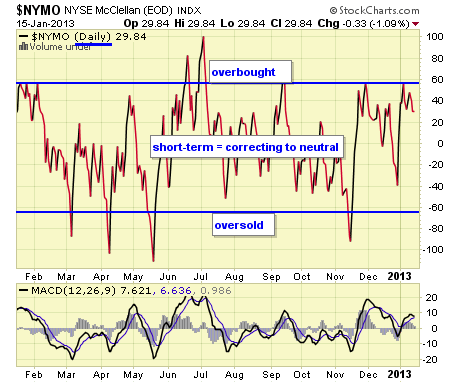 The NYMO is a market breadth indicator that is based on the difference between the number of advancing and declining issues on the NYSE. When readings are +60/-60, markets are extended short term.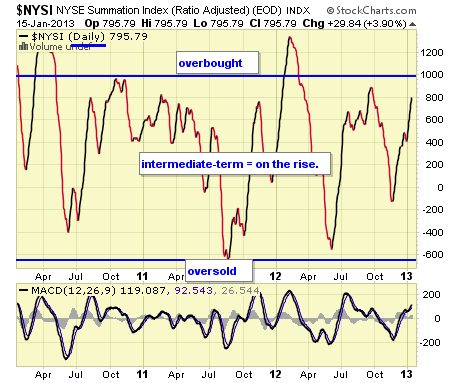 The McClellan Summation Index is a long-term version of the McClellan Oscillator. It is a market breadth indicator, and interpretation is similar to that of the McClellan Oscillator, except that it is more suited to major trends. I believe readings of +1000/-1000 reveal markets as much extended.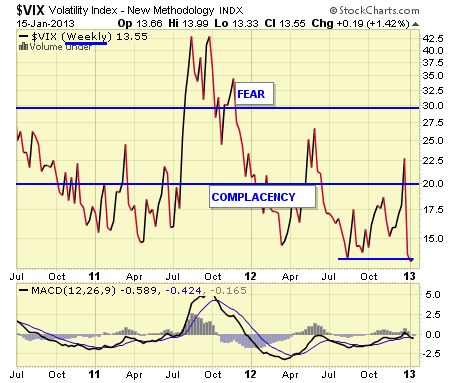 The VIX is a widely used measure of market risk, and is often referred to as the "investor fear gauge." Our own interpretation is highlighted in the chart above. The VIX measures the level of put option activity over a 30-day period. Greater buying of put options (protection) causes the index to rise.
Concluding Remarks
I should think with earnings now coming from banks beginning tomorrow, the action should pick up since recently, market conditions have rarely been this dull.
Disclaimer: The ETF Digest maintains an active ETF trading portfolio and a wide selection of ETFs away from portfolios in an independent listing. Current "trading" positions in active portfolios, if any, are embedded within charts: Lazy & Hedged Lazy Portfolios maintain the follow positions: VT, MGV, BND, BSV, VGT, VWO, VNO, IAU, DJCI, DJP, VMBS, VIG, ILF, EWA, IEV, EWC, EWJ, EWG, & EWU.
The charts and comments are only the author's view of market activity and aren't recommendations to buy or sell any security. Market sectors and related ETFs are selected based on his opinion as to their importance in providing the viewer a comprehensive summary of market conditions for the featured period. Chart annotations aren't predictive of any future market action rather, they only demonstrate the author's opinion as to a range of possibilities going forward.
Disclosure: I have no positions in any stocks mentioned, and no plans to initiate any positions within the next 72 hours. I wrote this article myself, and it expresses my own opinions. I am not receiving compensation for it. I have no business relationship with any company whose stock is mentioned in this article.