Back on November 30, I wrote that a 15% dividend reduction was likely for Annaly (NYSE:NLY). While I did correctly predict a dividend reduction, I did get wrong the level of the reduction. On December 18, Annaly reduced its quarterly dividend 10%, from $0.50 to $0.45 per share. I suspect that part of the dividend was in fact gains from the sale of MBS. However, we will not fully know the details until the next quarterly earnings report.
Including the reduction in December, Annaly has now reduced its dividend for the 7th time in the past 10 quarters. Since Q3 2010, Annaly has reduced its quarterly dividend per share by 34%, from $0.68 to $0.45.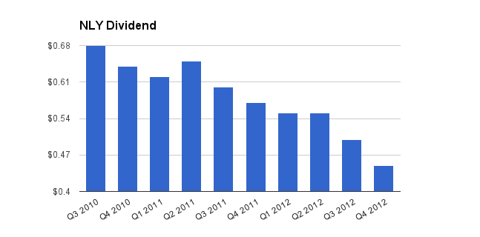 As of September 30, 2012, the yield of interest bearing assets for Annaly was 2.54% and the cost of funds was 1.52%. This leads to a net interest spread of only 1.02%. During the similar period in 2011, the net interest spread was 2.08%. Annaly's net interest spread has been cut in half since Q3 2011.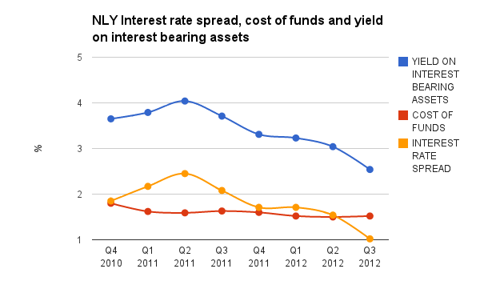 However, there is some hope for Annaly shareholders. The decline in the 10 to 2 year Treasury spread has stopped and has actually reversed somewhat. Since 2011, the spread between treasuries declined a ghastly 42%. However, in the past 3 months, the spread has actually risen 14% to 1.63%. This should be taken as a very bullish sign for Annaly and other agency mREITs as this spread income is their bread and butter.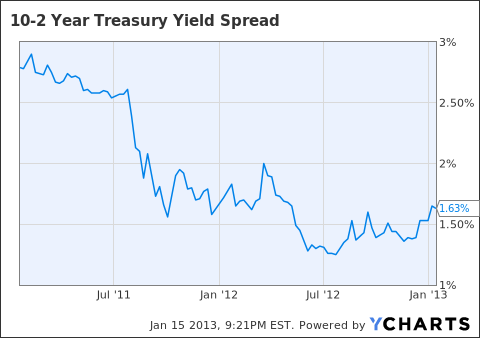 10-2 Year Treasury Yield Spread data by YCharts
Another reason to be somewhat bullish on Annaly is its discount to book value. Annaly, like other agency mREITs, is trading at a 12% discount to its book value. This is caused by the higher yielding bonds Annaly owns increasing in value as interest rates have declined. This increase can be seen below: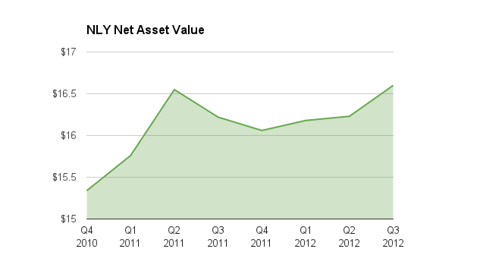 Annaly has also made attempts to close this discount to book value. On October 16 2012, NLY announced a $1.5 billion share repurchase program. At current prices, this would represent about 10.4% of its market cap. This is, in my opinion, another bullish sign for Annaly.
Conclusion
I previously suggested that Annaly be avoided due to its previous poor performance and its purchase of non-core assets with its Crexus (NYSE:CXS) acquisition. However, recent events have changed my opinion on Annaly. The increase in the 2-10 year treasury spread is by far the main reason for this change of view. While Q4 2012 results will not reflect this increase, Q1 2013 definitely should see a benefit. Another reason is the quick recovery that Annaly's stock staged after going ex-dividend. Annaly recovered all of its decline after going ex-dividend in 3 trading days. Since 2011, the stock of Annaly declined in price 17%, but returned over 27% in dividends, for a total return of 10% in 2 years.
While Annaly is hardly my favorite agency mREIT, that honor goes to CYS (NYSE:CYS), it is a fine income stock. The downside risk at the moment is greatly reduced by the discount to book value, however, book value should also serve as a ceiling to share price appreciation.
Disclosure: I am long CYS. I wrote this article myself, and it expresses my own opinions. I am not receiving compensation for it (other than from Seeking Alpha). I have no business relationship with any company whose stock is mentioned in this article.