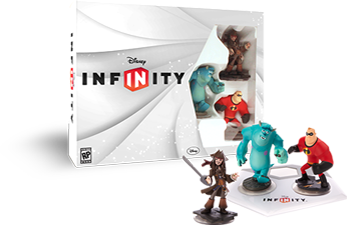 Shares of Disney (NYSE:DIS) were up only 1% on Tuesday despite news that may turn around the company's only money losing business segment. Disney is offering a new video game platform that combines the virtual world with physical toys (video game trailer here). Will this huge new investment pay off for the company and shareholders?
Taking a page out of Activision's (NASDAQ:ATVI) book, Disney hopes to turn around its struggling Disney Interactive segment. Disney's new gaming platform will allow users to connect with past, present, and future Disney characters through two unique playing options, "Play Sets" and "Toy Box." Disney and Pixar animation chief John Lasseter had this to say during the press conference, "We wanted to make it so that we could have lots of characters from lots of stories we create at Pixar and Disney come together in one place."
This is where the dollar signs light up in my eyes. Every time Disney releases a new movie, they can now update the Disney Infinity game by selling expansion packs of virtual toy figures. Each holiday season, Disney Interactive toys will top bestsellers and wish lists.
Activision launched Skylanders, an extremely popular game that also used toys to connect into a virtual world. Disney is taking this approach, but has the power to make it much larger with its vast library of characters. Disney also has its own television channels, where it can advertise heavily to the targeted audience and also use product placement in shows. Last week, Activision announced that Skylanders had passed the $500 million sales mark for the franchise. I have been bullish on shares of Activision, with one of the reasons being the potential of the Skylanders franchise.
Here is a look at how Disney Interactive stacks up against the other Disney business segments:
| | | | |
| --- | --- | --- | --- |
| Revenue | 2012 ($bil) | 2011 ($bil) | % Change |
| Media | 19.4 | 18.7 | +4 |
| Parks/Resorts | 12.9 | 11.8 | +10 |
| Studio | 5.8 | 6.4 | -8 |
| Consumer Products | 3.3 | 3.1 | +7 |
| Interactive | 0.8 | 1.0 | -14% |
Disney Interactive is the smallest revenue producer for Disney. However, several acquisitions have started to show promise for this unit that includes mobile games, online games, video games, and Club Penguin. The Epic Mickey video game series has sales of 4.1 million worldwide. Disney's acquisition of Lucasfilm will also yield several Star Wars games that are sure to greatly increase these revenue numbers in the next several years.
| | | | |
| --- | --- | --- | --- |
| Operating Income | 2012 ($bil) | 2011 ($bil) | % Change |
| Media | 6.6 | 6.2 | +8 |
| Parks/Resorts | 1.9 | 1.6 | +22 |
| Studio | 0.7 | 0.6 | +17 |
| Consumer Products | 0.9 | 0.8 | +15 |
| Interactive | (0.2) | (0.3) | +30 |
Disney Interactive is the only unit that didn't post a profit in fiscal 2012. The unit did see the greatest percentage increase from fiscal 2011, which represents a sign of things to come for the company. Disney Infinity will wipe that loss away, if the game and toy figure sales catch on as the company is predicting. After several updates to the game and new batches of 20 figures at a time, the unit will be one of Disney's best. Between the Disney Infinity and new Star Wars video games, Disney Interactive has the potential to leapfrog consumer products and studio in terms of profits and earn more than a billion dollars in profits for Disney.
Disney Infinity will launch in June, with the release of "Monster's University," the 3-D prequel to "Monster's Inc." The game will be compatible with XBOX 360, Playstation 3, Nintendo Wii, Nintendo Wii U, Nintendo 3DS, PC, online, tablets, and smartphones. Figures will be able to plug into different gaming platforms. The game will be created by Disney-owned Avalanche Software, most famous for creating the "Toy Story 3" video game. That video game, which had a toy box mode that led to the launch of this initiative, sold over 5 million copies around the world.
A starter pack will have a retail price of $74.99, similar to the recent "Skylanders: Giants" game. The pack will include the game, a reader, a play set piece and three figures. The figures will be Sulley ("Monster's University"), Captain Jack Sparrow ("Pirates of the Caribbean") and Mr. Incredible ("The Incredibles"). Seventeen additional figures will be part of the initial launch, selling for $12.99 each or $29.99 in three packs. Twenty power discs, which offer upgrades to characters, will sell in packs for $4.99. As you can see, the revenue adds up rather quickly for young consumers that want to use multiple characters.
Shares of Disney sit at $51.09, close to a fifty-two week high of $53.40. Analysts expect the company to earn $3.41 per share in 2013 and $3.85 per share in 2014. This gives shares a price-to-earnings multiple of 15.0 and 13.3 on a current and forward-basis respectively. A strong launch of the game could make the Disney Interactive segment profitable by the second quarter. This could greatly increase Disney's valuation to analysts and also raise the company's guidance for yearly earnings per share.
Disclosure: I am long ATVI. I wrote this article myself, and it expresses my own opinions. I am not receiving compensation for it (other than from Seeking Alpha). I have no business relationship with any company whose stock is mentioned in this article.
Additional disclosure: Author may initiate a long position in DIS in next 72 hours.