Yesterday I wrote an article (4 Intelligent REITs I Adore, But Can't Buy Right Now) in which I utilized F.A.S.T. Graphs to determine whether there is an adequate "margin of safety" in valuing four very popular blue-chip REITs. As I suspected, all four prospects have exceptionally well-managed platforms and it seems that Mr. Market just thinks more of the share prices than I do today.
As you all know, REIT dividends are a big part of the total return formula and it seems that many of the "dividend champions" - with a long track record of dividend sustainability - are equally adored by Mr. Market. So where in REIT-dom can we find a favorable security that has a better value (pricing) proposition but is not intolerably more risky than the ones Mr. Market also adores?
Remember that "intelligent REIT investors" have two things to consider: (1) The safety of the dividend, and (2) The safety of the principal. As I see it, investing is something like a barbell. We have a 60 lb. weight on one side (dividends) and a 40 lb. weight on the other side (growth) - at least that's how we REIT investors think. So if you decrease the dividend weight (60 lbs) and add to the growth (appreciation) weight (40 lbs), you are sacrificing income for growth. Likewise, if you add more weight to the dividend side or increase the safety of the income (i.e the blue chips I wrote about yesterday), your principal is not as safe (because the valuation multiple is higher).
Of course, a perfect investment world is achieving a balance of a safe dividend REIT with a safe valuation REIT. As I explained yesterday, the blue chip REITs: Realty Income (NYSE:O), Ventas Inc. (NYSE:VTR), Federal Realty (NYSE:FRT), and Essex Property Trust (NYSE:ESS), are all sound dividend stocks but Mr. Market has more weight on the barbell than I'm willing to pay.
Simply said, there are really two margins of safety: one is dividend safety and the other is principal safety. When dividend safety goes up, principal safety goes down, and vice versa. So while we patiently wait on the blue chip REITs to pull back to an equilibrium level, let's see if we can find a balanced risk and reward opportunity today.
Four REITs I May Add To My Portfolio Now
Well, it's three weeks and counting. That is the date I will be launching The Intelligent REIT Investor Newsletter (see the link under my author profile on Seeking Alpha). In The Intelligent REIT Investor Newsletter, I will be including a portfolio of SLEEP WELL AT NIGHT stocks with risks analyzed based upon the same margin-of-safety analytics used by the legendary investor, Ben Graham. Of course, thanks to the innovative technology of F.A.S.T. Graphs, I will be able to screen stocks faster than Graham but the purpose for the exercise is one and the same. As Graham explained in his sacred motto for value investors:
Find a favorable difference between price on the one hand and indicated or appraised value on the other.
As I wrote in a previous article, CapLease, Inc. (NYSE:LSE) is a "diamond in the rough". Not so much because the Triple-Net REIT rents its headquarters to Tiffany & Company (NYSE:TIF) but because the $414 million (market cap) company pays an attractive 5.24% dividend (and the year-over-year total return was 43%).
Now before you get excited, remember that CapLease's track record for dividend performance is nothing like Realty Income. As the F.A.S.T. Graph illustrates below, CapLease cut its dividend substantially in 2008 and 2009 and since that time the company has begun to increase again (up 8% in 2011 and 7% in 2012).
Also, keep in mind that CapLease has significant leverage (71% debt to market cap) and the majority of CapLease's assets are secured (94%) compared with just a fraction (5.35%) of secured debt with Realty Income.
Now Mr. Market knows the difference between a high risk and a low risk REIT and that could be the reason why the shares are trading at $5.73 with a P/FFO multiple of 7.7. Just six months ago CapLease was trading at $3.86 a share - up 48% since June 1st.
So as F.A.S.T. Graphs shows us, CapLease appears to be a bargain based on traditional measurements of valuation regarding a REIT. These valuation metrics include fair value relative to its income (the pinkish purplish line on the graph), and its intrinsic value based on Funds from Operations (FFO- the orange line marked with an F). The black line shows us that CapLease is trading at a "bargain basement" multiple (but consider the risk).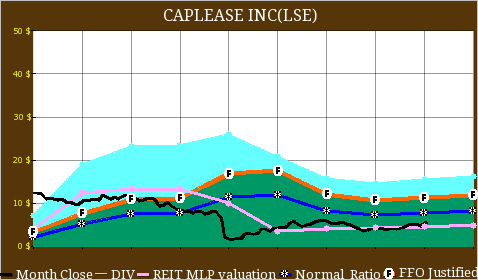 Now remember that CapLease is a small cap REIT ($414 million market cap) with just 49 properties. This means that there is considerably less margin-of-safety with diversification (Realty Income has over 2800 assets) and there is a much greater impact if one or two tenants get in trouble. So as you can see by reviewing the close-up (below) of CapLease, Mr. Market tells us "high risk equals higher returns".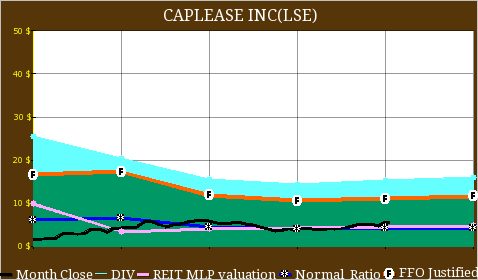 My CapLease Target: The dividend is average but I question the safety. I like the shares and I will add a limited quantity (1.5%) of shares ($5.73) in my small-cap composition (limited to 20% of small caps in the SALSA Portfolio).
Now before moving on to the next REIT, let's check out Federal Express (NYSE:FDX). Today, the global transportation, e-commerce, and business service provider hit a 52-week high of $98.67. That tells me that Mr. Market likes FedEx. But what about its landlord?
Monmouth REIT (NYSE:MNR) is an Industrial REIT that owns around 72 properties with a large percentage (52% as of Q4-12) leased to FedEx. Keep in mind that around 75% of the Fed Ex leased buildings (owned by Monmouth) are FedEx Ground facilities, meaning that they derive income from the e-commerce part of the business - a most sustainable income stream.
Now as I alluded earlier, the investment barbell should be weighted with safe income (dividends) and safe principal (price paid). I consider Monmouth's dividend to be safe. Although we can see FFO decrease from 2007 to 2009; Monmouth did not cut its dividend. Accordingly, Monmouth has maintained a relatively flat (but safe) dividend history and its current dividend yield is 5.8%.
Also, we can see that Monmouth has a reasonably safe pricing valuation with a P/FFO of 15.12. It's not a bargain but it's nothing like the four REITs we looked at yesterday. Monmouth recently announced that it had acquired a 615,305 square foot building net-leased to Milwaukee Electric Tool Corp. This $28 million deal (with $17.5 million in mortgage debt and an interest rate of 3.76%) is a good example of the value creation and the continued cash flow being generated by the 46 year-old REIT.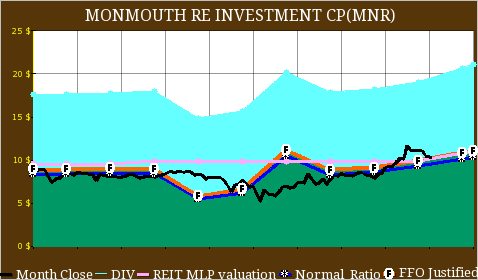 Moving out of the recession (5 year snapshot), we can see that Monmouth did not rise up to "nose bleed" territory like the blue chips discussed previously. With a year-over-year total return of 22.42% Monmouth easily beat out the S&P 500 while it maintained a highly competitive dividend yield of 5.8%.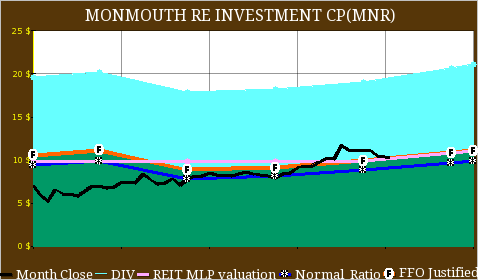 My Monmouth Target: The dividend safety is sound. I like the shares (at the current price of $10.35) and I will add around 2% of shares in my small-cap composition (limited to 20% of small caps in the SALSA Portfolio).
Back in early December I wrote my first article on Ashford Hospitality Trust (NYSE:AHT). After considerable research, I recommended the lodging REIT with a target of $9.00 per share. As I wrote in that article, the shares seemed to be easily undervalued by around 15%. Now let me show you how the shares have performed since I recommended AHT: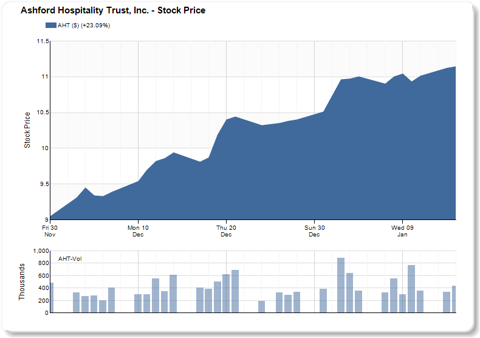 It's always good to be right (tell my wife that). AHT shares have climbed by almost 24% over the last 45 days. That's a nice pick, especially when you add the 3.95% dividend. But is there more room to run?
Mr. Market thinks so. Take a look at the 10 year F.A.S.T. Graph. Clearly we can see that the lodging sector collapsed in 2009 and 2010 and AHT in both years. But since then, in 2011 AHT reinstated its dividend and the company has increased its appetite for raising it even further. Like me, Mr. Market sees continued optimism in the lodging sector and I believe AHT shares could provide investors with a well-balanced growth and income opportunity.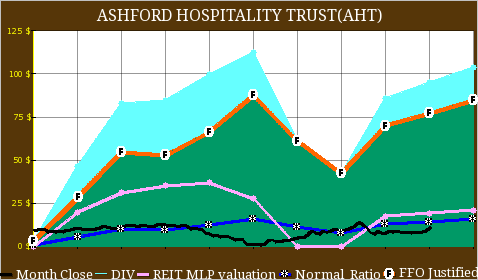 My Ashford Hospitality Target: The dividend safety is average. I like the shares (at the current price of $11.14) and I will add around 2% of shares in my small-cap composition (limited to 20% of small caps in the SALSA Portfolio).
Finally, back in late November I wrote an article (Omega Healthcare: Is The Highest Paying Dividend REIT In The Healthcare Sector Sustainable?) that had considerable page views with highly quantitative feedback. As I concluded that article:
Omega has a well-defined value proposition and I remain bullish on the skilled nursing sector. Risks appear to be limited given the long-term performance fundamentals and the fact that skilled nursing is still the lowest-cost provider of post-hospital care.

Though the Medicare rate cut will figure in underwriting for future acquisitions, Omega Healthcare is a strong healthcare REIT with a sound rent coverage ratio. With a well-balanced revenue platform, Omega's operators should have adequate cash flow to pay the rent and the highest paying dividend REIT should continue to maintain a sustainable dividend platform.
But is it too late? After all, I wrote the Omega Healthcare (NYSE:OHI) article on November 26th (2012) when the shares traded at $22.65 and now the shares have traded up almost 10%.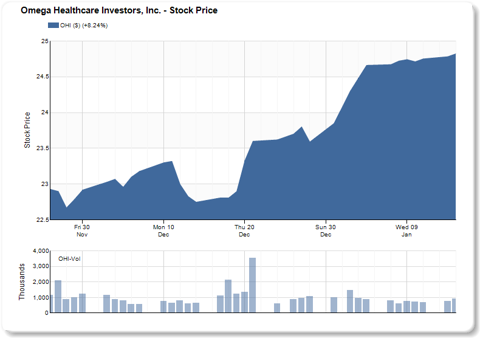 Mr. Market says I can still pull the trigger. The P/FFO multiple is still telling me the stock is cheap and trading below its fair value relative to its income (the pinkish purplish line on the graph). The black line shows us that Omega is trading at a discounted multiple and the 7.09% dividend yield is risk-aligned (and still the highest dividend yield in the health care sector).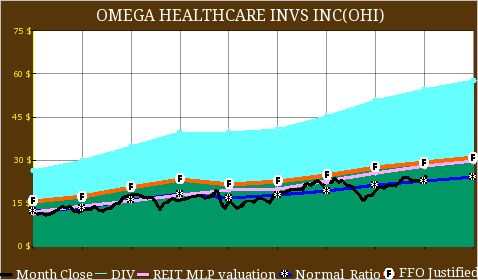 My Omega Healthcare Target: The dividend safety is excellent. I like the shares (at the current price of $24.82) and I will add around 2.5% of shares in my SWAN (sleep well at night) portfolio and 3.0% of shares in my SALSA portfolio.
Let's Get This Party Started
As The Intelligent REIT Investor begins to construct his portfolio, it's essential to balance the barbell in such a way that there is a risk control tool that helps me predict the outcome of future investment opportunities. We all know Rule #1 - Don't Lose Money - and that simply tells us that we cannot lose principal AT ANY COST.
For that reason, I will wait out the more expensive stocks and look for the opportunities that will provide me with a cushion - or a margin-of-safety - that will insure me that I am selecting REITs with the most defensive risk-adjusted returns. By practicing a rigorous application of the margin of safety, coupled with a comprehensive diversification strategy, I predict that my portfolio will achieve favorable (and hopefully outstanding) results.
Somebody recently asked me what I considered to be a SWAN (sleep well at night) investment and my reply was simply the same sage advice that we have heard over and over again - and it is also the mantra for any intelligent investor (as explained by Ben Graham):
An investment operation is one which, upon thorough analysis, promises safety of principal and satisfactory return. Operations not meeting these requirements are speculative.

Source: F.A.S.T. Graphs and SNL Financial
Disclosure: I have no positions in any stocks mentioned, and no plans to initiate any positions within the next 72 hours. I wrote this article myself, and it expresses my own opinions. I am not receiving compensation for it (other than from Seeking Alpha). I have no business relationship with any company whose stock is mentioned in this article.