In order to identify "Five Companies You Shouldn't Invest In", I relied on a combination of fundamental and qualitative analyses. First, I conducted a stock screen at Yahoo Finance with the following parameters: market cap > $500 million, price/earnings to growth ratio > 5.0, and price/earnings ratio > 15. Next, I went to Glassdoor.com, a website offering inside reviews of companies, and researched each business identified through my stock screen. I eliminated companies with fewer than 15 employee reviews, and selected the remaining lowest ranked companies. The following table reveals the results of my analyses:

I included an evaluation of employee sentiment, particularly with regard to management, because effective management is essential to executing business platforms. Strong management can rally employees to perform at levels which exceed expectations, and it can compel success in even the most competitive of industries.
In her book "Make More Money by Making Employees Happy" Dr. Noelle Nelson states "When employees feel that the company takes their interest to heart, then the employees will take company interests to heart." Dr. Nelson cites data from the Jackson Group, which indicates, "companies that effectively appreciate employee value enjoy a return on equity & assets more than triple that experienced by firms that don't..."
Brookdale Senior Living Inc.
With a market cap of $3.13 billion, Brookdale Senior Living Inc. (NYSE:BKD) is the largest owner and operator of senior living facilities in the nation. Shares of Brookdale currently trade with a PEG ratio of -8.12, while its competitors, such as Assisted Living Concepts and Capital Senior living, carry PEG ratios closer to 5.0.
Senior housing occupancy rates have trended steadily upwards since 2010 and should continue through 2013. Although this trend should have a beneficial impact on Brookdale earnings, the company has consistently underperformed relative to its peers. I expect Brookdale to continue its lackluster performance through 2013, due largely in part to ineffective leadership.
The following chart was created using data from a 2011 Annual Report and illustrates, that under the guidance of current CEO, Bill Sheriff, Brookdale has delivered sub-par returns.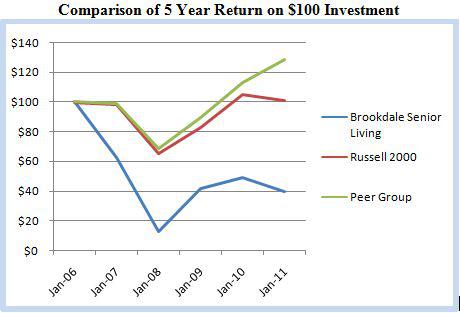 A search of Brookdale Senior Living, at Glassdoor.com, revealed that of the 135 Brookdale employees who have voted, an overwhelming majority of them held an unfavorable opinion of their company. Brookdale Senior Living received an average rating of just 2.1 out of 5.0 from employees, who cited a lack of confidence in senior leadership.
In 2012 Bill Sheriff announced plans to retire once a suitable replacement has been found. I'd avoid investing in Brookdale until a new CEO is named and we are better able to evaluate his capacity for leadership.
Dish Network Corp
With a market cap of $16.35 billion and over 14 million customers, Dish Network (NASDAQ:DISH) is currently one of the nation's leading providers of satellite television. Finishing 2012 up over 30%, DISH now sits near 5 year highs, and trades at PEG ratio of about 11.38. Dish Network's high PEG ratio indicates that investor expectations, with regards to earnings growth, may be unrealistic.
Among those who participated in voting at Glassdoor.com, Dish Network employees rated their company an average of 2.3 out of 5.0 and their current CEO, Joseph Clayton, scored only 38% approval.
Employee satisfaction directly relates to customer satisfaction and is therefore important in the process of developing customer loyalty. In 2012, Dish Network Corp received the dubious distinction as having been ranked by Forbes as the number 1 worst company to work for in America. Additionally, in 2012 Dish Network was awarded a spot in MSN Money's Customer Service Hall of Shame. The two awards illustrate the strong correlation between employee and customer satisfaction, and until systemic changes are made at Dish Network Corp., I recommend looking elsewhere for investment opportunity.
Meritage Homes
Meritage Homes (NYSE:MTH), the nation's 9th largest homebuilder, focuses on building energy efficient homes throughout the south and along the west coast. Meritage Homes has a market cap of 1.48 billion and trades at a P/E ratio of about -700.
2012 was a good, but not great, year for new home construction and the slight rebound in housing markets has caused an influx of capital to the housing sector. Although current housing market trends are expected to continue through 2013, investors assume increased risk as new home construction trends lag further behind housing market indexes.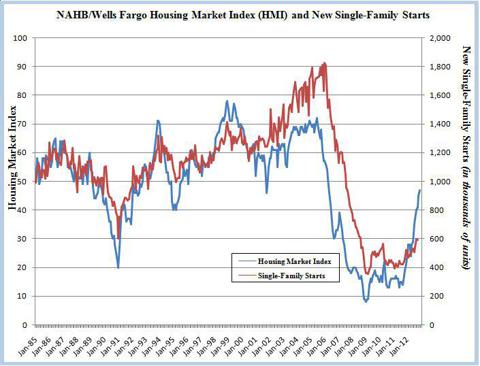 Source: NAHB/Wells Fargo Housing Market Index. U.S. Census Bureau.
From the chart we see that investor sentiments have exceeded reality as it relates to single family starts. That increased risk makes it more important for investors to choose companies with solid fundamentals, as well as strong leadership.
Employees, who voted at Glassdoor.com, rated Meritage Homes an average of 2.1 out of 5.0, citing micromanagement, poor company policy, and a 44% approval of current CEO, Steve Hilton. Because of Meritage's high PEG ratio and dissatisfied employee base, shares of MTH appear an unattractive vehicle through which to capitalize on forecasted trends.
Perfect World Co.
Perfect World Co. (NASDAQ:PWRD) is a developer and worldwide operator of online games. The company currently operates a number of underperforming massively multiplayer online role playing games (MMORPGs) which comprise the majority of its revenue stream. With a market cap of $594.10 million, and declining revenue, Perfect World will have a difficult time competing in an incredibly fierce market going forward in 2013.
In May, 2011 Perfect World purchased competitor developer, Cryptic Studios, and assumed control of Neverwinter, an MMORPG slated to be released in 2013. Perfect world has high hopes for the Neverwinter gaming platform, however, a large number of MMORPGs are slated to be released in 2013, many of which are more highly anticipated than Neverwinter.
In order for Neverwinter to be successful, a team of employees will need to dedicate themselves to marketing the game, providing excellent customer service, and continuously fixing identified bugs in gaming platforms. With a paltry company approval rating of 2.3 out 5.0, and little confidence in CEO Michael Yufeng Chi, the odds of Neverwinter succeeding are low.
Public Storage
Public Storage (NYSE:PSA) engages in the acquisition, development, and operation of public self-storage facilities. With a market cap of $25.11 billion and over 2,200 locations around the world, Public Storage is the largest self storage company in the world. Shares of Public Storage trade at a P/E ratio of 41.29 and expectations for future growth are tepid. Public Storage's current yield of 2.99% and stable revenue stream, are appealing to income investors, however, that appeal has resulted in a precarious P/E ratio and a level of risk that cautious income investors should avoid.
With over 100 employees rating Public Storage an average of 2.1 out of 5.0, CEO Ronald L. Havner Jr. having an approval rating of only 20%, and shares trading near 5 year highs, Public Storage presents a fundamentally and qualitatively unsound investment. For an insightful analysis of why shares of Public Storage should be considered overpriced, I suggest reading this article, from analyst Paul Pierce.
Summary
Effective investment research should include qualitative components such as, employee satisfaction and CEO approval, in addition to fundamental analysis. Companies with dissatisfied employees are subject to higher turnover rates, which diminishes the quality of service provided to customers and directly impacts a company's bottom line. In addition to being ranked as unsatisfying places to work, the five companies presented in this article, are overpriced relative to forecasted growth, and I consider them risky investments.
"Outstanding leaders go out of their way to boost the self-esteem of their personnel. If people believe in themselves, it's amazing what they can accomplish." - Sam Walton
Disclosure: I have no positions in any stocks mentioned, and no plans to initiate any positions within the next 72 hours. I wrote this article myself, and it expresses my own opinions. I am not receiving compensation for it (other than from Seeking Alpha). I have no business relationship with any company whose stock is mentioned in this article.