American Software, Inc. (NASDAQ:AMSWA) is an IT company (pdf) that provides supply chain software, processing and materials management software, and IT consulting and staffing services. The company derives revenue from three sources: software licenses, services and maintenance. Software license fees are based upon the number of modules, servers, users and/or sites using company software. Services and other revenue consist primarily of fees from software implementation, training and consulting services.
AMSWA has several very strong competitors that include companies such as SAP, Oracle, Infor, JDA Software, Red Prairie and other smaller companies. Some of these competitors have longer histories, broader worldwide presence, better name recognition and greater financial, technical and marketing resources. Management maintains that the company has several competitive advantages such as its complete integrated solutions that deploy quickly, strong customer support and relative ease of use of its software
The company breaks down its earning into three segments; ERP, SCM and IT Consulting. The earnings for each segment for the past several years is listed below:

The company maintains the greater ERP loss in 2012 came as a result of losing a large ERP customer. This customer represented $4 million annually in the segment. The company also said that it invested $2.2 million in R & D to develop new software products for the segment. (You may want to read Gino Verza's concerns about the ERP problem.)
In spite of the problems with the ERP segment, the company has been doing relatively well over the past several years. It has improving revenue and earnings as can be seen below (taken from company materials):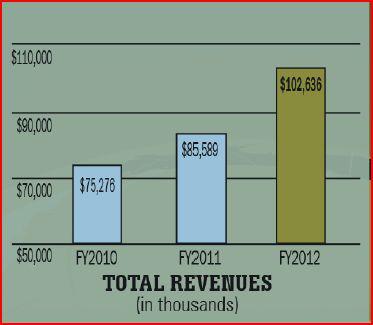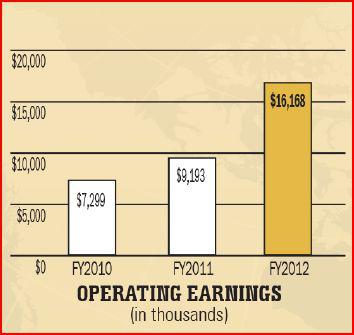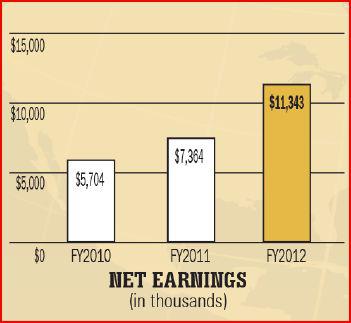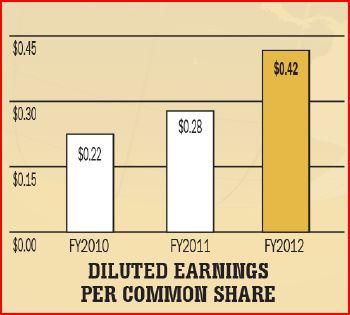 On November 29, 2012, AMSWA reported earnings for the second quarter for fiscal 2013. Semi-annual financial highlights for the company are listed below:
Total revenue for the six months ended October 31, 2012 was $52.2 million, a 6% increase over the comparable period last year.
Software license fees for the six-month period were $10.6 million, a 23% decrease compared with the same period last year.
Services and other revenue was $24.8 million, a 25% increase compared with the same period last year.
Maintenance revenue was $16.8 million, a 6% increase over the comparable period last year.
For the six months ended October 31, 2012, the company reported operating earnings of approximately $8.0 million, a 4% decrease over the same period last year.
AMSWA reported no debt with cash and investments totaling nearly $25 million. At $0.10 per share, the dividend costs AMSWA approximately $2.7 million dollars quarterly. This means that the company could continue to pay this dividend over the next six quarters even without earnings or free cash flow. However, since the company paid the February and May quarterly dividend in December, in an effort to avoid taxes, there will not be any dividend payments until August.
An important issue to look out for in the next two quarters is whether licensing fees begin to pick up again. Management maintains that the fiscal cliff and the financial uncertainty surrounding it prevented customers from signing up for new licenses for company software. Directors and management have shown they are confident in the company's future by increasing the dividend by 11% and buying back shares of stock.
There has been more insider buying than selling from July of last year to now. However these purchases were all non-open market purchases, meaning the shares were purchased at below market prices. Insiders own 3% of the shares. Most of them are in the hands of the founding family who are also managers and directors of the company. There is little to conclude from this insider activity.
Recommendation
AMSWA has been paying its $0.09 dividend for years without fail and with the recent rise to $0.10 per share indicates that the dividend is relatively safe. Furthermore, it has enough cash on hand to continue paying this dividend for the next four quarters. When one considers that the company has no debt and that it is paying nearly 5% at the current price of $8.00 to $8.35, it is a good buy. Buy some now and watch what happens with revenue and licensing over the next two quarters. If revenue and licensing accelerate, pile on. If revenue stays steady or decreases with no appreciable pickup in licensing, move out and look for greener pastures elsewhere. I am reasonably confident in management's ability to grow the company and enhance shareholder value just as it has for years. One other positive note, The Street Ratings rates AMSWA a buy with a target of $9.69. As you may have guessed, I am now an owner of this stock.
Disclosure: I am long AMSWA. I wrote this article myself, and it expresses my own opinions. I am not receiving compensation for it (other than from Seeking Alpha). I have no business relationship with any company whose stock is mentioned in this article.