My whole family, including myself, are movie buffs. We've been Netflix members from almost the beginning. We have Rokus on every TV and I'm not at all unhappy with my Netflix (NASDAQ:NFLX) account. But the relationship with Netflix has not always been easy. We started by having a combined DVD and Streaming plan that costs (to the best of my memory) about $14.95 per month. At the time, we had unlimited Streaming and no limit on the number of DVDs per month with a maximum of 3 out at a time.
Netflix Qwikster Debacle
Then Netflix sent us the "Dear John" email. They were changing the plan. First, they would raise their rates and reduce their services. We would get less for more. But honestly, that wasn't the weird part. The strange part was they were trying to split-off and re-brand their DVD service. They would call the DVD service Qwikster and keep the Netflix brand for their streaming service. A user would now have to manage two separate accounts and two different queues for reasons that just didn't make sense to most subscribers.
Maybe that doesn't sound so bad but it wasn't just me. A large number of Netflix customers had the same reaction. I immediately canceled my DVD service but I couldn't bear to get rid of Netflix completely. Not because I didn't feel slighted but rather that I just couldn't give up access to what at the time was a fairly unique product. We had to have our movies and TV shows.
All in all, Netflix lost 800,000 customers and their stock price took a massive beating dropping from a high of $298 in July 2011 to a low of $63 in November.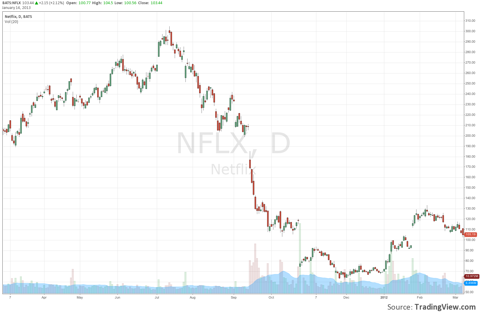 In October 2012, after a period of good behavior on Netflix's part and the price reaching a new low of $56, I decided the timing and price was right to go long on Netflix.
Then several things happened at once. On the positive side there were existing rumors of a buyout by Microsoft (NASDAQ:MSFT) followed by the announcement of a large stake in Netflix by billionaire investor Carl Icahn.
After the run-up following these events, I got out since at that point any position seemed to be less about trading and more about gambling. Around this time, just to keep things interesting, Netflix adopted a poison pill plan to fend off Carl Icahn.
Then something even more interesting happened. Netflix suffered an outage on Christmas Eve caused by its reliance on its competitor Amazon's (NASDAQ:AMZN) web services.
I knew Netflix was dependent on AWS but I didn't realize how much. After some searching, I located this presentation by Adrian Cockcroft, Netflix's Cloud Architect, describing their total and complete dependence on Amazon Web Services.
Please understand, there is absolutely nothing wrong with their approach or their architecture. It is a work of art and something that nerds everywhere (including myself) use as models and justifications for building new products the cloud. Adrian even addresses the obvious questions on slides 12-14 about the co-opetitive relationship that Netflix and Amazon have.
Infrastructure Issues
While Carl Icahn sees a lot of value, not only does Netflix not want to be acquired, there is a fundamental almost visceral problem with acquiring a company whose entire business is serviced by one of its primary competitors.
As I mentioned, Netflix runs on AWS (Amazon Web Services) and suffered an outage on Christmas Eve. What I didn't mention yet, is that Amazon Instant Video also runs on AWS. It is their infrastructure after all. But, wait for it...Amazon Instant Video did not go down. This Gigoom article shows some user reaction to the outage highlighting the fact that Amazon was seemingly unaffected where Netflix was completely disabled. Even more interesting is that Amazon apologized blaming the outage on accidental data deletion for their Elastic Load Balancing service by a customer with high-level access.
Every time this happens, its going to highlight the conflict of interest between Amazon's web services business and their retail divisions.
So the question is: Is Netflix acquirable under these conditions and by whom?
Possible Acquirers
According to Icahn, Netflix's primary competitors are, Apple (NASDAQ:AAPL), Amazon, Verizon (NYSE:VZ), Apple and Microsoft.
The only benefit that three of these players, Amazon, Apple and Microsoft, have by acquiring Netflix is subscriber-base and content licenses both of which have limited value to all three. All three likely already have a large overlap of some sort with the Netflix subscriber-base and the content licensing aspect is even becoming less interesting.
Amazon is the least likely to acquire Netflix. They already have significant content licenses, they definitely don't need the infrastructure or the subscriber-base. It would be hard to determine a value for this acquisition and I doubt that they would even consider the possibility.
Apple is in the same position as Amazon with the added negative that the platform is built on Amazon, a major competitor with the iTunes platform. What would the justification be?
Verizon might have been a major possible acquirer but they just announced a deal with Redbox to launch Redbox Instant. So they are out of the running.
That leaves Microsoft. They already have a history after their exclusive partnership to launch movies on the XBox in 2008. There is a significant gain in content for Microsoft and the subscriber-base could be leveraged very nicely into a win for the Windows 8 and Windows 8 Phone platform. Finally, the Amazon dependencies should have a minimal effect on a possible Microsoft acquisition. While Microsoft has a significant cloud services platform, they are arguably not a serious competitor for Amazon in the IaaS (Infrastructure as a Service) market.
But, even for Microsoft this is a troublesome acquisition. The infrastructure rebuild has to start immediately. They can't acquire Netflix and leave the back-end running on Amazon. They could augment the Windows 8 platform on tablets, internet TVs, XBox and other convergence devices but they can also build that themselves without the negatives associated with a Netflix acquisition and likely spend less money.
How to Play Netflix
Netflix has an earnings call coming up on January 25, 2013. While they will try to spin the positives, the subscriber growth can't possibly be enough to meet their content obligations, the recent run-up in stock price has all been based on a hope and a prayer for Netflix and won't stand up to anything but stellar news which simply won't happen.
I like Netflix but they won't be acquired anytime soon and the current stock price is simply too high.
My recommendation?
Buy Feb 13 $100 puts while they are inexpensive and wait till after the earnings conference call to take your profits. Take your profits, let some of the air escape from the balloon and then reconsider a long position after the dust has settled.
Disclosure: I am short NFLX. I wrote this article myself, and it expresses my own opinions. I am not receiving compensation for it (other than from Seeking Alpha). I have no business relationship with any company whose stock is mentioned in this article.