Nike (NYSE:NKE) has always been a top notch competitor in the retail sector. In the United States, Nike is the most familiar manufacturer of athletic apparel, outcompeting other notable companies such as Adidas (NYSE:ADS), Puma (PUM), Skechers (NYSE:SKX) As great as Nike is, the stocks overall growth potential may be slightly limited for the time being while its second leading global market (Europe) continues to face economic struggles.
North America has always been Nike's most important market due to its sustained growth and large size. Europe however, is Nike's second leading market. Europe's struggles have not fared well for Nike, while the region's revenue growth has stayed significantly below Nike's overall revenue growth for the past three quarters. To make matters worse, the aggregate GDP of Western Europe is only expected to increase by 0.9% in 2013. For Nike this could mean that Europe's economic woes are much more than just a short term blunder.
Nike will be okay though because although its second leading market is struggling (Europe), China, an emerging market, is beginning to show glimpses of an improving economy. Although China's market only makes up about 10% of Nike's overall revenues, the population size and growing middle class are two reasons for Nike to be excited at the growth potential within this market. Nike is specifically tailoring apparel to better appeal to Chinese customers and believes there is a lot of potential here.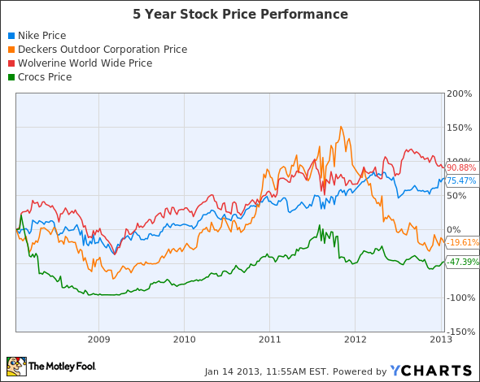 Despite the opportunities Nike has shown in China and emerging markets, I would avoid this retailer for the time being because there are other retail stocks out there such as Pet Smart (NASDAQ:PETM) that I feel are better investments at the moment. Until the European economy shows that it's picking up steam and beginning to show signs of recovery, I cannot put much faith in the growth potential of Nike's stock.
Nike is currently trading around $54.00 per share about $3.00 below its 52 week high of $57.41. NIke has a P/E ratio of 22.45 which is much higher than the sector average of 17.7. The company's annual earnings yield of 0.045% put the company well below average for its sector in terms of earnings per share, mainly due to a struggling European economy. Nike also yields 1.57% annually.
Disclosure: I have no positions in any stocks mentioned, and no plans to initiate any positions within the next 72 hours. I wrote this article myself, and it expresses my own opinions. I am not receiving compensation for it (other than from Seeking Alpha). I have no business relationship with any company whose stock is mentioned in this article.