Over the past month, Cisco Systems (NASDAQ:CSCO) has enjoyed five separate analyst upgrades. Now regardless of what you think of Sell Side analysts, when a situation like this occurs on the Street in a big, liquid institutional stock like CSCO, it often creates a compelling momentum trading opportunity.
For a good example of this type of change in momentum, take a look what happened to FaceBook (NASDAQ:FB) after the shares received multiple price target upgrades along with increased forward earnings estimates in late December and early January. With most of these analysts lifting their FB price targets to the low-to-mid-$30s, the stock's technical picture dramatically improved and shares quickly rallied from $27 to $32.
Regardless of where FB trades from here, the lesson is clear: when a majority of analysts all dramatically lift their estimates and price targets on a stock moving into a technical buy zone, the computers, hedge funds, growth mutual funds, and prop traders will run the stock. These investors/traders trade off of momentum.
On Monday, Cisco's shares were upgraded by UBS, William Blair and Robert Baird:
William Blair named

Cisco its best large-cap idea for 2013

and r

aised its price target to $25. Channel checks show Cisco executing superbly. Since its restructuring efforts, the company has emerged in a stronger position, with gross margin deterioration becoming less of a concern going forward.
Robert Ba

ird

also lifted its price target

on the stock to

$25. Reseller checks in the data center have all pointed toward particular strength in this vertical. Its Nexus 200

0, 5000 and 7

000 product lines are enjoying a broad rate of adoption within the data center vertical worldwide.
In addition, Baird's checks point to particular strength with Cisco's 10 Gigabit Ethernet upgrades and also within its UCS platforms. Within the U.S., Cisco has seized share and moved up to #2 within server blades.
That same day, RBC raised nu

mbers and its target

to $24, citing improved visibility to its forward estimates, along with gross margin improvement. They see the potential for Cisco to earn $2.45 in Calendar Year 2014.
Correlating well with Cisco's improving fundamentals is the demonstrative move lower in Apple's (NASDAQ:AAPL) shares this week. This is institutional selling. These same institutional investors will now collectively be looking for a liquid and fundamentally sound name in which to re-deploy these Apple proceeds. CSCO certainly fits the bill with its average trading volume of over 40M shares a day.
Lastly, the short interest in CSCO has markedly declined in the past month. If the smart money is covering ahead of Cisco's upcoming earnings in mid-February, this seems to offer another bullish data point for institutional investors' thesis on the company.
Note the 29% exodus in the shorts in Cisco over the past month: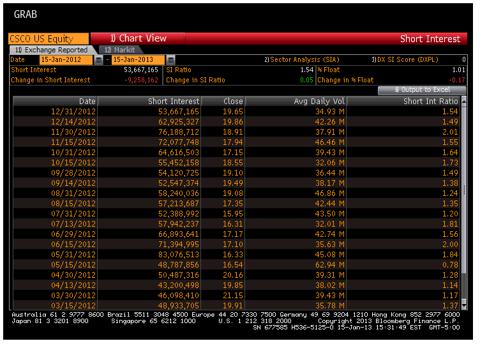 Source: Bloomberg
Taken together, considering its formidable balance sheet, improved business prospects, and a stock that is cheap, the backdrop for a break out to new highs has been set for Cisco. Just as we saw with Facebook, a quick move of 15% higher seems to be in the cards for CSCO's shares. Take a look at the chart below to see what we mean: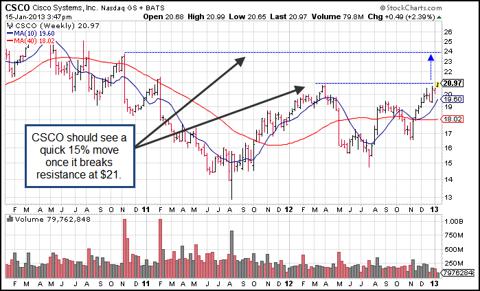 Source: StockCharts.com
In summary, while there is a chance that all five of the aforementioned analysts could be wrong, with the stock trading as well as it does in here, along with the dramatic decline in short interest, the weight of the evidence points to an imminent break out in Cisco's shares. While other stocks within the tech space will also benefit from Apple's money out-flows, such as Salesforce.com (CRM), Cisco's shares seem particularly ripe to do so. While there are risks to any trade (such as market risk with the debt ceiling debate set to renew next month), Cisco's shares seem set for a 15% move higher over the next few months. It is our favorite inflection point name within the big-cap tech space.
Disclosure: I am long CSCO. I wrote this article myself, and it expresses my own opinions. I am not receiving compensation for it (other than from Seeking Alpha). I have no business relationship with any company whose stock is mentioned in this article.