With the TIPS market discounting maybe 5 years of deflation, and government bonds generally oblivious to the ultimate success of heroic reflation efforts, the corporate bond market remains in deep freeze. Spreads on Baa credits at an unprecedented 640 bp, or 3.5 times the average spread prevailing over the past four decades, and the highest levels since the 1930s (when US GDP fell 25% peak to trough). Their previous record peak was in the depths of the early 1980' recession at well under 500bp.
To put this in perspective, the peak default rate on investment grade bonds during the Depression was 4%, and 21% for all credits; we're currently discounting almost a 30% default rate. That just isn't going to happen, and the current valuation extreme has been driven largely by forced deleveraging by financial institutions and chaos in the CDS market. As retail investors seek income in a global ZIRP environment and financial markets stabilise, I suspect we will see a sharp rally in 2009. The broad Barclays U.S. Corporate Bond Index is currently yielding 8.1%, or almost 6% above 10 year Treasuries (which absent a multi year and deep global slump are now a spectacular bubble). This index has suffered its worst performance since 1981 this year. Speculative bond spreads are now at 16% over ten-year Treasuries, up from just 6% in September (although I'd expect defaults among speculative credits to come in at over 20% by end 2010, and they benefit least from government intervention.)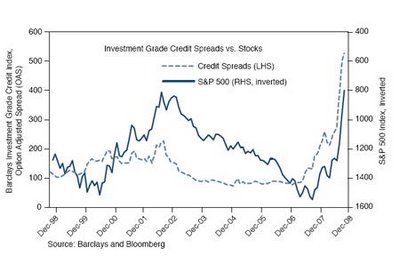 The chart indicates the disparity between equity and bond performance recently. It seems anamolous that we've seen the S&P rally 21% from the Nov 20 lows in equities (as I predicted) and yet seen little respite in bonds, despite the fact that over the last 20 years, the S&P 500 Index has returned just 2% over investment grade corporate bonds but accompanied by nearly 3x the associated volatility ie in risk adjusted terms, corporate bonds have been a great investment. Unless default rates are dramatically higher than seen in the early 1980s or even during the 1930s, current spreads suggest a portfolio of investment grade bonds will prove highly profitable medium term from these levels. Indeed, as the Fed expands its unconventional activities in the credit markets, it can't be long before it becomes a buyer of investment grade bonds to unclog the market and allow US corporates access to refinancing.
Bank bonds look particularly mis-priced, yielding 5% over comparable Treasuries when blue chip US bank bonds are de facto the new Agency Debt, and indeed bank debt in all developed economies now carries an implicit government guarantee. For risk averse investors, who can't stomach the ongoing volatility that the bottoming process in equities entails, a broadly spread investment grade bond fund offers upside exposure to an inevitable US recovery with limited downside risk.
The ratio of the S&P earnings yield to investment grade bond spreads is at levels not seen since the 1930s ie bonds are far cheaper than equities as an exposure to economic recovery. Spreads on AA rated credits are already coming in and stand at just under 500 bp; I'd expect a move to the 420-450 range in coming months. For risk lovers who enjoy a wild ride on the latest momentum trade, go buy 10 year Treasuries at 2% and expect to lose your hair and your shirt over the next couple of years.
Disclosure: no positions