Amazon (NASDAQ:AMZN) started in 1995 selling physical books over the Internet. Over the next 15+ years, Jeff Bezos built Amazon into the largest e-Commerce player in the United States, with 25% market share in the U.S., if you include 3rd party GMV. This article won't debate that achievement, in fact I'm impressed by it. However, this article will argue that in recent years, the momentum of Amazon's success in U.S. e-commerce market may be slowing down, possibly due to Amazon running out of new product categories to launch (there's only so many categories that would make sense for online shipping). As a result, Amazon has had to turn to what I will call "inorganic" growth (or non "same-store sales" growth), in order to continue to drive top-line sales growth of +30%. Inorganic growth, by my definition, includes recent acquisitions (Zappos, Daipers.com, LivingSocial, Kiva), but also includes recent new international market entries (Italy and Spain) and recent new business lines (Kindle tablet, Prime Instant Video).
What is Inorganic Growth (or non "same-store sales" growth)?
Typically, inorganic growth refers to external mergers and acquisitions to grow the business, compared to organic growth, which is internally growing your business. For Amazon, I extend the definition of inorganic growth to not only include m&a transactions, but also to include new international market entries and new business line entries. The reason I include those for Amazon is because the retail industry typically gets judged by their "same-store sales" growth performance. If you follow Wal-mart (NYSE:WMT), Target (NYSE:TGT), or Costco (NASDAQ:COST), you will know that same-store sales is very a important metric that analysts and investors look at. The reason they focus on same-store sales is because that metric strips away the revenue growth that comes from opening new stores (which requires capital investments). In other words, same-store sales is a good measure of organic growth of a company.
Well unfortunately for Amazon, there is no same-store sales growth equivalent metric, even though they are a retailer. I think there needs to be, in order to better understand how much of Amazon's sales growth is organic versus inorganic. This article attempts to do just that.
Company Overview
Typically I would start with a high level valuation of the company I'm looking at, however I have already done this in my previous article on AMZN, which you can find here. Instead, let's jump straight into the company's financial performance in the past 10 years. As shown below, AMZN has grown revenue an average of 31.6% per year in the past 10 years, and average net income margin was 2.1% during the same period. Note, these are reported net income numbers without adjustments (except for the 2004 adjustment mentioned below). The 31.6% average sales growth includes both organic and inorganic sales growth.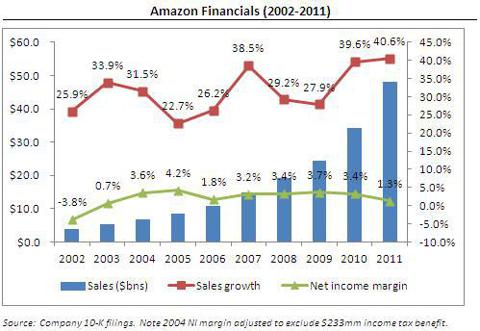 If you look at revenue split between North America and International, you will see that North America sales have declined from 70% of total sales in 2002, down to 56% in 2011.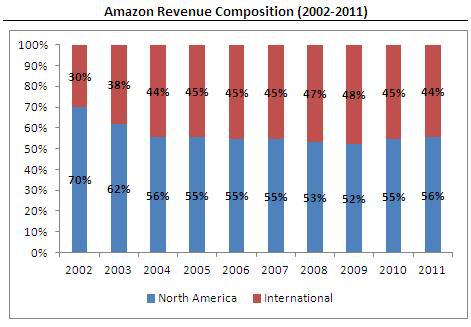 Now, let's look at the capex spending (to expand into new international markets) and acquisitions in the past decade. As shown below, capex spending and m&a has picked up significantly in the past 5 years.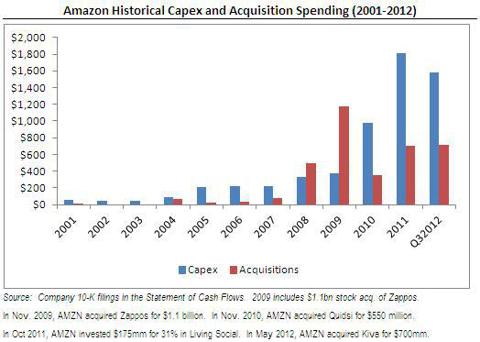 Next, we will separate and look at North America and International independently, to see what's driving the capex and acquisition spending (and whether they will provide good ROI for those investments).
North America Market
North America comprises just 2 countries: United States (entered in 1995) and Canada (entered in 2002). Its mostly the United States though, given Canada is about 1/10th the population of the U.S. North America's average 10-year sales growth was 27.4%.
As you can see, sales spiked in 2007 and in 2010 and 2011. Granted part of that may have been from overall economy and e-commerce improving during those times (U.S. e-commerce industry grew 2% y/y in 2009, but jumped to 16% in 2010 and 15% for 2011). However, I will argue that part of North America's sales growth has also come from recent acquisitions and new business line launches.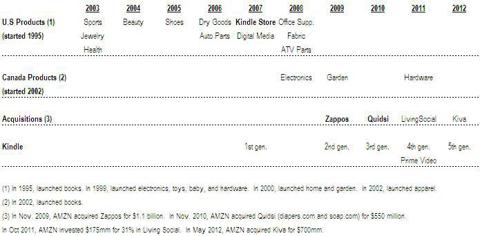 Product Category Launches May Have Peaked: As shown above, prior to 2009, Amazon in North America grew primarily through organic growth of launching new product categories in the U.S. (by the way, new product category launches could also be argued as inorganic, for example selling hardcover books versus hardware versus beauty products, seems like very different businesses, but that's probably being too extreme). After 2009 however, Amazon's North America business has become less and less dependent on new product category launches. I believe part of the reason is that there's only so many product categories that make sense to distribute online versus traditional physical stores. Said in a different way, certain product categories, from an ROI perspective, would probably make very little sense to distribute online (ie: lumber or ice cream that's difficult to ship, or say $1.00 candy bars). You can probably still try distributing these products online, but it's probably not very profitable.
As a result of product categories possibly peaking in the U.S., Amazon has turned to inorganic means to drive top-line growth (acquisitions, new business lines).
Acquisitions: In 2009, Amazon acquired Zappos (shoes) for $1.2 billion. In 2010, AMZN acquired Quidsi, owner of diapers.com and soap.com, for $550 million. Given Amazon is the dominant market leader in e-commerce in the U.S., why would they feel a need to acquire smaller competitors? Sometimes consolidation of an industry makes sense (increase pricing power, economies of scale), but sometimes m&a transactions provide a shortcut to accelerating your top line growth, at the cost of a possible poor return on your investment (you overpaid and could have had better ROI by investing that capital in growing organically, which is slower).
Tablet: In 2007, Amazon's push into hardware tablets (Kindle) to helped drive sales, as well as help e-book sales replace declining hard book sales. Since the initial launch, Amazon has done 5 generations of the Kindle (and there's been plenty of coverage already on Amazon selling Kindle tablets for a slight loss or breakeven). The tablet space is highly competitive with Apple (NASDAQ:AAPL), Samsung (OTC:SSNLF), Microsoft (NASDAQ:MSFT), Google (NASDAQ:GOOG), and Barnes and Noble (NYSE:BKS) just to name a few, all competing in the space. If you wanted to invest in the tablet space, you might as well invest in market leader Apple.
Online Video: In 2011, Amazon also began offering Prime Instant Video, to incentivize more customers to become Amazon prime members. Granted prime members spend 4x more than non-Prime members, however the content costs for the online video business is extremely expensive. Amazon will spend $700 million in 2012 just on content costs for their online video business (see my previous article). Furthermore, Amazon's online video business not only competes with Netflix (NASDAQ:NFLX) and Hulu, but it also competes with traditional television networks, cable networks, and satellite providers. Again, this is another highly competitive industry that Amazon has recently entered where they do not have a dominant, competitive advantage (as they do in e-commerce in the U.S.). If I wanted to invest in the U.S. online video space, I might as well invest directly in market leader Netflix.
Cloud Services: Finally, cloud services is another recent business line entered by Amazon. This often gets talked about by Amazon bulls, and I do like and believe in the future of cloud computing. However, keep in mind that cloud service revenues (or AWS) comprise just 3% of Amazon's 2013E sales. In addition, if investors wanted to invest in cloud, they could directly invest in one of the market leaders like Salesforce (NYSE:CRM).
International Market
Now that we've covered North America, let's turn our attention to the International markets. International markets currently include 7 countries: U.K. (started 1998), Germany (1998), France (2000), Japan (2000), China (2004), Italy (2010), and Spain (2011). International sales have grown an annual average of 42.6% in the past 10 years, and comprise 44% of 2011 total sales (up from 30% in 2002).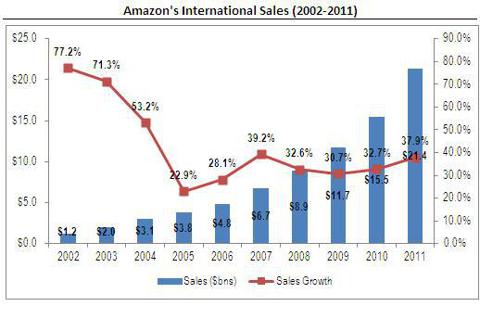 Let's now look at each individual country, when it was entered, and when new product categories were launched in each country. As you can see below, most of Amazon's original international markets that launched before or in 2000 (U.K., Germany, France, Japan), have used up most of the new product category launches (in other words, becoming mature, which makes sense given it's been 10+ years since they've started in those countries). To continue to drive top-line international growth, AMZN has had to launch in new countries/markets such as Italy and Spain.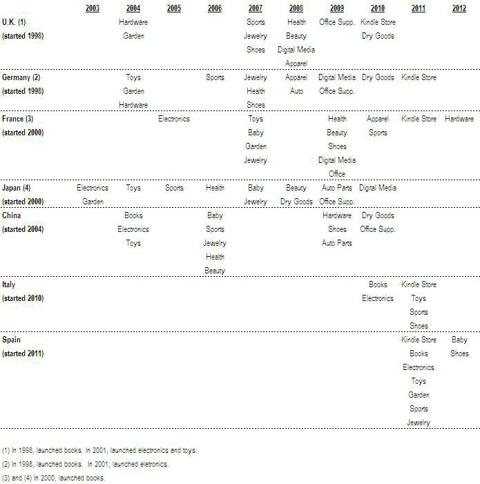 Is Amazon Dominant in International Markets?
Amazon is trading at a fairly high valuation of 170x 2012E P/E and 85x 2013 P/E. The market is giving Amazon a premium for its dominant e-commerce position, but is Amazon's e-commerce position dominant in international markets as it is in the U.S. (so that the entire company deserves a premium)? Given that nearly 50% of its sales are international, I believe this is one of the key questions in determining whether Amazon is appropriately valued. Let's first look at the size of the e-Commerce market by each major region: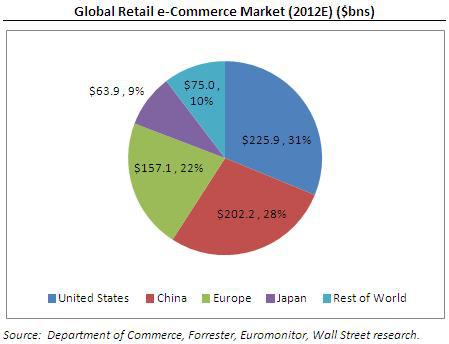 As shown above, the U.S. is the largest e-commerce market with 31% market share (or $226 billion). China is the 2nd largest with 28% market share, or $202 billion. Note, China is projected to overtake the U.S. as top market for e-commerce retail sales in 2013 (this year), given China's growth expectations of 40% versus 13-18% for the rest of the regions.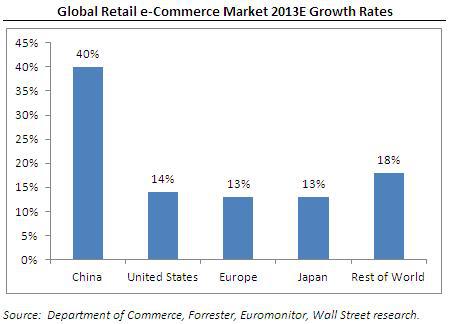 Amazon's International Market Share (8%): A BofA Merrill Lynch research report from November 2012 estimates that Amazon has 25% U.S. market share and 13% global market share, which implies an 8% International market share for AMZN. Note, the Amazon sales below include 3rd party GMV, so it will be higher than the sales figures reported in Amazon's financials.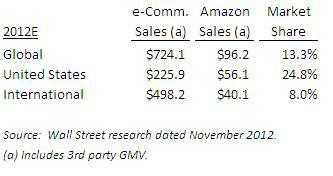 Amazon's China Market Share (3%): As mentioned above, China's 40% growth rate in e-Commerce will quickly propel them to become the largest e-Commerce market in the world. Amazon needs to have a significant presence and market share in China, for their International business to be really valuable (and deserve a premium). Amazon entered China in 2004 (through an acquisition of Joyo for $75mm in 2004), so they have been in China for 8 years. How have they done during that time? Unfortunately, not as successful as they have done in the U.S. According to iResearch, Amazon has just 3% market share in Q32012. Tmall, the retail e-commerce platform of Alibaba, which Yahoo (YHOO) owns a 40% stake in, dominates the China e-commerce market with a whopping 55% market share. Most likely Tmall (Alibaba) will continue to dominate, with the rest of the players fighting over the remaining scraps.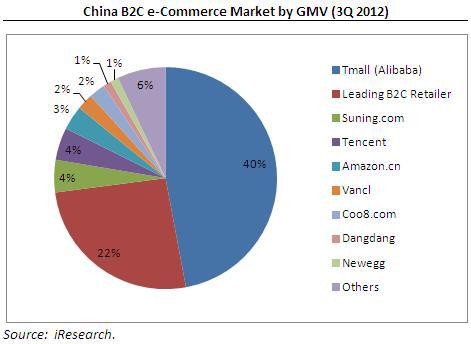 Amazon has also clearly have spent a significant amount of capex in China since 2004 (as they should have, given China's potential), as shown by the map of Amazon's current distribution centers. Unfortunately all of that investment in China has not entirely paid off, as evident by the current 3% market share.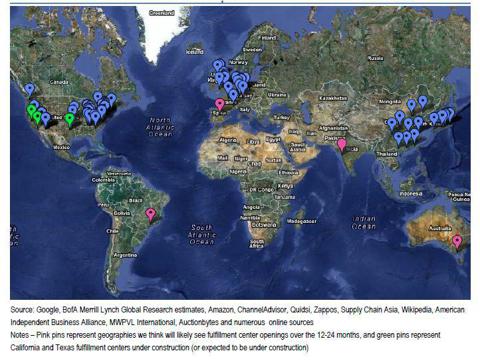 Amazon's Europe Market Share: I unfortunately do not have any more information specifically on Amazon's European market share. The best guess would be that 8% international market share calculated above, applies to Amazon's Europe market share as well. Note, the on-going crisis in Southern Europe countries (Portugal, Italy, Spain) could drag down the overall Euro economy, if not resolved. Remember that Amazon is in 5 countries in Europe (U.K., Germany, France, Italy, Spain). Also, even though we tend to think of Europe as one market, in reality, each individual country has its own unique challenges and barriers to entry and local demand (Amazon has been in U.K. Germany, and France since 1998/2000, but only recently entered Spain and Italy). The difficulty for Amazon to quickly roll out into every country in Europe has allowed local European competitors, such as the Samwer Brothers, to gain market share. If you haven't heard about the Samwer Brothers, they are known as the Internet titans of Europe, known for quickly copying and rolling out successful Internet business models throughout Europe (here is one article about them, but you can google more on your own).
Conclusion
This article hopefully shows that while Amazon's U.S. e-Commerce business is dominant (55% of sales, 25% market share) and should deserve a premium, the International business (45% of total sales, 3-8% market share) is nowhere near as dominant and contains less upside and more risks (low upside in fastest growing China market that's dominated by Alibaba, and Spain/Italy markets exposed to Euro crisis).
In addition, the U.S. business for Amazon may be peaking, given they are running out of appropriate product categories to launch and have relied on acquisitions recently (Zappos, Diapers.com, Soap.com) to grow top line sales. Furthermore, traditional retailers like Walmart, Target and Best Buy, have ramped up their online operations significantly in the past few years (as well as begun to offer price matching at retail stores).
Lastly, Amazon's recent new business lines into the competitive hardware tablets (Kindle) and online video (Prime Instant Video) sectors are costly (Kindle sold at breakeven, content costs of $700mm a year) and the eventual return on these investments in highly competitive sectors is uncertain at best.
Even with these risks, the market appears to be applying a premium to all of Amazon's businesses, as if all of the business were as dominant as their U.S. e-commerce business. Part of why that may be the case, is that Amazon unfortunately does not have a same-store sales equivalent to help investors track organic growth versus inorganic growth.
Based on the points raised in this article, I would argue that Amazon's organic or same-store sales growth is probably closer to 20% annually (instead of the 10 year average of 30%), and inorganic growth (through m&a, new business lines, new international markets) has helped to add an additional 10% per year. As a result, I probably value Amazon closer to $200 per share, versus the current $260 per share.
For disclosure, I've shorted Amazon recently through puts due to this thesis, but not by very much, because sometimes you just can't fight the market. Good luck as always.
Disclosure: I am short AMZN. I wrote this article myself, and it expresses my own opinions. I am not receiving compensation for it (other than from Seeking Alpha). I have no business relationship with any company whose stock is mentioned in this article.