I've been following the saga of Chesapeake Energy (NYSE:CHK) since 2005 when I first became fascinated with the huge unconventional land position the company had amassed. Way back then Chesapeake's share price was roughly $17 per share. Since then the following things have happened to Chesapeake:
- The company expanded its resource play inventory to include liquids and oil plays
- The share price hit $70
- The share price crashed to $12 within six months of that high
- CEO Aubrey McClendon lost hundreds of millions of dollars of Chesapeake shares through margin calls
- CEO McClendon was stripped of his Chairmanship and several members of the Board of Directors were shown the door
And the share price today is, you guessed it, $17 per share, just like when I started following this company almost 10 years ago.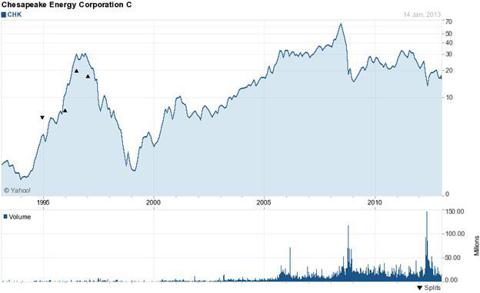 One moment in Chesapeake's history is burned into my memory. It was mid 2008 when natural gas prices were soaring and Chesapeake announced that it had agreed to a joint venture with Plains Exploration in the then brand spanking new Haynesville shale.
It was a blockbuster of a deal:
PXP has agreed to acquire a 20% interest in Chesapeake's Haynesville Shale leasehold as of June 30, 2008. for $1.65 billion in cash. In addition, PXP (NYSE:PXP) has agreed to fund 50% of Chesapeake's 80% share of drilling and completion costs for future Haynesville Shale JV wells over a several year period until an additional $1.65 billion has been paid. Chesapeake estimates that its Haynesville leasehold as of June 30, 2008. was approximately 550,000 net acres. As a result of the transaction, PXP will hold approximately 110,000 net acres of this leasehold and Chesapeake will hold approximately 440,000 net acres.
Aubrey K. McClendon, Chesapeake's Chief Executive Officer, commented, "We are pleased to announce this joint venture with PXP and believe it creates substantial value for both companies. This transaction establishes a $16.5 billion valuation for our Haynesville Shale leasehold, all of which is located in the Core Area of this very significant discovery."
I distinctly remember thinking that Chesapeake was going to be a $100 billion enterprise value company within five years. The $16.5 billion implied value for Chesapeake alone represented half of the company's market capitalization and a some of the parts analysis suggested huge upside for shareholders.
Instead of thinking that Chesapeake's future looked bright, I should have been thinking that this was to be the last great moment before the fall.
Now, five years after announcing the Haynesville natural gas play to the world JPMorgan is suggesting that Chesapeake may be about to sell a piece of it to help fund its expected 2013 funding shortfall.
At what price I ask?
PXP Exploration prior to announcing that it was to be acquired by Freeport-McMoRan (NYSE:FCX) was planning to sell the Haynesville assets it acquired in the Joint Venture from Chesapeake for roughly one third of what it originally paid for them.
Talk about buying high and selling low.
Now can't be the time to raise cash by selling natural gas assets that nobody wants to develop at current natural gas prices. This has to be the worst possible time to sell natural gas assets.
Check out the Haynesville rig count below. These wells aren't profitable at today's natural gas price and everyone who has a choice is choosing not to invest capital in the Haynesville. There is no chance to get a fair price for a company looking to sell Haynesville acreage: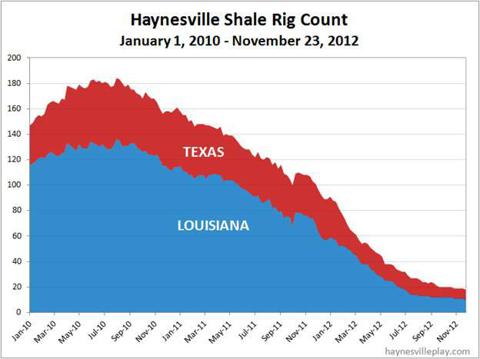 Instead of constantly living with a depressed share price and struggling to finance operations month after month by selling pieces of this, and pieces of that, why not just put this debt issue to bed for good?
According to the slide below from Chesapeake, the company has four core "liquids" plays: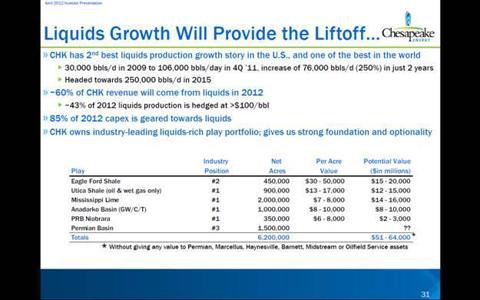 Chesapeake suggests the following values for their core liquids plays:
Eagle Ford - 450,000 acres worth $15 billion to $20 billion
Utica Shale - 900,000 acres worth $12 billion to $15 billion
Mississippi Lime - 2,000,000 acres worth $14 billion to $16 billion
Anadarko Basin - 1,000,000 acres worth $8 billion to $10 billion
If these value estimates are even close to being accurate, then selling 100% of just one of these properties would eliminate almost all of Chesapeake's outstanding net debt.
Wouldn't selling one of these liquids plays that are in high demand be a better alternative than selling the Haynesville at the bottom of the market for a fraction of what it might be worth five years from now
I just think it is time to quit struggling with this debt issue and transform the company. I believe Chesapeake has the asset value to do just that.
Disclosure: I have no positions in any stocks mentioned, and no plans to initiate any positions within the next 72 hours. I wrote this article myself, and it expresses my own opinions. I am not receiving compensation for it (other than from Seeking Alpha). I have no business relationship with any company whose stock is mentioned in this article.