A new year is always something which gives you hope and freshness and you tend to have new energies. It is a fact that each and every individual is different from the other and so are the new year resolutions but still there are a few common things among us all because of the same humanly nature which we have got. Two of them are;
Get rid of Excess Weight
Workout Regularly
Healthy Investment Opportunities
The beginning of the year is also a good time to start to look to investments that could be worthy going forward. In this article we focus on healthy "resolution" investments.
I picked five companies that are worthy to look at if you are interested in the health and wellness market and more and more specific the weight management market.
 
 
 

EPS

 

Price/Earnings

P/S

 
 

Operating

Company

Ticker

Price

2012

2013

2012

2013

 

ROA

ROE

Margin

Weight Watchers

59.37

4.09

4.75

14.52

12.5

1.82

23.3

N/A

27.68

Medifast

27.71

1.45

1.75

19.11

15.83

1.25

13.11

19.12

6.22

Usana Health Sciences

35.62

4.39

4.84

8.11

7.36

0.82

24.29

34.34

14.41

NutriSystem

8.78

0.19

0.41

46.21

21.42

0.62

0.77

1.13

-0.10

Musle Pharma

MSLPD.OB

4.02

N/A

1.00

N/A

4.00

0.19

N/A

N/A

-29.93

 

Sources: Zacks Investment Research, Reuters

 
 
 
 
 
Weight Watchers
Weight Watchers International, Inc. (NYSE:WTW) is the world's leading provider of weight management services, operating globally through a network of company-owned and franchise operations. Weight Watchers holds over 45,000 meetings each week where members receive group support and learn about healthy eating patterns, behavior modification and physical activity. WeightWatchers.com provides innovative, subscription weight management products over the Internet and is the leading Internet-based weight management provider in the world. In addition, Weight Watchers offers a wide range of products, publications and programs for those interested in weight loss and weight control.
One month ago the company officially started the marketing push associated with its new Weight Watchers 360 program. The campaign's TV commercials launch on Christmas Day. Weight Watchers adds value to its customers by making the weight-loss process easier with group-based support and easy-to-understand dietary guidelines. No other company in this space can match the company's support infrastructure. The brand is so trusted that large food companies and restaurants have begun licensing the brand for use in the advertising of their own products.
Weight Watchers' growth will be driven by expanding its customer base to include men, a refreshed product launch, increasing internet penetration, and international expansion efforts. The consensus is that the fourth quarter should be a slim one for the company; the company is headed towards a slight drop in sales and just 1.2% earnings growth. Since the company's third-quarter earnings announcement, the analyst community has downwardly revised their estimates by 13%. For quarter one analysts forecast 21.6% bottom-line growth.
The company is in reasonable financial health, primarily due to its strong operating cash flow generation. While the company's debt jumped by $1.5 billion because of its self-tender, Weight Watchers can easily self-fund its growth and cover its interest payments with cash flow from operations.
The current share price looks attractive and the 12.5 times 2013 earnings per share is in my opinion too low. The last 5-years average was 14 times earnings and the average market P/E was around 16.

Medifast
Medifast, Inc. (NYSE:MED) is engaged in the production, distribution, and sale of weight management and disease management products and other consumable health and diet products. Medifast's product lines include weight and disease management, meal replacement, and vitamins. The company sells its products and programs via four distribution channels: 1) the Web and national call centers, 2) the Take Shape For Life personal coaching division, 3) Medifast Weight Control Centers, and 4) a national network of physicians.
The company's financial goals are clear and challenging. So I will watch this one closely. If the goals are met in 2017, the company could become a five bagger.


USANA Health Sciences
USANA Health Sciences , Inc. (NYSE:USNA) develops and manufactures science-based nutritional and personal care products. The company has operations in 15 markets worldwide, where it distributes and sells its products by way of direct selling.
The company raised its outlook for the full year during its third-quarter report, which also saw this nutrition and personal care products company beat earnings estimates for the seventh straight quarter. The company has a long-term expected earnings growth rate of 18.0%, according to Zacks Investment Research).
Based on the strong third-quarter results, USANA Health Sciences raised its outlook for 2012. Net sales are now expected to reach $645 million, up from the previous range of $630 million to $640 million.
The company also raised its 2012 earnings guidance to between $4.35 and $4.40 per share from the previous range of $4.10 to $4.20. USANA Health Sciences expects the strong performance to continue due to the Lifetime Matching Bonus and other initiatives.
The company is currently trading at a forward price-to-earnings (P/E) of 8.1x, a discount to the peer group average. Its P/S ratio of 0.82 is also well below its peer group average. Moreover, the company's return on equity (ROE) is 34.34%, above the peer group average. It looks like a solid growth pick.

NutriSystem
NutriSystem, Inc. (NASDAQ:NTRI) is a provider of a weight management system. The company's customers purchase food packages containing a 28-day supply of breakfasts, lunches, dinners and desserts, which they supplement with dairy, fruit, salad, vegetables and low-glycemic carbohydrate items. Its product offerings also include a combination of its ready-to-go food and its fresh-frozen line of menu items. It sells its weight management program through a direct-to-consumer sales and distribution approach using the internet and telephone.
This turnaround play has been able to maintain its dividends. At the moment, NutriSystem pays an annual dividend of $0.70, yielding 8%.
For dividend orientated investors a stock to watch because free cash flows has also supported the company's dividend policy.

Muscle Pharma Corp.
Seeking Alpha gives you quiet often great ideas which you have to embrace. A company to watch going forward is called Muscle Pharma . MusclePharm (MSLPD.OB) develops and manufactures nutritional supplements that address active lifestyles, including muscle building, weight loss and maintaining general fitness through a daily nutritional supplement regimen. MusclePharm's products are sold to consumers in more than 110 countries and available in over 10,000 U.S. retail outlets, including Dick's Sporting Goods, GNC, Vitamin Shoppe and Vitamin World. and through more than 100 online channels globally, including bodybuilding.com, amazon.com and vitacost.com.
Sports nutrition has remained a niche category in consumer health for decades. Current public health programmes to fight obesity and a wider consumer base are changing our understanding of sports nutrition towards a brighter and profitable future.
Sports nutrition products are no longer just targeted at young men wishing to show off powerful muscles. The industry now moves to other types of consumers such as women, with new products formulated for them, and to main stream consumers, who like to exercise regularly, but are not serious athletes.
MusclePharm is in a turnaround situation and management's intention is to seek a listing on a major stock exchange. This listing will also resolve the issue of the voting rights mentioned in the article of Zacks Small-Cap.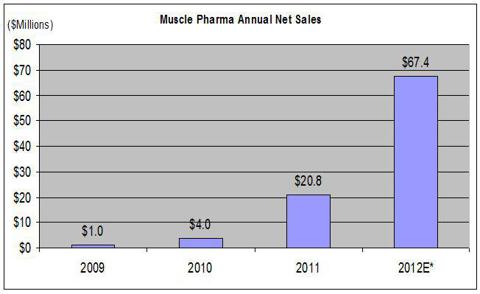 MusclePharm shares have been constrained because the company has never generated a profit, because they were focused on growing revenues. This year the focus will be different and we could look for a profitable company going forward.
Final Note
Health and Wellness will be a trillion dollar industry in 2017
Strong recovery of the global health and wellness market is expected the years to come. Positive developments in emerging markets as China and Brazil will lead the way. Steady real term growth of 7.2% is expected to continue to 2017, with global health and wellness sales on the way to hit a record high of $1 trillion by 2017.
Source: Euromonitor International
Despite numerous attempts to curb the growing obesity epidemic, the obese and overweight population is on the rise. According to the Center for Disease Control and Prevention, an estimated 70% of the adult population of the United States is overweight, and 35% is considered obese. Worldwide, nearly 1.6 billion people are considered obese. Long-term solutions leading to calorie reduction via healthy lifestyle changes rather than short-term diets are becoming a necessity, hugely benefiting global sales of weight management companies but also food and beverage companies that offer healthy products.
We survived the end of the Mayan Calendar or "End of the World", so now it's time for some healthy action.
From the stocks mentioned in this article I personally think all of them have a certain edge. For conservative investors I would recommended, Weight Watchers, Usana Health Sciences, and Nutrisystem. Growth-orientated investors can have a look at Medifast and for speculative investors that like turnaround plays I would say have a look at Muscle Pharma Corp.
Disclosure: I have no positions in any stocks mentioned, but may initiate a long position in USNA, NUTR, MSLPD.OB over the next 72 hours. I wrote this article myself, and it expresses my own opinions. I am not receiving compensation for it (other than from Seeking Alpha). I have no business relationship with any company whose stock is mentioned in this article.