Envestnet (NYSE:ENV), which has a market cap of just $440mm, is a highly successful company focused on helping the independent investment advisor. It touches over $347 billion in assets, and its business model as a platform is highly compelling for its recurring revenue and stickiness. Strong management with skin-in-the-game and a long-term oriented strategy is likely to continue to build shareholder value. A series of strategic acquisitions that temporarily slowed EPS growth in 2012 and the overhang of a likely equity offering ahead of approximately 1/4 of the shares (from existing shareholders) have created a potentially attractive entry for new investors.
Company Description
ENV, based in Chicago, was formed in 1999 and is now one of the largest providers of wealth management solutions to independent financial advisors today. Its open-architecture approach allows its customers, financial advisors, to compete with entities with much larger resources. The solutions, delivered over the internet, are flexible and customizable.
To give a sense of growth, five years ago total platform assets were approximately $82 billion with almost 600K accounts. 2.5 years ago, when it went public in July 2010 at $9, it had $139 billion on the platform, 910K investor accounts and 21,500 advisors. Today? $347 billion in total assets ($93 billion in assets under management or administration and the balance from arrangements covered by license), 1.6mm accounts and 22,500 advisors.
The company recently presented at the ICR conference, and the following slide (link to complete slides at bottom of article) demonstrates its consistent and impressive growth: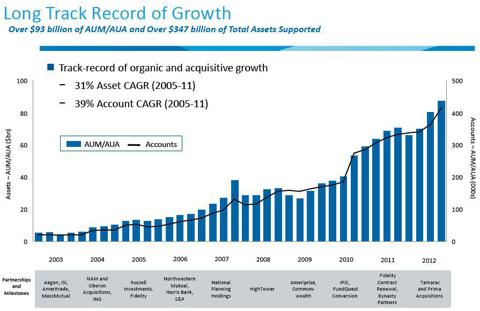 The growth is mainly organic, though the company has done both strategic as well as what it calls "consolidating" acquisitions. On the former, it bought Tamarac and Prima last year. Tamarac is a leading provider of tools for investment advisors that enable them to rebalance portfolios, report performance and manage their customer relationships. Prima provides investment manager due diligence, asset allocation and multi-manager portfolios. These are two premier organizations, with strong reputations in the investment management industry, where ENV can extend its solutions to its own customers. FundQuest was an example of a consolidating transaction, where it bought $15 billion of assets.
Most of the business is tied to assets under management or assets under advisory, with this 85% billed quarterly, typically in advance and representing 82% of revenue. The balance is tied to multi-year fixed-fee agreements with large enterprise clients.
The ultimate success of the company is tied to growing the number of advisors on the platform and increasing the share of its practices by offering high-value solutions. Recent trends bode well, as despite a lack of overall growth in the number of advisors, ENV has sustained approximately 20% organic growth, with almost 10% coming from adding advisors and a bit more than 10% coming from its advisors adding assets (more customers).
Thesis & Catalyst For Envestnet, Inc.
Quite simply, ENV is an effective way to play some trends that are well established and likely to persist. First, after two huge bear markets in the last decade or so, it's not surprising that many households are turning to financial advisors rather than investing on their own. According to Cerulli Associates, the percentage grew from 50% to 66% from 2008-2011. A second big trend is the shift away from transactional business, where a "broker" is paid a "commission" to a fee-based model. A third trend that plays toward ENV is the increasing prevalence of independent advisors, as investors run from the conflicts and poor performance that has been historically provided by brokerage or even advisory units of investment banks. Finally, technology has become an increasingly important aspect for independent advisors who want to be more efficient, enhance client service and scale their business. ENV is an outsourcing play that makes these advisors better able to compete and to focus on advising.
ENV's solutions, which are integrated, comprehensive and delivered over the internet, serve to create a huge network effect. Its customers are able to easily manage portfolio strategies across multiple custodians, with access to best-of-breed solutions. ENV, then, seems well positioned to achieve scale as its advisors grow their own businesses and as the market appreciates over the long-term.
Company Management
One of the most compelling aspects of ENV is the tenure and quality of the management team, led by Jud Bergman (56). Bergman, a veteran of Nuveen Mutual Funds, where he directed the corporate development activity from 1992-1997, is a visionary who has been able to draw a substantial number of his former co-workers, most who joined him at the inception.
It also doesn't hurt that insider ownership aligns well with the public owners. Total insider ownership is somewhat exaggerated at 25% (8.4mm shares) because much of it is held by private equity funds with representatives on the Board of Directors, but it is compelling nonetheless. Bergman is the largest individual holder at about 1.4mm shares beneficially (4%). President Bill Crager holds about 1.6% of the company beneficially. Co-founder Brandon Thomas owns about 1.1%.
Competitive Landscape
ENV has been taking share of the overall market. While there are possibly some new platforms, the real competition now consists of turn-key providers, like Genworth (NYSE:GNW), SEI (NASDAQ:SEIC) and Lockwood Advisors [an affiliate of Pershing, which is a subsidiary of BNY Mellon (NYSE:BK)]. Here, ENV offers a more robust and complete solution. There are also technology competitors, like Advent Software (NASDAQ:ADVS), which offer solutions to just a small part of the overall need. ENV also competes to an extent with its custodial partners, like Charles Schwab (NYSE:SCHW) and TD Ameritrade (NASDAQ:AMTD). ENV plays to the real world, where most advisors are unwilling or unable to lock themselves into a single custodian.
Valuation
ENV isn't a value stock by any stretch, but I think that the valuation is justifiable. Here is a look at two metrics: Forward PE and Price/Sales (using Baseline):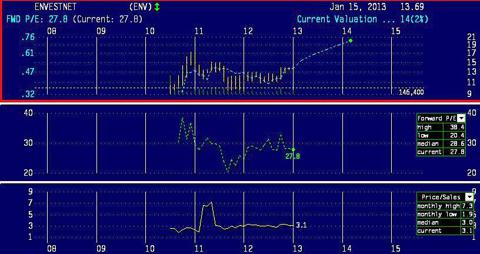 In case it's not clear, the current forward PE is close to the median since the IPO and down from its peak in 2011. On a P/S basis, the current 3X ratio is near the median as well. It's important to understand that the growth in earnings slowed dramatically in 2012 due to the acquisitions mentioned above. Currently, though, analysts forecast robust growth to come back in 2013 and 2014. The current consensus for 2013 of $0.56 represents 73% growth over the 2012 consensus. For 2014, the consensus is $0.72 (+28%). The company has provided a long-term goal of growing sales by 20% and cash flow by 25% as it increases adjusted EBITDA to 30% over time.
While one can view this as a 25% growth kind of company trading at 25PE, I actually prefer to look at that P/S metric, which has been relatively stable. Ordinarily, I might use EV/S, but I think that most investors assumed that the IPO cash on the books would be reinvested, as it was in 2012 (as of Q3, the company had $21mm cash, or less than $1 per share). Notice how stable this metric has been since mid-2011. 3X seems quite reasonable given the growth-rate and the margins.
As I think about the future valuation, I look out a year and project a 24PE on that .72, which is a bit over $17 per share. Looking at sales, which are estimated to grow 26% in 2013 to $197mm, a 3X multiple a year out would represent almost $600mm market-cap (about $18). So, just harvesting the growth and maintaining current valuation ratios suggests 25%-30% appreciation.
In terms of comparisons, ENV is much smaller and is growing much more rapidly than SEIC or GNW. SEIC ($4.3 billion market cap) trades at 18PE and 4.5X sales, while GNW ($4 billion market cap) isn't really comparable due to its different business model for the bulk of its business. ADVS ($1.2 billion market cap) trades at 21 PE and 3.5X sales. It is projected to grow sales by 6% and EPS by 14% in 2013, so much slower.
One really neat company that I think does bear comparison though it is not a competitor at all is Financial Engines (NASDAQ:FNGN), which provides solutions to individuals with retirement accounts held at their employers. This company ($1.4 billion market cap) is projected to grow sales by 21% in 2013 and EPS by 24% and trades at 47PE and 7.5X sales!
So,the valuation isn't the reason to buy, but it's not a reason not to buy. I believe that my 3X sales assumption could see some expansion, especially if the company delivers on its steady progression of operating margin expansion that was sidetracked by the acquisitions in 2012. Investors should appreciate not only the growth potential but also the fact that so much of the revenue is recurring.
One note of caution and why I am on the sidelines now is that there is likely to be a large distribution of stock in the near future. On December 11, the company filed an S-3 detailing registration for potential sale of about 8.5mm shares (25% of the company!). Importantly, there are no new shares being issued. CEO Bergman may sell 40K shares and another insider 10K, but the bulk are on behalf of investors GRP Partners (3.4mm), Technology Crossover Ventures (1.4mm), Foundation Capital (1.4mm - all), FMR (1.1mm - all) and Apex Investment Fund IV (1.1mm - all). It's not uncommon after an IPO to see private equity funds move on, and, given the rise in the stock over the past 30 months, it's not too concerning, especially considering that insider ownership will still be substantial. The removal of this overhang and perhaps better liquidity are reasons to be more optimistic about ENV following the pending deal.
Variant View
Valuation is high enough that execution risk is critical
Strategic acquisitions may prove to be ineffective and/or expensive
Additional Resources
Disclosure: I have no positions in any stocks mentioned, and no plans to initiate any positions within the next 72 hours. I wrote this article myself, and it expresses my own opinions. I am not receiving compensation for it (other than from Seeking Alpha). I have no business relationship with any company whose stock is mentioned in this article.