Some market watchers are interpreting Tuesday's better-than-expected US retail sales report as a sign that the US consumer is starting to come back.
But a look behind the December numbers shows that the much heralded return of the US consumer is likely to be delayed a bit longer.
While the headline month-over-month sales number indicated a 0.5% advance from November, adjusted December retail sales grew 4.7% year over year. This does represent an improvement from a summer low of 3.5%, but it's still well below a peak of 9.2% 18-months ago.
More importantly, much of the recent improvement has been driven by just one item: cars. Since bottoming in 2009, US auto sales have surged to an annualized rate of 15.3 million from 9 million.
Outside of autos and food, the month-over-month gains are much less impressive. Stripping out these two components, retail sales rose by just 0.1% in December – after contracting by 0.3% the previous month (see below). Based on this measure, retail sales have been soft for the past three months.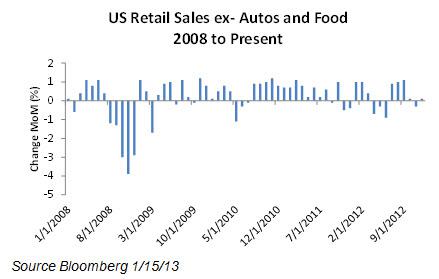 Broader measures of US consumption show a similar story. As of the end of November, personal consumption was up 3.3% from a year earlier. Growth at this level is less than half the 50-year average. More troubling, even by the diminished standards of the recent recovery, consumption looks soft. Year-over-year growth in personal consumption averaged nearly 4% in 2010 and more than 5% in 2011. Rather than accelerating, consumption is, at best, treading water.
As I've discussed in the past, the factors constraining consumption are still in place. Consumers continue to struggle with elevated debt levels. But perhaps an even bigger problem is the lack of income growth. Disposable income is currently growing at 3.2% year over year. This is down from 6.5% two years ago and compares poorly with a long-term average of 7%. For hourly workers, the situation is even worse. While hourly wages have rebounded a bit in recent months, wages are still barely keeping up with inflation.
I'm pessimistic that any of this will change in the near term. First, while the labor market is healing, it's undergoing a painfully slow convalescence. Job growth remains stuck at around 150,000 a month. While this pace has sufficed to help slowly lower an unemployment rate already flattened by people dropping out of the labor force, it's not fast enough to push up wages.
In addition, thanks to the limited deal to avoid the fiscal cliff, consumers will now have to contend with another headwind: higher taxes. The expiration of the payroll tax holiday translates into a $40 drop in the paycheck of an average US household. For more affluent Americans, the hit will be substantially larger. For retailers used to a seasonal bump thanks to tax refunds, the delay of the tax filing season may lead to further weakness in the first quarter.
The bottom line for investors: As US consumption still appears stuck in neutral, I continue to suggest remaining cautious on stocks – such as US retailers – that rely on the a splurging US consumer.

Russ Koesterich, CFA, is the iShares Global Chief Investment Strategist and a regular contributor to the iShares Blog. You can find more of his posts here.