You really can't blame traders for buying ahead of Facebook's (NASDAQ:FB) presentation this week. After all, the media hype ahead of the event was remarkable. And, given the insurmountable expectations facing Mr Zuckerberg, you can't blame traders for selling afterward either.
The fact is, shares didn't stand a chance against a public hungry for jaw dropping wonderment. As a result, Facebook's new Graph Search feature was met with a collective yawn.
But, before you fluff the pillow and say good night to your Facebook position, you might want to think a bit more about what Facebook has done.
Just a few short months ago, Facebook launched Gifts - another yawn-worthy, hobby-ish feature. Gifts won't move the profit needle, but it showed investors the company is focused on one thing: making money.
Importantly, it demonstrated Facebook will not shy from leveraging all the wonderful information it collects daily from its billion strong user base.
Make no mistake, Facebook's search development is not alturistic.
Graph Search operates under the premise people want to search for things their friends do and like rather than for the mineral definition of plasma.
Of course, Facebook's end game isn't making searches friendlier. It's collecting and monetizing data on those searches.
Searching for friends who have visited Las Vegas? Don't be shocked to see an ad for Priceline (PCLN) pop up somewhere as a result. Interested in local restaurants? Perhaps you'll be prompted to use OpenTable (NASDAQ:OPEN).
Equally important and potentially profit-friendly is organizing user's data.
Cataloging our likes and dislikes, our travel itineraries, favorite hangouts and picture tags will offer even greater insight for Facebook's algorithms. These algorithms will undoubtedly remind us of all sorts of this and that's we've done, bought or thought about, which we'll be able to do, buy and think about again.
Last year, in my article Facebook: Cool Code Trumps Share Price, I covered an interview with Mr. Zuckerberg.
In the conversation he was asked whether Facebook was working on search. He replied Facebook's goal was answer oriented search, much like Apple's (NASDAQ:AAPL) Siri. Graph Search is the first iteration of this aim.
In Facebook Is Giving Investors A Gift This Season, I wrote, "Clearly, consumers are increasingly turning to mobile devices instead of PCs not just for socializing and surfing, but for gathering information. As a result, the mobile device is not only our car companion, but our couch companion too."
This isn't lost on the Facebook development team.
Mobile users more frequently visit the site and are more engaged than their connected peers. Increasing engagement remains critical to Facebook's survival. And Facebook appears to be most interested in increasing its relevance by making it a destination for more than just alerting friends of ailments and arguing over political viewpoints.
In Graph Search, Facebook hopes its found another way to keep eye-balls firmly planted in its ecosystem.
Looking at Facebook's Q3 earnings, we can see why Facebook is so focused.
There's big money at stake for Facebook if it can get search right.
600 million Facebookers accessed the site through mobile devices in Q3, up from 376 million the prior year. And, of those 600 million, 70% visited Facebook daily - far better than the 40% visiting daily from PCs.
Last year's iOS app refresh sped up news feed loads, allowing people to comment more frequently. More interaction meant more impressions, which meant more opportunities to connect advertisers to consumers.
And, Facebook was able to charge 7% more for those ads, even as its customers bought 9% more ads than in Q2 and 36% more than the prior year.
When it reports earnings at the end of January, investors will have even more insight into how engagement is driving ad sales. Considering Q4 included a bare knuckle political battle and a natural disaster - both of which boosted activity - it's likely investors will be pleased.
According to comScore, Facebook trailed only Google's YouTube for video eyeshare in December. And, in November, Facebook had 149 million visitors, making it the 4th biggest online landlord. For comparison, Linkedin (LNKD) had 41 million visitors in November while Twitter had 39 million.
Finally, for investors handicapping how engaged users were in Q4, the following chart from Google trends provides clues. Q4 marked the highest search volume for Facebook's site since its inception.
This suggests investors shouldn't dismiss Facebook, or its Graph Search too quickly.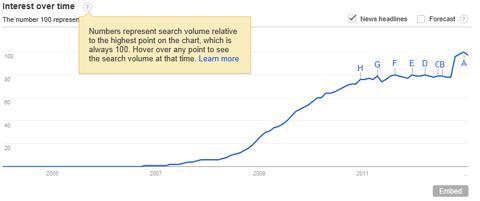 Disclosure: I am long FB, LNKD, AAPL, OPEN. I wrote this article myself, and it expresses my own opinions. I am not receiving compensation for it (other than from Seeking Alpha). I have no business relationship with any company whose stock is mentioned in this article.