One of my favorite financial writers is Jeremy Grantham, known for his investment theme of "mean reversion". Essentially, he opines that all asset classes will eventually revert to their historical mean from their highs and lows. His firm, GMO investors, has done exhaustive studies of 34 historical bubbles and busts, and he says they cannot find one exception to this rule. He also makes the point that mean-reverting asset classes in rising or falling markets are the highest-probability trades.
Which brings me to the most recent month over month inventory data from housing tracker.
| City, State | Percentage |
| --- | --- |
| Austin, TX | -9.7% |
| Houston, TX | -6.1% |
| San Antonio, TX | -4.5% |
| Phoenix, AZ | -3.4% |
| Raleigh, NC | -5.6% |
| Sacramento, CA | -3.8% |
| San Francisco, CA | -16.8% |
| San Jose, CA | -20% |
| Los Angeles, CA | -10% |
| Riverside, CA | -8% |
| Orange County, CA | -11.3% |
| Denver, CO | -7.2% |
| Portland, OR | -6.6% |
As you can see from the chart above, there has been a dramatic fall in available housing inventory for these metro areas. At this pace and rate, available supply will dwindle to a drizzle by Summer and place upward pressure on average asking prices,
So let's look at the current pace of new construction to meet this rising demand. How many new single-family homes are there for sale today in the United States, and how does that stack up with historical norms?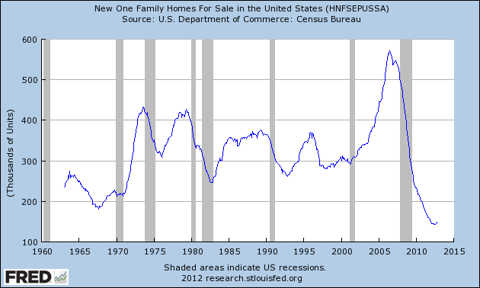 It's the lowest on record (149K), 16% below the previous low in 1968. Historically, around 350K new homes are sold annually in the U.S. That would require an increase of 133% in new construction from current levels.
Because its estimated that 50% of the builders in the U.S. went out of business in the severe housing recession of 2006-2011 - and millions of construction jobs lost in the process - the industry is dominated today by the small cadre of public builders who were able to weather the storm. And the bar for re-entry into the profession remains high today. Banks are reluctant to grant construction loans to small businesses in the current credit crunch.
So if these homes are going to be built, the large publicly-traded builders will dominate the initial stages of the housing recovery. They have strong balance sheets, access to capital, and the economies of scale to develop large plots of land and/or to buy-up developed lots. They will dominate new construction.
Again, mean-reversion is at work: a higher demand for houses met by a smaller supply of builders. This places upward pressure on their revenues, sales, profit margins, and backlog. It's a little like a few cats chasing mice on a square mile of white linoleum. The odds are excellent for the felines on the floor.
This positive sentiment is echoed by the trajectory of the Wells Fargo NAHB Housing Index (Excel download). This index - comprised of builders' outlook for present, future conditions and buyer traffic - is now well ahead of the actual housing starts number. A similar comparison can be seen in 2007 when the sentiment index led the housing starts number down. Builders are assuming another very positive year.
The next part of the equation is future demand. What has been the population growth in the same period, dating from the previous low in new home construction in 1968?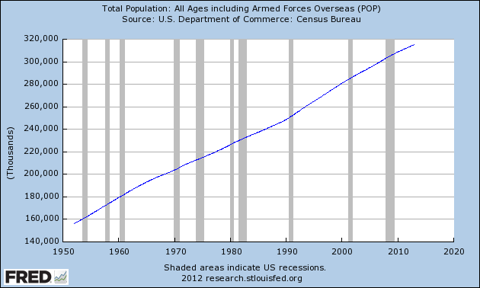 The highest total population on record, 63% above 1968, at 310ML citizens.
If homes are to be built, they must be affordable too. What are Household financial obligations today as a percent of disposable income?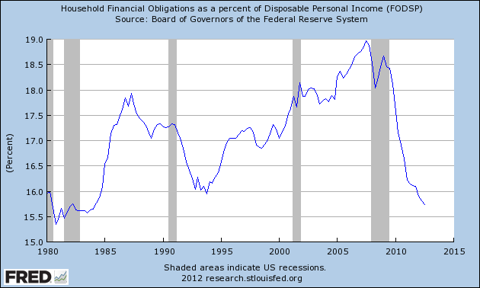 15.75%, the lowest in 20 years.
A mean-reversion of epic proportions could be brewing in new home construction, and it all begins with the 2013 Spring selling season.
You cannot look at these charts from the Federal Reserve (above); or peruse the in-field data from firms like Credit Suisse's Monthly Survey of Real Estate Agents; or read the recent conference call transcripts from home builders Pulte (NYSE:PHM), Lennar (NYSE:LEN), KB Home (NYSE:KBH), Standard Pacific (SPF), Toll Brothers (NYSE:TOL), and Meritage (NYSE:MTH), and not see that a perfect storm of insufficient supply and high demand is brewing for the home builders ahead in 2013.
In the same manner that irrational exhuberance once blinded investors to the inherent danger of an overheated market; excessive pessimism now pervades hopes of a housing recovery.
I have been writing about the buildup in starts since summer 2012, and most recently the startling data for year over year increases in average selling prices and decreases in available inventory.
For this reason, I have doubled my positions in the US homebuilders and increased my share count on every dip.
The ones I consider best positioned to take advantage of the CA and TX resurgence are Hovnanian (NYSE:HOV), Lennar , Meritage , Pulte , KB Home , DR Horton (NYSE:DHI), Ryland (NYSE:RYL) and Standard Pacific (SPF).
My two favorites are KB Home - because it dominates the CA market - and a Canadian builder - Brookfield Properties (NYSE:BRP) - which develops and sells lots in the US (primarily CA) and Canada. I have also begun a position in a Brazilian builder, Gafisa (NYSE:GFA), which I believe is emerging into profitability similar to the U.S homebuilding industry in October, 2011. It is the largest residential builder in Brazil.
I think if investors can overlook the emotions of the past and become comfortable with the emerging demographics and data above, they can re-enter the housing recovery as investors (rather than victims) and take part in the growth ahead.
Mean reversion is real, and it is coming to the US homebuilders NOW. Amidst all the negative press, the public builders have yielded triple digit returns off the lows of 2011-2012; and yet I have a reasonable expectation that we remain in the early innings of the recovery and that builders will continue to surprise to the upside.
Disclosure: I am long KBH, BRP, GFA. I wrote this article myself, and it expresses my own opinions. I am not receiving compensation for it (other than from Seeking Alpha). I have no business relationship with any company whose stock is mentioned in this article.