On January 9, Constellation Brands (NYSE:STZ) reported its Q3 earnings. Anyone who has followed STZ knows that it was the best S&P 500 consumer staples stock in 2012, as it increased over 70% during the year. That is quite an accomplishment for this sector, especially one that primarily sells wine. Constellation is clearly a hot item in this sector then. The questions that remains are: 1) Does the +70% run-up already factor in the new Crown import deal? 2) Is STZ now more of a beer company than a wine company?
Rather than describe the basics of the business, an investor should know that STZ is driven by a few things. STZ is engaged in the importation of wine, spirits, and beer. Its brands include Robert Mondavi, Ruffino, Kim Crawford, Svedka vodka, Black Velvet whiskey, and the importation of Grupo Modelo's brands (Corona, Modelo Especial, Pacifico, Victoria, and many others). It used to own St. Pauli Girl and still imports Tsingtao. Prior to the Anheuser-Busch InBev (NYSE:BUD) acquisition of Grupo Modelo on June 29th, 2012, STZ was the importer for Grupo Modelo via the Crown Imports joint venture. BUD owned a large stake in Grupo and due to the success of the Modelo brands against its own, BUD bought out Grupo. This came with a ~$2B payment to STZ for the cancellation and its share of assets in Crown Imports. However, STZ managed to obtain the full importation rights into the US from BUD. BUD did this in order to satisfy regulators who may have been concerned with a potential monopoly.
Industry:
Wine, spirits, and beer are the big sub-segments in the alcoholic space. Wine is the main product by revenue for Constellation, but its other segments are growing faster. STZ's wine mainly focuses on the premium priced wine over the value prices. The trends in the industry since the Great Recession have been:
Value wine over premium wine but it is starting to trend back to premium.
Off-premise continues to stay well ahead of on-premise and with stronger growth (Source: Bloomberg).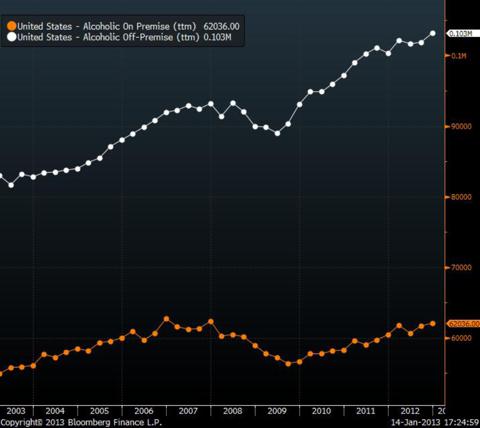 Spirits is the fastest growing of the three sub-segments, with vodka leading the way.
The beer industry is a tale of two different sub-segments as the entire industry has been slow single-digit growth, but the craft and imports segments. In 2011, craft beer was up 16.4% in volume against a 2% drop in volume for the entire industry: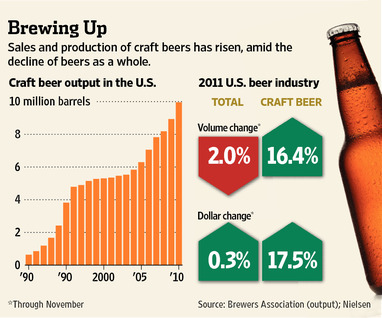 The beer market is still controlled by BUD and will be for the future as it controls the market and is in acquisition mode to control more. Grupo Modelo is a huge part of the global market and will help BUD grow (Source: Bloomberg):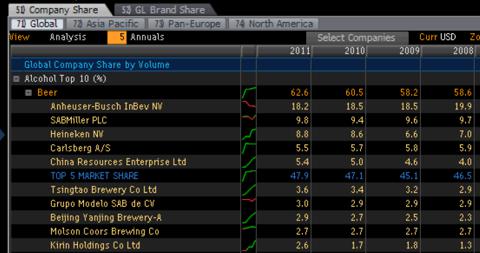 Spirits is centered on one company: Diageo (NYSE:DEO). DEO has the market share, strong brands, new acquisition of United Spirits in India, and a solid distribution system. No matter how much STZ wants Svedka and Black Velvet to grow, it will be no DEO (Source: Bloomberg):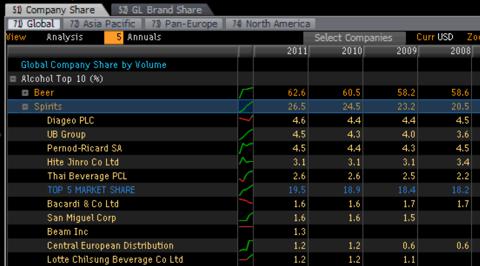 Wine is what STZ is known for and centers on. The biggest players in this space are private companies in E&J Gallo and The Wine Group Inc. STZ has been losing market share since 2008 in terms of volume as it has been divesting lower margin brands in favor of higher margins. This has gone against the trend of value over premium. The wine industry is comprised of many small players that take the majority share as a whole (Source: Bloomberg):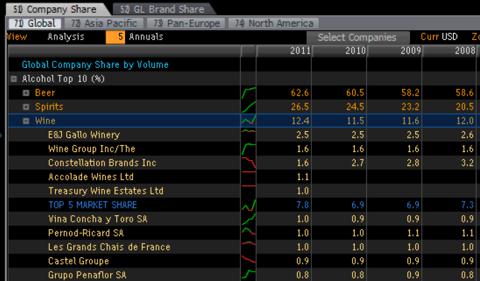 Input costs for all alcoholic beverage players have been volatile in recent years, especially for beer producers with barley. Wheat has struggled with droughts in various areas but is on the decline in recent months. Grapes are a big input for STZ. The spot price for grapes increased 18% Y/Y at the end of 2012 due to the volatile weather, including droughts and freezes in key areas (Source: Bloomberg).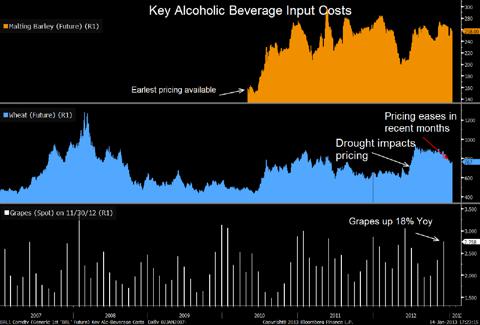 Constellation Brands
STZ's run in 2012 was astronomical for a consumer staples company. STZ's share price skyrocketed from $21.76 to $28.81 by July 2nd. This is roughly a 32% gain, as the market realized that STZ would be given a $2B immediate payout due to the dissolution of Crown Imports. The chart below shows the price movement during this time (Source: Capital IQ):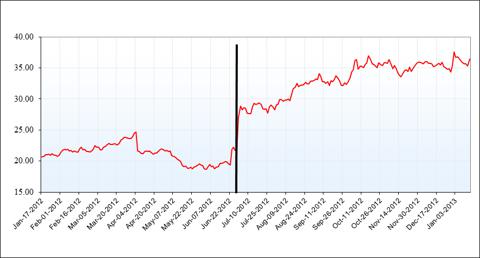 The following is the valuation and operating metrics as of January 16, 2013 (Source: Capital IQ):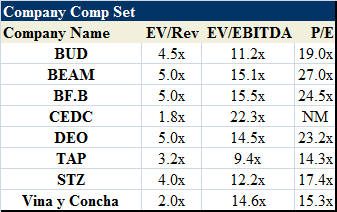 There really is no public company that is comparable to STZ as the majority of its revenue comes from wine. This will change when the importation of Modelo products is included in revenue in FY2014. STZ has higher input costs than peers and does not have the margins that peers have, despite it being a 'premium' focused company. By becoming more beer-focused, its margins will decline, as evidenced by TAP who has similar GPM despite being a beer-only company but a lower EBITDA margin. STZ's revenue growth has been lacking as wine hasn't really been growing. On top of this, STZ has the 2nd highest leveraged balance sheet as its debt/capital is 59.35% of capital! Some of this is from an increase in debt issued due to the new deal with BUD and two acquisitions in 2012. It is a highly leveraged company that is not growing as fast as other alcoholic beverage companies. The import of Crown into the US will help growth. BUD will still control the supply of Crown and could squeeze STZ with lower margins for the rights to distribute Modelo's products. In FY14, STZ will no longer be focused on just wine but will in essence double its revenue base with the added rights. This is why investors looking at analysts' expectations for STZ will notice that revenue will double.
From a balance sheet perspective, STZ is very unhealthy. As pointed out by Bloomberg, STZ has the highest goodwill-to-assets ratio of 34.1%. The industry only averages 13.9%. (Source: Bloomberg)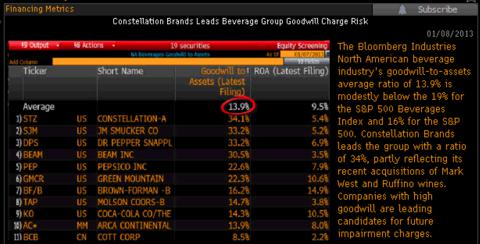 Eventually this goodwill could be impaired, leading to a sharp overnight decline in the stock price. STZ did not even want to acquire the remaining part of Ruffino but were in a way forced into it. The high amount of goodwill is a cause for concern. On top of this, STZ has had restructuring costs every year since FY2003. Part of this is due to management acquiring various brands or companies and then divesting them a few years later because it was not working how they thought it would. Another cause of concern is the average cash conversion cycle. It takes STZ almost a full year for its cycle, with some of this due to the fact that wine inventory is stored longer (Source: Capital IQ):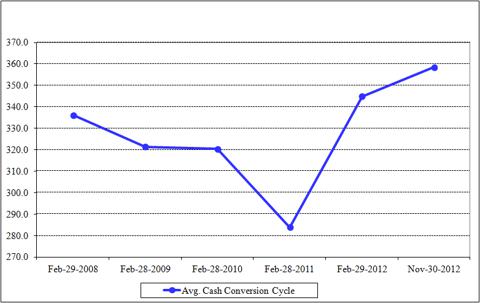 Between the high amount of debt and the large amount of goodwill, STZ should not be a prime choice for investors. However, there is further doubt on a going-concern basis for Constellation. A company cannot sustain having a higher amount of depreciation and amortization than capex. STZ has not been investing in itself enough and this is a going-concern (amounts in $mil - Source: Capital IQ):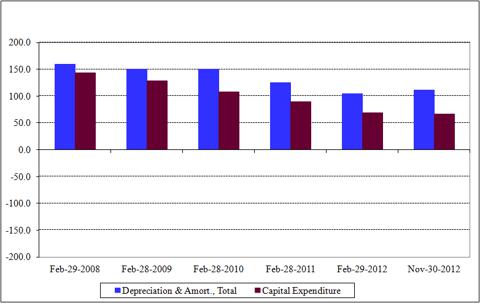 Without Crown Imports JV, STZ would have been in trouble in recent years. Crown has been the reason STZ has done so well, including in 2012. The following chart illustrates this point (Source: Capital IQ):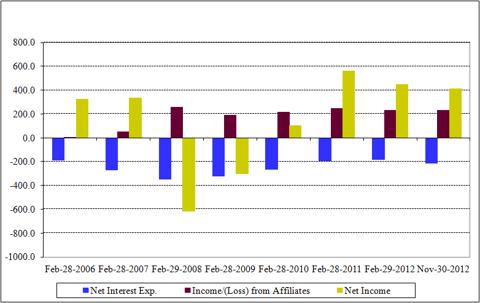 As shown, in 2008 and 2009, STZ had negative net income. However, the income from its equity investments was positive by about $200M. About 70% to 80% of this amount is attributable to Crown Imports alone based on extrapolated data. In 2010, equity investments brought in more than total net income. Without this joint venture, STZ may not have been able to pay off the interest on its debt in those years. Crown has been more than 50% of net income, thus showing the dependence of STZ on Crown: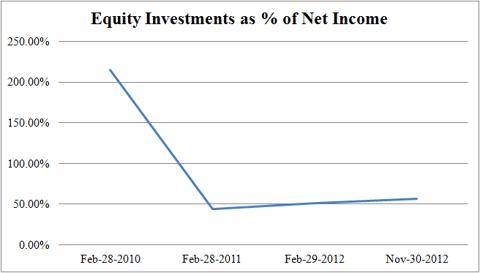 Clearly, STZ is dependent on the importation of Modelo. If either the acquisition of Grupo Modelo by BUD or the deal between BUD and STZ were to falter, STZ could be in trouble and experience a serious drop of net income. This is a huge risk that the market is not taking into account, especially as regulators may demand BUD divest more brands to acquire Grupo Modelo. This could turn into what UPS and TNT-Express just experienced. Either way, STZ is a loser if the deal does not happen.
Constellation also has a dual-share class. This is a debatable subject as dual-share classes are not always bad as long as value is being created for the shareholder. However, 'A' shares only have 1 vote and 'B' shares have 10 votes per share (Source: Proxy Statement). The majority of 'B' shares are controlled by the executives, namely Richard and Robert Sands (Source: Bloomberg). The Sands own a majority of the 'B' shares (NYSE:STZ.B) but not a whole lot of 'A' shares. This leaves the risk with the 'A' shares over the 'B' shares. In other words, STZ could be a private-company acting like a public company for financing purpose only. The question is whether or not the company is creating value for its shareholders. If one looks at the EVA of the company, management has been destroying shareholder value over the last decade if an 11% WACC is assumed: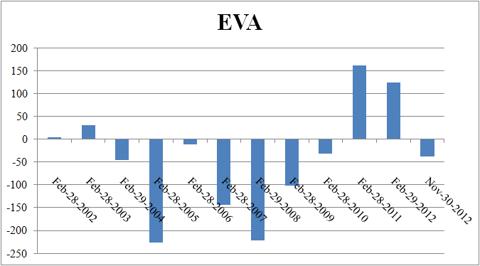 The dual-class share structure is thus a risk and not beneficial for shareholders. On top of this, the trend within the consumer staples sector and reason to own such a stock is shareholder return. This mainly comes in the form of a dividend. STZ is one of the only beverage sector companies that do not pay a dividend. Instead, management has a $1B buyback program in place as of April 5, 2012. This does reward shareholder value over the long-term. Upon looking at corporate governance again though, management's compensation is directly tied to the stock price. This further reiterates the fact that STZ is a company meant for the Sands to own and run and not the public.
Valuation
Upon valuing this company, I used a basic 11% WACC. The reason for the 11% is the fact that it is the averaged expected return of the market each year (Source: Bloomberg). This does not incorporate the corporate governance risks, management destroying shareholder value, or the potential deal with BUD falling out. This required rate of return should be higher. The reason an investor would own this company is due to the cash flow generation. The problem is, management does not always use this cash in the best interest of shareholders. The model I created achieves the $450-$500M free cash flow estimate by management for its next annual results reported in February 2013. My bear, base, and bull cases assume -6%, 6%, and 12% terminal growth, and terminal values of $10.7B, $12.2B, and $12.7B. The results are a discounted cash flow target of:

This would be at best a hold if the bull case comes true. The growth is already factored into this company despite the relatively low multiples. To give one an idea of what the market is thinking for STZ, the market believes that the earnings power of STZ is just as great as BUD. BUD will have global power of Grupo Modelo's products and influence over STZ. The P/E multiples are approaching one another. Does the market really believe STZ is just as great of a company as BUD? (Source: Capital IQ):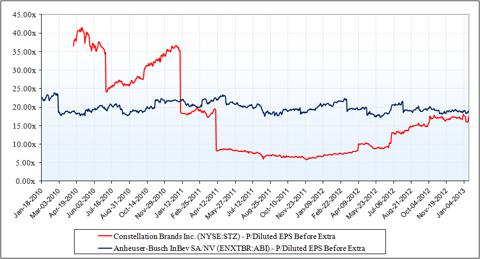 The market is not factoring in a lot of risk for STZ and is already past where it should be given the strong run-up in 2012. It is possible that the importation of Crown will takeoff for STZ, but it remains to be seen if management can create value out of this.
Disclosure: I have no positions in any stocks mentioned, and no plans to initiate any positions within the next 72 hours. I wrote this article myself, and it expresses my own opinions. I am not receiving compensation for it (other than from Seeking Alpha). I have no business relationship with any company whose stock is mentioned in this article.
Additional disclosure: I participated in the CFA Global Research Challenge in 2011-2012. The company we covered was Constellation Brands, so I have previous experience analyzing this company. There was no research/information used from that report. All information was found via Bloomberg, Capital IQ, 10-K, Proxy Statement, and various earnings calls. This was independent of that team's report. The report that the team published I put in over 250 hours myself into analyzing the company.