Facebook (NASDAQ:FB) shares have rocketed higher in recent months. As I described in my most recent Facebook article, it was all due to the promise of mobile. Facebook shares were hit hard because investors and analysts were confused about the company's mobile strategy, which is bound to be the lifeblood of the company going forward. But as Facebook has worked on its mobile strategy, now everyone thinks Facebook gets it. Shares of the company rallied from $19 to over $32 just a couple of days ago. Shares continued higher in the past week or so, as Facebook was gearing up for a special event on Tuesday, the 15th.
Rumors abounded about what the company would announce: some expected the company to reveal a phone, some thought it would be something in the search business, just to name a few possibilities. Unfortunately, Facebook's event wasn't that spectacular, and shares sold off on the news. Ultimately, it was again a case of "buy the rumor, sell the news". However, that's not necessarily a bad thing, and may provide an opportunity to pick up shares. Today, I'll discuss the Facebook event: what it means for the company, other names in the space, and where Facebook stands today.
The "big" announcement:
On Tuesday, Facebook announced Graph Search, a feature that will allow users to navigate the Internet through data Facebook already owns. For instance, Facebook users will be able to search across others' profiles. An example would be "Who are my friends that live in New Orleans?" The search tool would then reveal the necessary and pertinent information. This might be a useful tool for those planning trips, especially if they want to visit friends or relatives, and are unsure of where they currently reside. As the article above states, another possibility is "Show me friends who love Star Wars and Harry Potter", for someone looking to host a movie night or party. Graph Search is still in beta, and there is no definite timeline for when a full rollout will be.
According to ABC News, here's exactly what graph search is:
Until now, the search bar you saw when you logged in to your Facebook page wasn't very powerful. You could only search for Timelines -- your friends' pages, other peoples' public pages and business or product pages.

But now, after close to a year and a half of development, the new "Graph Search" will allow you to search and discover more about your friends and other information that's been put on the world's largest social site.
Who else does this impact?
Other than Facebook, there are three companies potentially impacted by this news. As you may expect, they are all names that have a focus on internet searches. They are Yelp (NYSE:YELP), Microsoft (NASDAQ:MSFT), and Google (NASDAQ:GOOG).
I'll start with Yelp, because that name has seen the biggest reaction to the Facebook news. For those that don't know the company, it is described as "an online urban city guide that helps people find places to eat, shop, drink, relax, and play based on the informed opinions of a community of locals in the know." Yelp shares dropped 6.2% on Tuesday thanks to the Graph Search news. On Wednesday, the company's rating was cut from market perform to underperform by Northland Capital Markets. Northland states that Graph Search "is highly competitive to Yelp, as the platform provides a unique alternative to local business search within the context of one's social network."
Yelp shares continued their decline on Wednesday, declining another 1.21% to $20.36, after recovering from larger losses earlier in the day. The stock had been on a nice run lately, but has lost nearly half of those gains on the Facebook news. Analysts currently expect Yelp to show 52% revenue growth this year, with a potential for about $208 million in revenues. If Facebook steals even just a small amount of that, it could be a huge hit to Yelp's growth numbers, which is why you've seen such a large reaction in the stock, down a total of 7.32% over the past two days.
The other two names impacted by this news are the two search giants, obviously Google and Microsoft, which operates Bing. Bank of America commented on the Graph Search news, stating the following:
Facebook currently has a partnership with Microsoft Corp, whose Bing search engine provides search results for external websites. Microsoft also integrates certain Facebook results into its Bing search results.

As of now, we do not see Graph Search as a threat to Google Web search. Looking forward, Facebook Graph searches could be competitive with certain categories of Google searches, such as Places & Maps.
Since Facebook already has a partnership with Microsoft, it might seem logical that this partnership could expand. This isn't the first time Microsoft search business has been brought up. I mentioned it a number of months ago. Facebook has always been looking to enter the search business, and it may be possible that Facebook eventually buys out Bing. Microsoft currently does about $2 billion a year in search revenues, but is losing a ton of money on search. Facebook might not see those losses. Given the Graph Search news, I think a Facebook purchase of Bing is a little more likely. Now, I'm not calling for an acquisition in the next week or anything, but down the road, it might make sense for Facebook to pick it up and Microsoft to move on.
As for Google, the search giant doesn't need to worry, not yet anyway. As the analysts above state, Graph Search is not a threat to Google Web Search. Down the road, Google Places and Maps might be affected. But as Zuckerberg told us, Graph Search is still in beta, and monetization is far off. Zuckerberg hasn't shrugged off the possibility that Facebook even works with Google down the road, as long as they (Google) are willing to honor the privacy of folks on Facebook.
Expectations are rising:
As I've detailed in my recent Facebook articles, analysts have been increasing their numbers on Facebook, when it comes to revenues, earnings per share, and price targets. As you can see from the table below, current estimates for Facebook's 2013 revenues are at the highest point I've seen. Earnings per share aren't that far off either.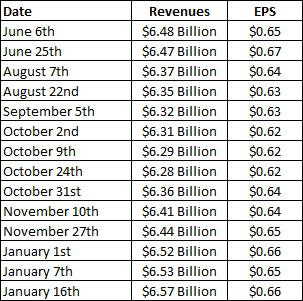 In two weeks, we'll get Facebook's fourth quarter and full year 2012 numbers. Those numbers will definitely impact where these estimates go from here. If Facebook shows that mobile is working and monetization is coming as planned, I wouldn't be surprised to see those 2013 estimates head closer to $7 billion and $0.75, respectively.
I mentioned in my last article that analysts have been hiking their price targets as well. During the summer of 2012, all we saw were analysts chopping their targets. The average target went from nearly $39 in late June to just $28 prior to Facebook's third quarter results. Since then, it's been up, up, and away. The article above even mentions Bank of America Merrill Lynch analysts hiking their target by $4 to $35. As you can see from the chart below, the average target is at its highest point since mid September. The average target has risen almost a dollar since my last article about ten days ago.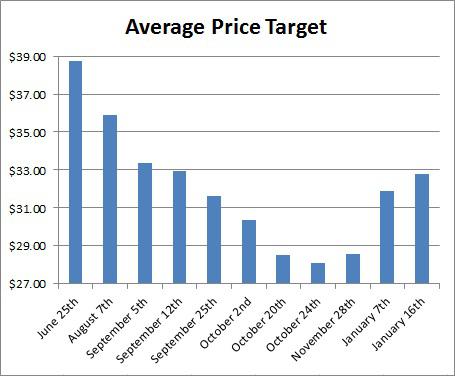 Final Thoughts:
Facebook shares have sold off since the Graph Search news, as investors seemed to be wanting a bit more. That's understandable, given the huge move in the stock over the past couple of months. Facebook shares closed at $29.85 on Wednesday, about 7.3% off their recent high. However, analysts have been continually raising their price targets and estimates. If you are one who believes in the long term future of Facebook, this recent decline may be a good chance to pick up shares on the cheap. We could see this phenomenon again over the next few weeks, if Facebook shares trade higher into the company's earnings report.
Disclosure: I have no positions in any stocks mentioned, and no plans to initiate any positions within the next 72 hours. I wrote this article myself, and it expresses my own opinions. I am not receiving compensation for it (other than from Seeking Alpha). I have no business relationship with any company whose stock is mentioned in this article.
Additional disclosure: Investors are always reminded that before making any investment, you should do your own proper due diligence on any name directly or indirectly mentioned in this article. Investors should also consider seeking advice from a broker or financial adviser before making any investment decisions. Any material in this article should be considered general information, and not relied on as a formal investment recommendation.