Whether you are new to dividend investing or you are a seasoned pro, it's likely that your main goal is to build a long-term portfolio that generates consistent income over time with as little volatility as possible. That said, over the next few weeks we will continue publishing our 10-part series which should help you build your own 6% DIY Dividend Portfolio for 2013.
In part 1, we highlighted the investment plan and strategy for the portfolio and parts 2-10 will highlight each sector in the S&P 500, including high-rated stocks within each sector that you should consider for your portfolio. Below is a schedule of the entire series. Please make sure to "follow" us so that you will be notified when each new article is published.
Consumer Discretionary
The Consumer Discretionary sector has been the best performing sector over the past 5 years (by far), with a total return of 77.1%. The sector is considered to be cyclical in nature and it has the 4th highest average beta (1.10) of all the sectors.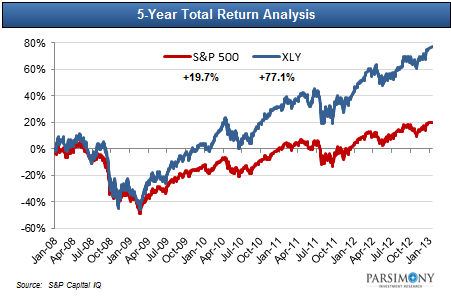 Below is a list of our top-rated dividend stocks in the Consumer Discretionary sector. Note that our composite rating ranges from 0 (lowest) to 99 (highest).

The sector is really made up of a mixed bag of industries, from restaurants and apparel to toys and home furnishings. That said, there are many stocks in the sector that you could argue are more of a "staple" than a true discretionary stock. As you can see from the table above, these top-rated stocks in the sector have an average beta of 0.84 and each has significantly outperformed the sector as a whole, averaging a 5-year total return of 146.4%!
The tables below highlight some of the key data points that we analyze when ranking our dividend stocks.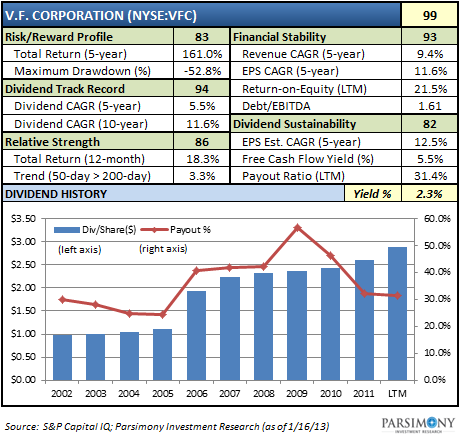 V.F. Corp. (NYSE:VFC) is one of only two stocks in our entire universe that has a rating above 80 in all five sub-categories. So it's no wonder that VFC carries our highest overall rating of "99." The company recently announced a quarterly dividend increase of 21%, which marked the 40th consecutive year of higher dividend payments to shareholders. Despite VFC's modest current dividend yield of 2.3%, the company has delivered shareholders a whopping 161% total return over the past five years.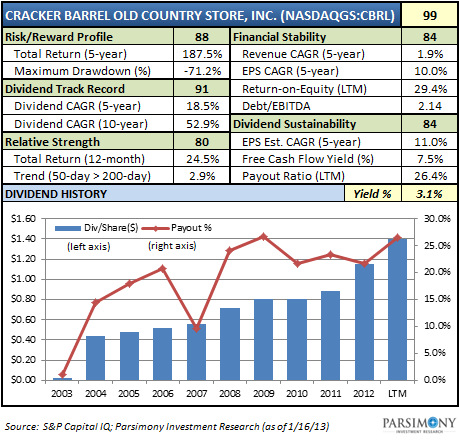 Believe it or not, Cracker Barrel Old Country Store (NASDAQ:CBRL) is the only other stock in our universe that has a rating above 80 in all five sub-categories. To be completely honest, this stock wasn't even on our radar until we developed our rating system, but we are glad that we found it! The company increased its dividend not once, but twice last year and 2013's dividend is expected to be 43% higher than 2012. This stock should definitely be on your watch list if you are a dividend investor.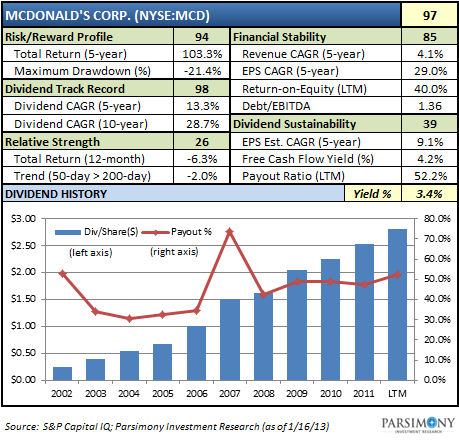 McDonald's Corp. (NYSE:MCD) carries one of our highest possible ratings for Dividend Track Record (98) and we believe that it is a great long-term stock for a DIY Dividend Portfolio. MCD has produced a very respectable 5-year total return of 103%, with a very conservative maximum drawdown of 21%. Even more impressive is the fact that the company has increased its dividend at a compound annual rate of 28% over the past 10 years! MCD is probably one of the best dividend growth stocks of all time.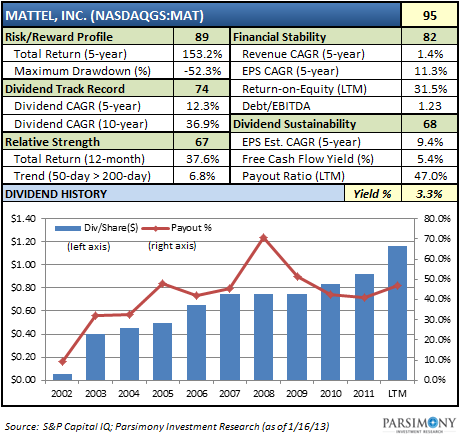 Mattel Inc. (NASDAQ:MAT) has increased its dividend to shareholders at a compound annual rate of 37% over the past 10 years, including a 35% increase in 2012. In addition, the company scores relatively well in all of our sub-rating categories (with a 65+ rating in all categories). If you were lucky enough to hold the stock over the past 5 years, you realized a 153% total return...not bad for a toy company!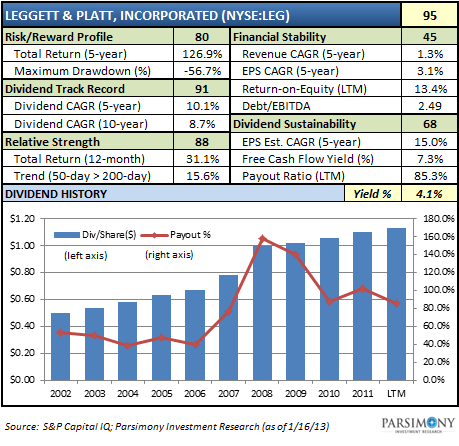 Leggett & Platt (NYSE:LEG) has increased its annual dividend for 41 consecutive years, at a 13% compound average growth rate. Only 11 members of the S&P 500 have a longer string of consecutive annual dividend increases. The company has delivered shareholders a total return of 127% over the last five years and it currently pays one of the highest dividends (4.1%) in the sector.
Conclusion
Any DIY Dividend Portfolio should include several stocks from the Consumer Discretionary sector. However, picking the right stocks in the sector has clearly made all the difference for investors. The key takeaway here is that many of the broader sectors have sub-industries that perform much better than the sector as a whole. This is part of the reason why we developed the Parsimony rating system. If you rank all of the stocks in a sector against their peers on a consistent basis, it becomes clear which companies are the strongest and which offer the best investment opportunities going forward.
Disclosure: I am long MCD, MAT. I wrote this article myself, and it expresses my own opinions. I am not receiving compensation for it (other than from Seeking Alpha). I have no business relationship with any company whose stock is mentioned in this article.