Stocks To Trade:
Today, we are looking at an earnings trade in Cirrus Logic (NASDAQ:CRUS), longs in United Continental (NYSE:UAL) and Las Vegas Sands (NYSE:LVS).
For an earnings trade, we are looking at Cirrus Logic. The company was our top pick for earnings season, and we believe CRUS could be ready for a solid move higher. The reason we are big fans is that the company looks like it could break out after some recent consolidation with good value and strong growth. There are a number of reasons to like CRUS. The company is expected to see over 28% growth in revenue alongside 13% growth in earnings. On top of awesome growth, the company has excellent value as well.
The company has a future PE at 8, which is a great value level for a strong growth stock. Doing some quick math, we can see where CRUS can move into and out of earnings. The current PE of the stock is around 19. The TTM EPS is 1.79. The EPS is expected to grow 0.98 year/year. If CRUS were expected to maintain a 19 PE, the company's stock price would need to jump to $52 per share. Now, we have no intention that the stock can jump to this level. Even to maintain a modest 15 PE, CRUS stock will have to soar to $42. For us, this means that a move may be coming.
The stock has a strong connection to Apple (NASDAQ:AAPL) as a parts maker for the company, and Apple earnings will be key to the company's movement. The recent push down for CRUS was due to the component order drop from Apple, but as Sterne Agee notes, that was already calculated in estimates. At some point, this stock has to start pricing like a growth stock. We like buying it on a push above $30, which has been recent resistance.
Trade: CRUS, Long
Buy Point: 30.00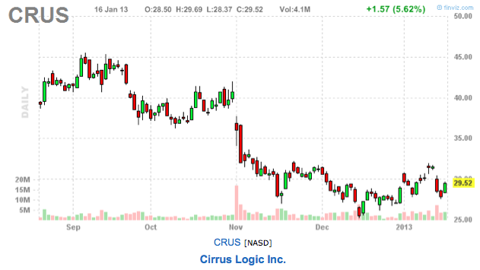 For longs, we like the looks of United Continental and Las Vegas Sands. UAL looks to be ready for a breakout higher as the company moves over key resistance at $26. We like UAL right now because we are seeing a lot of positives in the business. First off, UAL has very solid value at a sub-7 future PE ratio. Typically, we like to see good value at a future PE below 15. December results look promising and are what first piqued our interest in this company. The company saw its passenger revenue per mile increase 2.5% - 3.5% year/year. The company's consolidated load factor, which measures the ratio of revenue passenger miles to available seat miles of a flight, was up 1.2% year/year as well.
Earnings are expected to be down year/year, but 2013 is going to be a return to profits. The company is expected to see over 100% growth in earnings year/year along with 4% revenue growth. The airline sector, as a whole, looks promising. Goldman Sachs commented that the airline sector appears to be bottoming, and the results put forth by UAL suggest the same. The stock looks promising over $26 and could easily move to $30 in the next month or so.
Equity Trade: UAL, Long
Breakout Point: $26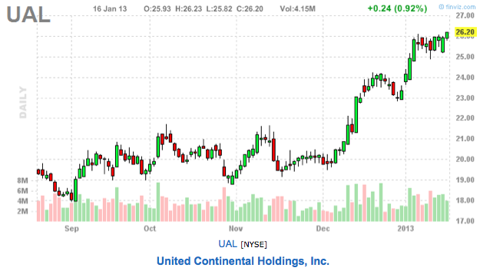 Another stock we are liking long is Las Vegas Sands. The casino gaming company has been strong over the last couple weeks as it heads into its earnings expected on February 1. The company is expected to see over 15% growth in revenue, and for the entire year, the company is expected to see nearly 20% earnings growth along with 15% sales growth. Both numbers are very exciting, and with such growth, the PE of 30 does not look too intimidating.
Can the company continue higher though? In the past ten days, both Lazard Capital and Stifel Nicolaus have noted that Macau traffic has been better than expected and that the market is pricing in. The Macau market is the key to LVS. The growth there is the key to the high valuations for LVS. With that market looking strong, we believe LVS will continue to be strong. Another strong note for the company is that gaming wins have been down in Las Vegas and Atlantic City by 11% and 10%, respectively. Both of those numbers will mean higher earnings for the company as well.
LVS has a lot of support right now, and we like the stock for a bull put spread to start a position. Despite our fondness, we like getting a spread going before earnings in case there are any surprises. If the stock drops a lot, we can get into the stock at a cheaper price. If the stock moves slightly down, flat, or up, we win as well. With a lot of positives for the company, we like the 46/44 bull put spread for the company worth about 10% right now for February expiration.
Options Trade: LVS, Feb16, 46/44 Bull Put Spread
Max Gain: 10%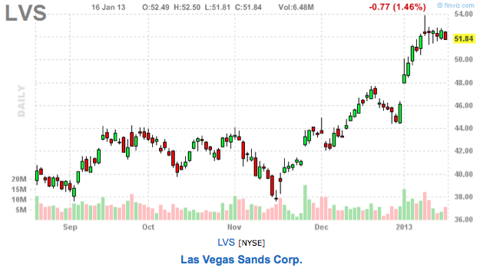 Thursday's Outlook:
The market looked weaker on Wednesday despite some solid earnings from Goldman Sachs (NYSE:GS), JP Morgan (NYSE:JPM), and other financials. Additionally, economic data was fairly solid for the market as well. Industrial Production came in better than expected at 0.3% vs. 0.2%, while NAHB Housing Market Index was flat. Despite that, the market was mostly held in check. Tech was stronger on Apple's rebound, but overall, things weakened slightly. None of the financials gave extensive 2013 outlook, which could have led to part of the uncertainty.
On Thursday, the market will be reacting to more earnings. The after hours reports of eBay (NASDAQ:EBAY) and reports from Citigroup (NYSE:C), Bank of America (NYSE:BAC), and UnitedHealth (NYSE:UNH) will be the big news for today. Additionally, we will be interested by initial jobless claims and housing starts. Look for more reaction to earnings than yesterday as investors start to feel more confident about how companies look in 2013.
Chart courtesy of finviz.com.
Disclosure: I have no positions in any stocks mentioned, and no plans to initiate any positions within the next 72 hours.
Business relationship disclosure: The Oxen Group is a team of analysts. This article was written by David Ristau, one of our writers. We did not receive compensation for this article (other than from Seeking Alpha), and we have no business relationship with any company whose stock is mentioned in this article.