General Electric Company (NYSE:GE) is a diversified technology and financial services company and a leader in all markets in which it competes. GE continues to focus on the energy and power infrastructure market. This article will provide the recent developments for GE and analyze its fundamentals before the earnings.
New Orders
GE's power conversion business won a $10 million contract to aid in the construction of the world's largest wastewater treatment plant in Abu Dhabi. GE stated, "it would supply eight pump drive trains, each with a power of 6.38 megawatts, as part of pumping station work that's making up a 40-kilometer (25-mile) wastewater tunnel to collect and transport used waters generated by the city." The wastewater pumps power by GE drive trains will be able to treat as much as 70,000 cubic meters of wastewater an hour when the plant becomes fully operational in 2030.
GE won a contract worth more than $500 million to supply turbomachinery equipment and services to Petroleo Brasileiro (NYSE:PBR), continuing to strengthen the relationship between two companies. As reported, the contract will serve the four new floating production storage and offloading units in the Cessao Onerosa region of the Santos Basin pre-salt fields in the state of Sao Paulo. The contract followed a September 2012 deal in which GE signed a subsea wellhead production contract with Petrobras worth nearly $1.1 billion.
GE announced that its zero liquid discharge, ZLC, wastewater treatment technology will be installed at two new 758-megawatt natural gas-fired, combined-cycle power plants in Texas. GE's ZLD technology will be able to reduce incoming water needs by recycling and reusing more than 98 percent of its own cooling tower wastewater, which is important for Texas while experiencing a drought in recent years.
NBCU Update
GE and Comcast (NASDAQ:CMCSA) could speed up the cable TV firm's plans to take full ownership of NBC Universal, in a deal valued at around $16 billion. GE could step up acquisitions and expand in industrial markets if it negotiates an earlier exit from NBCU. Comcast could step up the turnaround in the media business by accelerating its purchase of NBCU. As reported,
"Comcast acquired 51% of media giant NBC Universal from GE in early 2011. Comcast has been slated to buy GE's remaining stake in two stages, in 2014 and 2018. In September, however, Michael Angelakis, Comcast chief financial officer, floated the possibility of Comcast buying all of GE's remaining stake in 2014. Analysts have estimated that Comcast would pay anywhere from $7.8 billion to more than $10 billion for half of GE's remaining stake, with a price set at a market multiple of NBCU's EBITDA."
Ecomagination
GE is supporting the sustainable development initiatives of the Middle East region by showing its advanced concentrated solar panels and Jenbacher gas engines at the World Future Energy Summit 2013 (January 15 - 17), at the Abu Dhabi National Exhibition Center. GE's ecomagination initiative continues to build innovative solutions focusing on today's environmental challenges while driving economic growth. GE's technology competency is providing clean and sustainable solutions, especially for the power and water sector.
As reported, as of 2011, GE's ecomagination initiative had achieved more than $105B in sales and services since its launch in 2005. In 2011, $21B revenue was generated from ecomagination products and services while more than $2B was invested in research and development, continuing progress toward the company's goal of a $10B cumulative investment from 2010 to 2015. According to the report, among GE's ecomagination certified products is the GEnx aircraft engine, which has a 15 percent lower fuelburn during cruise than the platform it replaces. GE Aviation's advanced GE90-115B and GEnx jet engines have found wide acceptance by Emirates, Etihad, Air Arabia, Qatar Airways, Royal Jordanian, Jazeera Airways, Oman Air and Saudi Arabian. GE's ecomagination certified ZeeWeed membrane bioreactor system helps conserve and reuse wastewater, save energy and reduce environmental impacts.
Earnings Estimates
GE is expected to report its slowest earnings growth in three quarters. Last month, GE CEO, Jeff Immelt told analysts, "There's no doubt the fiscal uncertainty slowed activity in the fourth quarter. We still see good earnings growth in the fourth quarter across the industrial platforms."
As reported,
"The profit growth in the third quarter followed three straight quarters of falling profits. In the third quarter, net income rose 8.3% from the year earlier, while the figure dropped 17.5% in the second quarter, 11.6% in the first quarter and 17.8% in the fourth quarter of the last fiscal year. The company has seen revenue increase for two quarters in a row. In third quarter, revenue increased 2.8% to $36.35 billion from the year earlier quarter. In the second quarter, the figure rose 2.5%. The majority of analysts (63.6%) rate General Electric as a buy. That percentage is still below the mean analyst rating of its nearest 10 competitors, which average 70.8% buys. The average analyst rating of the stock, has stayed unchanged from three months prior."
GE is expected to report earnings that are up 10.3% from a year ago when it reports its fourth quarter earnings before the market opens on Friday, January 18, 2013. Analysts, on average, are expecting an EPS of $0.43, down from $0.47 estimated 90 days ago, with revenue of $38.76B for the current quarter ending in December, 2012. Analysts are estimating an EPS of $1.51 with revenue of $147.08B for fiscal 2012. For 2013, analysts are projecting an EPS of $1.67 with $149.56B revenue, which is 1.70% higher than 2012, as seen from the charts below.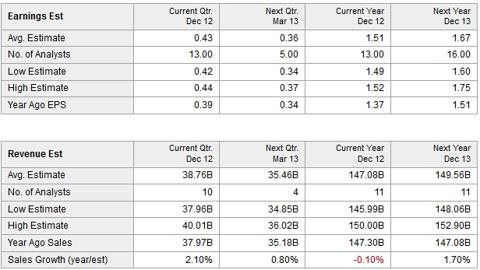 Source: Yahoo! Finance
Key Stats and Valuation
GE has an enterprise value of $568.32B and a market cap of $222.31B. GE has a total cash of $85.46B and a total debt of $431.48B. GE has a book value of $11.69 per share. GE generates an operating cash flow of $29.21B with a levered free cash flow of $29.62B. By using Morningstar's data, GE's key stats will be compared to its peers in the industry of diversified industries, including Siemens (SI) and United Technologies Corp. (NYSE:UTX). GE has lower revenue growth (3-year average) of -6.9, comparing to the industry average of -0.4. GE has a lower operating margin of 11.3%, ttm, and a higher net margin of 9.2%, ttm, comparing to the industry averages of 16.3% and 8.8%, ttm, respectively. GE has ROE of 10.8, which is lower than the average of 15.4.
GE has P/E of 15.8 and P/B of 1.8, which is lower than the industry averages of 17.7 and 2.6 but higher than GE's 5-year averages of 14.0 and 1.6. GE has forward P/E of 10.6, which is lower than S&P 500's average of 13.3. The PEG ratio for GE is 1.0.
Technical Analysis
GE closed at $21.20 with 0.38% gain on Tuesday. GE had been trading in the range of $18.02-$23.18 in the past 52 weeks. GE has a beta of 1.60. The MACD (12, 26, 9) is showing a slightly bullish trend, and the momentum indicator, RSI (14), is near neutral at 53.26 with a slightly bullish lean. GE is currently trading above its 50-day MA of $20.93 and 200-day MA of $20.33. The next resistance is $21.74, the R1 pivot point, as seen from the chart below.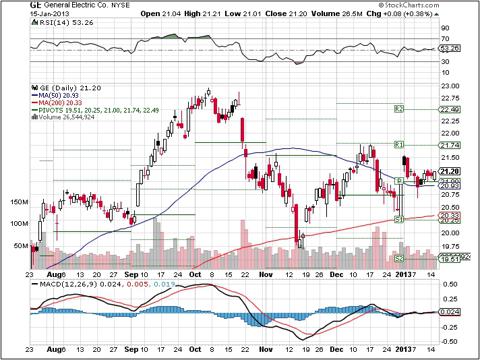 Source: StockCharts.com
Options Strategy
Our long-term bullish view for GE is maintained. The reviewed credit put options play of March 16, 2013 $18/$20 put, published on Dec. 27, 2012, is currently yielding 11.25% return on margin. For existing stockholders, who would like to reduce the beta during the earnings release, Jan 19, 2013 $20.50 put can be reviewed to remove certain downside risks.
Note: All prices are quoted from the closing of January 15, 2013 and all calculations are before fees and expenses. Investors and traders are recommended to do their own due diligence and research before making any trading/investing decisions.
Disclosure: I am long GE. I wrote this article myself, and it expresses my own opinions. I am not receiving compensation for it (other than from Seeking Alpha). I have no business relationship with any company whose stock is mentioned in this article.