Retrophin (NASDAQ:RTRX) is a thinly covered pharmaceutical company that carries, in my opinion, tremendous upside potential. The company has 4 drugs in the pipeline with one, RE-021, being in phase II trials. The differences between Retrophin and other pharma companies is not only in the types of drugs the company is developing, but in the business model and management style as well. What sets Retrophin apart?
Before getting into what Retrophin is developing, it is well worth the time to understand the founding of the company and discussing some of the insights as to what sets Retrophin management apart.
Retrophin was founded by a business man with a history in the markets that has a passion for pharma, has followed it for years, and over those years has come to understand how the science of big pharma works as well as the business itself. In essence we are looking at a company founded on a keen understanding of the science behind pharma combined with a laser-like savvy business knowledge on the inner workings of Wall Street. This is a rare combination. Then again, founder Martin Shkerli is a rare person himself.
Without going into a lengthy biography about Martin Shkreli, the essentials are this. Shkreli is a brilliant man that finished college when he was 18 years old, and prior to even getting his degree was already working for hedge funds on Wall Street. As it happens, as a hedge fund manager with a focus on pharma, a man like Shkreli became well versed in the subject of medicines from a scientific standpoint as well as a Wall Street perspective. This would prove to be invaluable as Retrophin came into being.
It was only a matter of time before Shkreli was managing his own hedge funds under MSMB, a company founded by Shkerli and his partner Marek Biestek. From the roots of MSMB came what equated to a potential with the development of a drug, RE-021, that would be the basis for the creation of Retrophin. Shkreli formed Retrophin and to this day owns half of the shares in the company. That is another important factor as investors consider this company.
Most investors only hear about a company when a product has already been released or after the big boys have had a chance to stake out their own claims. You are now hearing about Retrophin at the very early stages. Products are important, but never tell the whole story. In fact, more often than not a product or service is integral to the success of a company. One oft overlooked factor is company management and management strategy. Many companies manage for the stock price or manage so as to get onto Wall Street in a manner that creates hype and demand. That is all well and good when a manager has little skin in the game. When management has substantial skin in the game, such as half of the company, its direction is much more in line with the common shareholder.
Introduction To Retrophin
I had a chance to sit down with Shkreli and discuss Retrophin. Martin Shkreli arrived with a stack of papers that were obviously a presentation. I fully expected to be given a typical "sell side" sales pitch about why Retrophin would be a good investment full of forward looking statements and quotes about potential. To my surprise and delight, it was not at all what I received. Certainly the conversation did eventually get there, but the initial discussion was about general things like the market, the overall economy and our respective backgrounds.
Why do I bother to tell you this? Because I feel it is important to the very operations and ultimate success of Retrophin. I have met many CEOs, analysts, and Investor Relations people over the years. I have seen the focus on the stock price all too often. This conversation was not a typical one. What I learned was that Shkreli is fueled by passion for success. He is the type of person that is driven. He is the type of person that wakes up in the middle of the night and writes down his thoughts. Having that type of passion is the very soul of a company. It is the difference between typical performance and great performance. It is the difference between a start-up that makes it and one that falls by the wayside. Simply stated, Shkreli does not like to lose. Winning and success is in his DNA. As an investor it is good to know that the management of a company you are sinking money into has very specific paths to success already outlined.
A Non-Traditional Path Going Public
When I was preparing for my meeting with Retrophin one of the first questions I planned to ask was why the company did a reverse merger with Desert Gateway in order to go public rather than an IPO. Before I even had a chance to ask the question I already knew the answer from the initial part of the conversation. Shkreli was thinking like a business man with skin in the game. In many ways a reverse merger is a black eye of sorts. It has been viewed as the quick and easy way to become a public company and is oft done when companies that lack the finances to take a more traditional IPO route.
The simple answer to the reverse merger strategy is this. Shkreli is from Wall Street. He is aware that an IPO means giving up company stake to an investment bank and thus diluting the ownership value. Shkreli did not, at that point in time, want to give up part of his stake. Retrophin is a $50 million company. Simply stated, it was not cost effective to give up $9 or $10 million simply for the purpose of using a traditional IPO to go public. With the company in its infancy Shkreli would have given up 20%. Why not wait for better timing and then, when ready, cross that bridge under better and more controlled terms? Retrophin has plans for a NASDAQ listing and is anticipating that event happening in the next 6 months or so. When that time comes, it could have an FDA approval close to being a reality and a valuation that much higher. Thus, a delayed IPO or NASDQ listing makes sense financially for both the company as well as Shkreli.
While the route taken to go public may not have been traditional, the reasoning behind the move was sound. Again, Shkreli is not your average manager. My initial concerns were very much alleviated with the understanding of why the reverse merger route was initially chosen. What I see here is a focus on getting Retrophin to success without being beholden to the big banks many people love to hate.
The Business Plan - Orphan Drugs
Every day businesses launch. Many of these businesses are founded by identifying a need, measuring the cost to fill that need and determine if a profit can be derived from the process of fulfilling consumer demand. New York City has thousands of coffee shops all selling what amounts to hot water flavored from the grinds of a coffee bean. Some coffee shops thrive and others fail. Sometime it is not the product that is the problem but rather the location you are trying to sell coffee. Other times the failure is caused by the existence of countless other shops that are offering the same product but at a price point that is better.
Retrophin understands that pharma is a massive sector. It also understands that there are hundreds of pain pills out there on the market. The successful pain pill may not be the one that works the best, but rather the one that is best marketed. What happens if you stay away from that segment of the pharma sector and instead focus energy and resources on a segment that has very few, if not zero competition?
Have you ever heard of Focal Segmental Glomerulosclerosis (FSGS)? Probably not. I hadn't either. It is a kidney condition impacting some 50,000 patients that are mostly children. Treatment for FSGS is very limited, deals with the symptoms, but do not address the core issues, and most children that get this will have kidney failure early in life.
The patient pool for FSGS is quite small. If you were to apply the usual $1,500 per year for a drug you would conclude that the costs of developing a pill for FSGS will never be recovered. However, orphan drugs command much higher annual revenues. It is not unheard of for insurers to cover drugs that cost as much as $200,000 per year. In the case of RE-021 a price point of $25,000 per person per year is quite possible (see below under "product") This is exactly what Retrophin does. How the company does this is perhaps even more impressive.
In the case of RE-021, Retrophin did not develop the drug. Bristol Meyers Squibb (NYSE:BMY) did the leg work. The drug was developed for hypertension, and actually is very effective for that condition. The problem Bristol Meyers Squibb had was that with generic hypertension drugs on the market already, as well as scores of competing drugs, the viability and profitability of this drug simply made no sense. This is where the brilliance of Shkreli comes into play.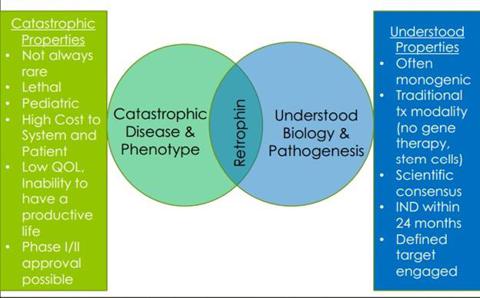 Shkreli saw that this particular drug was very good at reducing proteinuria in patients. FSGS patients suffer from too much proteinuria in their urine. This is caused because the kidneys fail to filter out proteins. Instead of the kidney acting like a coffee filter it is more like a spaghetti strainer. The larger holes in the strainer allow the proteins to make it through the kidney essentially causing more damage. If there is a way to reduce this damage the kidney can last longer, thus avoiding or delaying more costly transplants, dialysis, and a lifetime on immunosuppressant drugs to make a transplanted kidney viable.
Retrophin acquired the rights to RE-021. The business plan is as simple as identifying markets that are underserved and filling that need at a price point that can make these drugs viable in the marketplace. A positive side effect is this. In the case of RE-021 and FSGS, there are a very limited amount of doctors that treat the condition. Every one of these doctors is already aware of RE-021 and following the progress closely. Patients with this condition are also well aware of RE-021. The product is not yet approved by the FDA and already the demand is in place. Approval means a virtually instant consumer base without expending a single dollar on marketing.
The Product
Retrophin has 4 products in the pipeline. The flagship product is RE-021. As discussed above this drug is for the treatment of FSGS. RE-021 is in Phase II trials, and because it is the only treatment, early and expedited FDA approval is a distinct possibility. At some point in 2013 there is a very real potential that Retrophin could have an approved drug on the market and generating revenue for the company. Some key points:
· The New England Journal of Medicine states that the goal of therapy for FSGS is to induce a full or partial remission of proteinuria. Drugs like RE-021 have been shown to reduce proteinuria by as much as half.
· Only 20% to 30% of patients respond to the currently used steroid therapy. Those that do not respond are looking at kidney failure in 5-10 years.
· Most patients are pediatric (children)
· Dialysis costs insurers about $50,000 per patient per year
· A kidney transplant costs insurers about $100,000 per person per year
· RE-021 at a price point of $25,000 per person per year save insurers a lot of money, and offers a better quality of life to patients.
· 50,000 U.S. patients multiplied by $25,000 per patient implies a market of $1.25 billion that Retrophin would be the only player in
Other drugs in development include RE-024 for the treatment of PantothenateKinase Associated Neurodegeneration, RE-001 for the treatment of Duchenne Muscular Distrophy, and RE-003 for the treatment of Spinal Muscular Atrophy.

All of these drugs have potential, and all are in markets that are underserved by big pharma. Retrophin will essentially be the category creator of drugs used to treat conditions once thought not significant enough to chase by big pharma. In each case an expedited FDA process is quite possible.
Risks
No investment comes without risk. Retrophin is a start-up and right now is in the most risky phase of development. While RE-021 has had numerous tests by Bristol Meyers Squibb, and more tests by Retrophin, there is always a possibility that the FDA process lingers on longer than anticipated. Additionally, the orphan drug market may become more and more attractive to big pharma increasing the competition in the space with some major players. Developing, testing, and getting approval on drugs is an expensive endeavor. The cost side of the pharma sector can be substantial both in terms of cash as well as time. Should additional funding be needed there is always a possibility of dilution in order to raise operating funds. This makes early investment more risky and investors do need to consider these possibilities closely.
Summary
What we have here is a company that currently carries a market cap of about $50 million with a product, RE-021, that is getting very close to FDA approval. RE-021, with approval could take Retrophin from a company with no revenue to one with $1 billion in revenues almost overnight. There is definite potential here worth considering.
I like the product line, like the focus on orphan drugs, and like that the company is founded and managed by a man that has a very clear understanding of not only the pharmaceutical business, but Wall Street as well. I appreciate the fact that the principal behind Retrophin holds half of the company and carries a passion and drive for success. In my opinion Retrophin has the makings of a company that will be making waves on Wall Street in 2013.
We can all follow companies like Arena (NASDAQ:ARNA), Vivus (NASDAQ:VVUS), Orexigen (NASDAQ:OREX) and these companies carry a potential to do well. The issue is that the story of these companies is already known. While getting in now will likely still present upside potential, there is nothing better than getting in early on a pharma company prior to the masses figuring out it exists.
Disclosure: I am long RTRX, ARNA. I wrote this article myself, and it expresses my own opinions. I am not receiving compensation for it (other than from Seeking Alpha). I have no business relationship with any company whose stock is mentioned in this article.
Additional disclosure: I have no position in Vivus or Orexigen. I sold part of my Arena position on 1-14.