The financial sector kicked off a good earnings season for the industry yesterday, and we shall have to see if that carries through today as some other big names are set to announce their results, namely Bank of America and Citigroup. Regarding the 'Too Big To Fail' banks we thought that Fed Member Fisher's comments regarding the largest institutions were spot on and shows that eventually something will be done in order to rectify one of the negatives to come out of the bailout process. Reuters had a great article covering his comments from his speech yesterday, which readers can find here - it is well worth the read.
We have a few charts which we think will be of interest to those already pondering the implications of a big fight over the debt ceiling. The two charts and accompanying commentary are not meant to be political statements (as we ourselves are actually quite moderate) but instead meant to highlight what the polls are indicating and how outside sources could impact any potential fight. We hope readers find this useful and as always feedback on your interpretations are always welcome in our inbox or the comments section.
We have economic news due out today, and it is as follows (these are the consensus estimates):
Initial Claims (8:30 AM EST): 370k
Continuing Claims (8:30 AM EST): 3100k
Housing Starts (8:30 AM EST): 889k
Building Permits (8:30 AM EST): 905k
Philadelphia Fed (10:00 AM EST): 5.2
Natural Gas inventories (10:30 AM EST): N/A
Asian markets finished mixed today:
All Ordinaries - up 0.31%
Shanghai Composite - down 1.06%
Nikkei 225 - up 0.09%
NZSE 50 - up 0.66%
Seoul Composite - down 0.16%
In Europe markets are mixed this morning:
CAC 40 - up 0.43%
DAX - down 0.32%
FTSE 100 - down 0.05%
OSE - up 0.10%
Technology
Much of the talk lately, especially this week after the Wall Street Journal article discussing the drop in display orders for the iPhone 5, surrounding Apple (NASDAQ:AAPL) has been negative. The stock strung together a couple days of losses and even fell below the $500/share level as worry and pessimism surrounding the company's future growth prospects grew. Well yesterday saw a relief rally with the shares climbing $20.17 (4.15%) to close at $506.09 and part of this relief rally may have been due to talk of a new iPhone that could be released in June or July which, according to the rumors, would be an updated iPhone 5. In our opinion the company needs to release a version of the iPhone for the lower end of the market using older components and lacking some of the features of the regular iPhone. This could help the company boost sales not just here in the US but also overseas where consumers are less willing or unable to afford the current iPhone. It is either that or Apple seriously risks having created its own ecosystem and outpricing itself from the market - much like it did in the personal computer space.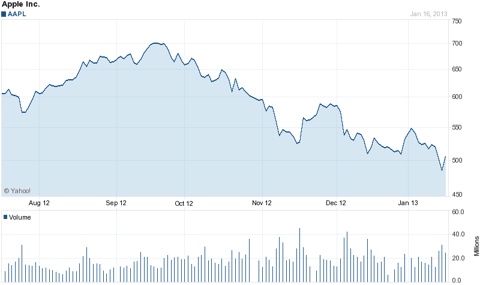 Chart courtesy of Yahoo Finance.
It has been a rough few months for Apple, and right now it looks like $700/share was more of a top than anything else. This could be one of those retracement consolidations before another move higher, but in recent history there have only been a few times when the negativity surrounding the company was this high and lasted for any prolonged period of time.
Finance
As readers will remember, during the financial crisis Citigroup divided itself into two companies with one having the bad assets and the other holding the good. This is similar to the idea pitched by Genworth Financial (NYSE:GNW) yesterday whereby the company will create a new parent company with the current debt all staying under the current parent company's umbrella. This is financial engineering at its finest and the move was applauded by the market as shares shot up after the company made the announcement. The move will effectively isolate the company from the mortgage-guarantee unit which nearly put the company out of business a few years ago. The insurer's share rose $0.72 (8.86%) on the news to close at $8.85/share after backing off from the highs of the day.
With Goldman Sachs (NYSE:GS) trading at a new 52-week high it seems that the company has finally worked its way out of the penalty box with its execution and improved operating results over the past few quarters. Yesterday's earnings report blew away the analyst estimates for the 4th Quarter as cost cutting continues and revenues moved sharply higher across key segments. Along with some of the other results reported yesterday it seems that this will be a strong quarter for those with trading operations but as more and more of the new legislation kicks in we are curious as to how this will affect the traders moving forward.
Manufacturing
General Motors (NYSE:GM) shares had been on a tear recently as the company had been hitting on all cylinders and announced that they would purchase shares back from the US Treasury in order to remove the stigma of the bailout from their brands. We were a bit skeptical of the market's initial reaction to the purchase of the government's shares above the trading price of the shares at the time, but even now the shares remain a bit above the announced purchase price level. That aside, yesterday the shares fell over 4% to $29.31/share after the company stated Tuesday night that they see lower margins with profits waning in the 1st half of 2013. The company believes that sales will pick up in the 2nd half of 2013 as the company will be releasing new models which they estimate will do quite well. Our guess is that the US auto market will continue to improve, however the margins for GM will remain rather stagnant until Europe's dismal automobile market begins to come back to life.
The situation surrounding Boeing (NYSE:BA) right now appears that it is worse than it actually might be. The issues with the new 787 Dreamliner have been well documented over the past few days, however yesterday the shares closed at $74.34/share after falling $2.60 (3.38%) on volume of 18.2 million shares and after the close new issues for the company arose as the Federal Aviation Administration, or FAA, grounded all US-based Dreamliners after the most recent issue in Japan. This kicked off a string of groundings in other areas of the world as Japan, Chile, India and Europe have all also moved to ground their 787s until it is understood what is wrong with the planes. One of the first lessons we were taught when growing up is that when buying an automobile you never want to be an early adopter of a new vehicle model that is just launched or a model which has been redone to update it as engineering and production issues plague those models when compared to models which only have aesthetic adjustments made from one year to the next. Right now it appears to us that this is the issue with the Boeing planes and that the fact these were built before the plane was certified and reworking was necessary during production.
It seems bad and unthinkable that a plane would have issues such as these, but we must all remember that there are hundreds of thousands if not millions of parts within these planes and the fact that they all work together in most instances is amazing. The plane was strenuously tested before it was certified, so this seems to be a few lemons in the first batch rather than an engineering issue - although it may be argued that a few of the components may have issues and need to be replaced, specifically discussing the new batteries here.
Chart of the Day
Another two for one special today as we want to point out that it is very possible that this debt ceiling fight may not be as prolonged of a fight as one is led to believe. Just as in the fact that investors only have so much financial capital to invest, politicians only have so much political capital to spend before they can no longer fight the big battles. With approval ratings taking a beating and polls turning down for many of the outspoken minority this battle might have been over before it started. Keep in mind many of these people have to run once again in two years an when they create an unfriendly and unstable operating environment it leads to business owners cutting down on political donations. In Washington it is all about poll numbers and the value of reelection campaign bank accounts.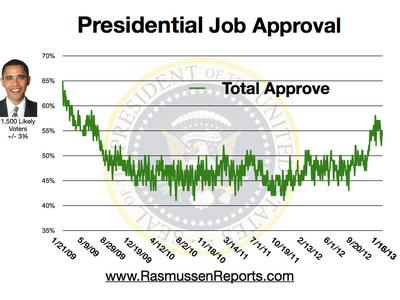 Chart courtesy of Rasmussen.
It is obvious who is winning in these debt show downs, and it is in fact the President. Love him or hate him the fact of the matter is that in our political system it is far easier for one man turn the tables on a group of people, especially when one considers that the vast majority of those in the US House and Senate get voted on by other areas of the country. It is quite easy to dislike those who you did not have a chance to even vote on, but even more so when the narrative groups them all together and the group shoulders the blame for just a small minority who holds up approval of bills, etc.
The table below really hits home with our comments about the group shouldering the blame. Congress overall sees its approval rating take a hit even though the issue is with but a minority in the majority party. That minority makes Congress as a whole look bad, but if these numbers are to be believed then has to be in awe that so many Republicans are unhappy with their party as a whole due to that minority. It is rather amazing what has taken place over the past two years in how happy self-described Republicans are with their own elected officials. Also of importance is that with Congress's approval ratings falling as a whole, most of the blame is being shouldered by Republicans as Democrats' numbers have held steady among Republicans and only increased among their own party members and those who describe themselves as independents.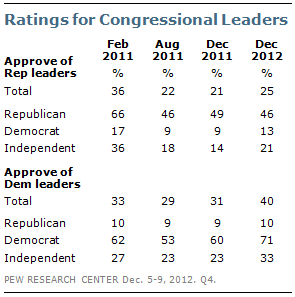 Chart courtesy of the Pew Research Center.
Disclosure: I have no positions in any stocks mentioned, and no plans to initiate any positions within the next 72 hours. I wrote this article myself, and it expresses my own opinions. I am not receiving compensation for it (other than from Seeking Alpha). I have no business relationship with any company whose stock is mentioned in this article.