Stifel Nicolaus came out with a Hold reiteration rating on SodaStream International (NASDAQ:SODA) on January 4th 2013 with a revised earnings and revenue outlook for 2013. Stifel Nicolaus', Jim Duffy says, "Behind new distribution and 4Q reorders, we are raising 4Q estimates from $118.7mn and $0.41 to $123.6mn and $0.43. With expectations for replenishment orders in 1Q, an improving environment in Europe, and FX changes since our last model, we are raising FY13 revenue and EPS estimates from $448.5mn and $2.55 to $475.2mn and $2.65. Note, these estimates include $0.15 incremental marketing expense associated with the Super Bowl commercial.
SodaStream has earned $303 million in revenues through the first 3 quarters of 2012. With the raised expectation from Mr. Duffy and Stifel Nicolaus of $123.6 million for Q4 2012, the firm is expecting SodaStream to produce revenues of $426.6 million for fiscal 2012, slightly above the average analysts' estimates. However, as we further analyze Mr. Duffy's projections for SodaStream in 2013, we are forced to recognize that his revenue projections only represent roughly 11% revenue growth for the year. The current analyst estimates for revenue growth for SodaStream in 2013 are at roughly 18%. It's hard to imagine growth slowing so precipitously YOY after such strong growth over the last 3 years.
Jim Duffy points to several concerns he has for SodaStream as the company enters 2013. However, it must be noted that he also suggests there is little visibility with machine sales growth in the U.S. outside of distribution growth which impacts his projections for 2013. Below are a few of Mr. Duffy's concerns and most recent recommendation:
Limited visibility to soda maker unit growth rates in the U.S. beyond distribution expansion in combination with a declining return on marketing spend keeps us cautious. At 18.1x our revised FY13 EPS and 12.9x EV / our revised FY13 EBITDA, we believe shares adequately balance the current business trajectory outside the U.S. against international business visibility challenges and questions about the sustainability of the U.S. market run rate. As such, we maintain our Hold rating.

Need to see a positive inflection in return on marketing spend, suggesting that brand consciousness has staying power and demand inspiration has gone organic.
Need to see evidence of positive inflection in unit sales per U.S. door with the anniversary of distribution expansion to lower per door productivity channel partners.
Need to see an inflection in U.S. churn rates suggestive of greater stability in the installed base and higher potential consumables sales.
Need to see distribution expansion of consumables to a meaningful grocery chain to improve the ease of access for the installed base.
Any continued decline in return on marketing investment suggesting each new customer is getting more costly to add to the franchise. Related to this risk, moderation of marketing spend to protect margins could compromise shelf space/positioning at retail and accordingly sales volumes.
Potential market reaction to moderation of revenue growth rates and the associated risk of multiple compression.
Mr. Duffy does make plausible arguments to practice caution when allocating capital to shares of SODA. The problem with attempting to analyze key metrics such as "unit sales per U.S. door growth" and return on marketing spend is that the product category is so young, a true trend has yet to present itself to the analyst community. Additionally, much of the data presented is backward looking as the analyst, by and large, only have data presented by SodaStream and we all understand that SodaStream only reports sell-in data, sales, etc.
This is why CO2 remains such a key metric to follow as an analyst because CO2 points toward future usage rates or revenues for the company. In the example of CO2, as it pertains to churn rates offered in Stifel Nicolaus' research report; the trend quarter to quarter and through 2012 points to greater usage by end consumer with a 1 quarter lag vs. 2 quarter lag. One can assume that this means users of the SodaStream system are utilizing their machines more frequently. However, it is important to note that with increased distribution in the U.S. via Wal-Mart (NYSE:WMT), it is still difficult to get ones hands around a possible trend. Having said that, it is important to note that Q3 2012 represented the first time since Q3 2011 that the CO2 lag for a 2 quarter period fell below 34%, indicating sell-in product from SodaStream is selling out quicker than in previous quarters. Also of key importance is that the lag for 1 quarter has remained constant over a period of two years, around 42% indicating a steadily increasing user base. As we analyze Mr. Duffy's analytical notes of interest, I would gauge that he desires to see the 1 quarter lag to rise considerably higher than the 2 quarter lag for CO2 in the coming quarters. This would solidify that the user base has continued to accelerate in quantity and in usage rates. Try as you may, this is just one of the reasons analysts find it hard to gauge the scope of future demand for the SodaStream system.
Another problem the analysts are confronted with when projecting numbers for 2013 or simply analyzing historical data on SodaStream's key metrics is that they are forced to contend with newly formed distribution partners absent the brick and mortar format. Yes, I'm referring to on-line sales. In Mr. Duffy's research report, he makes no mention of increased on-line distribution partnerships such as HSN, Walmart.com, Samsclub.com and homedepot.com (NYSE:HD). In 2011, SodaStream had only 2 major on-line retailers operating in the United States, Amazon.com (NASDAQ:AMZN) and Wayfair.com. How do analyst realistically gauge demand for machines on a per door basis with increased on-line sales YOY? Is there an adjustment in expectations that needs to be made? HSN sold more than 60,000 machine units in the second half of 2012 for SodaStream; I think an adjustment needs to be considered. With a company like Green Mountain Coffee (NASDAQ:GMCR) it is a little easier because the company is contained to distributing goods in North America, but SodaStream distributes goods in over 45 countries to date. This means SodaStream probably has deals with on-line retailers in a fair amount of international countries. During Q4 2012, SodaStream inked a deal with a leading on-line retailer in one of its newly developing countries. Unfortunately, this deal escaped every analyst covering SodaStream as it escaped their overall analysis.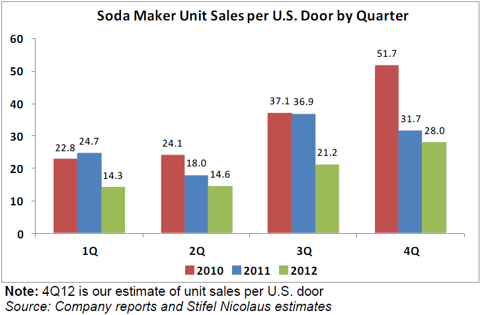 Naturally one does not desire to see machine unit sales growth over powered by on-line sales, but that is just one of the beautiful aspects of the razor blade business model. Buy your razor (soda machine) where you wish, at Macy's Wal-Mart or on-line if it so pleases you, but most consumers will buy the razor blades (flavor syrups, bottles and CO2) at brick and mortar retailers.
I'm eager to inform the investment community about the name of the most recent on-line retailer which has inked a deal with SodaStream, but unfortunately I'm not able to at this time. This new deal should also serve to expand its existing deal with the unnamed retailer. We will name the retailer in our Q4 quarterly preview which is to be released in early February. Along with this piece of insight, we have also discovered two other pieces of expansionary information which we will update SODA investors on with our Q4 quarterly preview. With all due respect (and I did preface by saying, "With all due respect."), I'm going to have to ask Mr. Duffy why Stifel Nicolaus hasn't discovered these two great finds? It's public knowledge, so… Okay, that was my one good ribbing and I will leave it at that.
My last point about unit per door growth will be very simple and something I have little problem expressing disappointment over from Stifel Nicolaus' latest research report and overall analysis of the apparently weakened unit per door growth metric from 2010-2012. Keep in mind this metric is strictly being offered by Stifel Nicolaus on the machines only. In 2010, you had the choice of buying a soda machine at either Williams Sonoma (NYSE:WMS-OLD) or Bed Bath and Beyond (NASDAQ:BBBY); that's pretty much it folks. In 2011 the number of retail distributors grew to include Staples, JC Penny, (NYSE:JCP), Costco (NASDAQ:COST), Sur La Table, Macy's (NYSE:M), Target (NYSE:TGT) Shopko and a host of other small retailers. Not all retailers joined with the full force of total company wide distribution of SodaStream products. In 2012, retail distribution continued to expand with company wide distribution to all Target locations, all Costco locations in Q4 2012, all Staples locations by Q4 2012, Bi-Mart, Fred Meyers, Lewis Drugs, Haggen, Wegmans, Sam's Club, BrandSmart U.S.A. and of course Wal-Mart . So my question to Mr. Duffy and Stifel Nicolaus with regards to their analysis and determination on unit per door growth rate is simple; why wouldn't it slow at a particular door with the availability to buy the machine almost everywhere now.
If Bed Bath and Beyond was the leading soda maker sales destination in 2010 wouldn't we have to assume that by 2012 and with the product placement by Wal-Mart and Target amongst others, that the home goods retailer would not see the same strength of sales? Having said that, Bed Bath and Beyond effectively sold greater than 100,000 Soda makers in the 8 week period leading up to Christmas by our latest channel checks. This tally represents a healthy YOY increase in the sell out rate for Bed Bath and Beyond which benefitted greatly from sales of the newest SodaStream machine, the Source.
So, for all of this unit per door growth weakness one can deduce from the verbiage of the Stifel Report, the graph supplied by the firm and SodaStream show two consecutive quarters of increasing unit per door sales and Stifel is projecting Q4 to show an increase as well. The graph and statistical data don't lie, but sometimes general analysis can point us in the wrong direction when we don't utilize the sum of the parts as I have hopefully done for the benefit of the reader here.
It is apparent that Mr. Duffy doesn't see broad scale, long term double digit growth from SodaStream based on the bullet points above and his projections for next year. Not too many of SodaStream's analysts do in fact. In his report, Mr. Duffy does not make mention of the additional expansion efforts coming in 2013 via Mexico, Argentina, India, Greece, China and let's also offer Poland depending on new manufacturing capacity achievements proposed by SodaStream's management for the second half of 2013 (most likely in Q4 2013 for manufacturing capacity achievements). Stripping out Poland, which is a very strong soda consuming marketplace, the 5 countries offered for expansion will prove to be taxing on SodaStream's existing manufacturing capacity.
Initial product placement or pipeline builds, even in proposed wholly owned markets such as Mexico and India will prove to drive strong revenue growth in 2013. Sell-out from new markets will admittedly require strong marketing dollars, but these marketing dollars should, at the very least, come out of more mature markets. This does prove to be a concern for investors as the company has expanded from 40,000+ doors in 2011 to over 60,000 doors in 2012. So while we at CLAG believe revenue growth will exceed Stifel Nicolaus' estimates, it remains to be seen what the bottom line EPS growth will be when adjusting for marketing spend.
Mr. Duffy did mention that he would like to see SodaStream find its way into a meaningful grocery chain next year. I would greatly agree with him on this point as SodaStream has recently entered smaller, regional grocers in Q3 and Q4 of 2012. SODA has a host of existing partnerships with major grocers around the world. Some notable considerations when speculating on a mid-term major grocery channel partner would be Kroger's (Fred Meyers, owned by Kroger's began distributing SodaStream products in Q4 2012) and possibly Whole Foods Market (WFM) which sells SodaStream products in its Bowery, New York store location and Kensington, England location. Could another grocer sneak in under the radar and sign a deal sooner? Is it plausible for Publix, Winn Dixie or Supervalu (NYSE:SVU) to distribute SODA products in 2013? Absolutely, but we will have to wait and see, keeping in mind that SODA management has determined in 2012 that run rates for large scale grocery chain adoption would be more achievable in 2014.
One other notable point in Mr. Duffy's research I would like to touch on now is the lack of details surrounding manufacturing plant efficiency. How will this factor impact EPS this year?
SodaStream is in the accelerating construction phase of its new manufacturing facility within Israel. Currently, the company manufactures products in at least 5 facilities in Israel. No single facility produces a complete end-user product. Here is a statement from Daniel Birnbaum, CEO of SodaStream International, explaining the negative margin impact from manufacturing operations currently:
Every day we are shipping between 30 and 40 double trailers inside of Israel to move product from facility to facility. I am talking about work in progress product. So a plastic injected component will go to a plastic painting facility. It will then go to an assembly facility. So that's a tremendous headache to manage and luckily we have skilled management who can do that. But it's also very costly, and that's where we are getting some of that negative impact on the efficiency on the gross margin. So we look forward to this facility and if we can beat the timeline then we would be the happiest.
In discussing the final stages of construction and systems implementation for the new manufacturing facility, Birnbaum noted that the process will take roughly a year and a half, but the margin benefits once completed will be tremendous as the company would have a consolidate manufacturing facility and cut logistic processes down dramatically. Some of the consolidation of facilities should take place by the end of Q3 2013 as noted by management. With mid-50% margins already being achieved by the company over the last 2 years, the word tremendous is resonating in my mind. Could we see 60% or greater margins by 2014? One doesn't throw the word tremendous around halfheartedly unless there is statistical evidence and research to back up such a claim, do they?
SodaStream and its investors will see the benefits of the razor/razor blade business model more so in 2013 than in years past as it begins to saturate markets and grows its user base. I can understand when Mr. Duffy says in his report, "Limited visibility to soda maker unit growth rates in the U.S. beyond distribution expansion in combination with a declining return on marketing spend keeps us cautious". What I can't fully wrap my arms around yet is why we're not talking about the 380+ Canadian Tire doors that were added in Q3, the 400 additional Staples added in Q3, the "In and Out" addition of some 600+ Sam's Club stores in Q4, the addition of Media Mart in Russia in Q4, the additions in Ireland and the UK during Q4, the additional doors in France and Japan in Q4? Why aren't we talking about that increased user base reflecting greater sales of syrups, bottles and CO2 going into 2013? And what if…what if SodaStream achieves its global expansion efforts such as we expect at capitalladders.com? How many doors and distribution deals will be made through Mexico, India, China, Greece and Argentina? While these deals should produce at least 300 doors initially (using Chilean expansion as a base comparison) one could expect more do to the fact that Mexico, India and China all support Wal-Mart stores in great volume.
Mr. Duffy notes that the anniversary of Wal-Mart in Q2 will represent a rapid decline in YOY growth for SodaStream because, by his estimations, there simply isn't another pipeline build of that size out there for SodaStream to comp to when FYQ2 2013 rolls around. He is right about that, but that's why the expansion efforts noted above in the later half of 2012 and going forward will serve to offset such a huge pipeline build that occurred in FYQ2 2012.
Mr. Duffy offered Stifel Nicolaus' clients a good assessment of things to look for from SODA in 2013. I feel his revenue expectation of roughly 11% growth YOY is underestimating the global demand and expansionary revenues the company will hope to see in 2013, but that is what makes a market. Does Capital Ladder advisory group expect to see the same 50% net profit growth in 2013 as we saw in 2012, absolutely not, but we don't expect to see 11% growth either.
Lastly, Jim Duffy of Stifel Nicolaus has a Hold rating on SodaStream with a price target to be determined. SODA is a tough stock and SodaStream International is an even tougher company to acquire market research and data on. Sometimes analysts just have to agree to disagree and hope for the best for their respective clients. In a recent communication between Mr. Duffy and me he had this to say, "Hi Seth, I know you have done a lot of work on SODA. Many are referencing your insights/data and you have successfully influenced their views on the stock."
Disclosure: I have no positions in any stocks mentioned, and no plans to initiate any positions within the next 72 hours. I wrote this article myself, and it expresses my own opinions. I am not receiving compensation for it (other than from Seeking Alpha). I have no business relationship with any company whose stock is mentioned in this article.