I set up my laid-back portfolio (LBP) on Feb. 23, 2012. Here I outline how I chose StoneMor Partners L.P. (NYSE:STON), my last entry, which I fictitiously purchased on Nov. 16, 2012, at $21.54, including the customary $20 as transaction fees.
Portfolio Performance Review
The table below shows portfolio performance since inception and comparison with the major indices.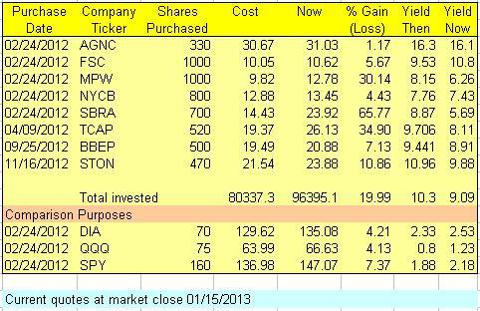 (Cost is comprehensive of $20 commissions.)
We can see that the portfolio is doing well. Both weighted-average yield of investment securities held and capital appreciation are outperforming the market.
A focus on dividend yield shows the following: With the 10-year Treasury at 1.86% and the portfolio average yield at 9.09% at the time of writing, the spread is quite wide. More good news is that portfolio is holding three companies that raised their dividends since inclusion, while none cut it so far.
Some Macro Perspective (Just A Little Bit Of It)
Of course we are worried about the fiscal cliff, government shutdown and the end of the world. But the Laid-Back Portfolio just doesn't care (too much). It is my opinion that to try and forecast the future is futile.
Portfolio goal is to keep it simple to manage, conserve capital (while possibly increasing it) and beat inflation with a starting dividend yield which is above inflation and a dividend growth rate above the inflation rate.
LBP was set to have around 20 different stocks when completed. Portfolio is still less than 50% invested. I will look for some further diversification if possible, even abroad if deemed appropriated.
Sure, there are short term uncertainties ahead, notably the debt ceiling issue, so I will wait at least one month before a new buy. There's no rush. As usual, I will try to look at a good company, with a good dividend yield.
Portfolio is not forced to buy. If we'll be able to buy during some market weakness, the better.
Diversification Matters
Laid-back dividend investing means that I don't want to spend too much time researching dividend-paying companies. I look for sustainability of dividends. But I also want to have some sector diversification.
To date, the LBP includes one mREIT, American Capital Agency Corp. (NASDAQ:AGNC); two BDCs, Fifth Street Finance Corporation (FSC) and Triangle Capital Corporation; two REITs, Medical Properties Trust (NYSE:MPW) and Sabra Healthcare (NASDAQ:SBRA); a bank, New York Community Bancorp (new ticker is NYCB); an energy MLP, BreitBurn Energy Partners (BBEP); and StoneMor Partners, L.P., one of the largest companies in the death care industry.
I'm about to introduce you to a company whose units I've actually owned (just a few, in fact) since late 2011.
Enter Vanguard Natural Resources, LLC
Vanguard Natural Resources, LLC (NYSE:VNR), through its subsidiaries, engages in the acquisition and development of oil and natural gas properties in the United States.
VNR is also (like BBEP) an energy-related MLP. As such, it is a limited partnership that is publicly traded on a securities exchange. It combines the tax benefits of a limited partnership with the liquidity of publicly traded securities (source: Investopedia). It pays distributions instead of dividends, and shares of ownership are referred to as units.
Key Points I Like
Vanguard increased distributions by more than 40% since 2009. It maintains a prudent coverage ratio to provide distribution stability and comfortable growth. With regard to price performance since 2009, I note that the results of management actions have been great. VNR has outperformed US Royalty Trusts, C-Corps and other E&P MLPs - not to mention the S&P 500. See slide below.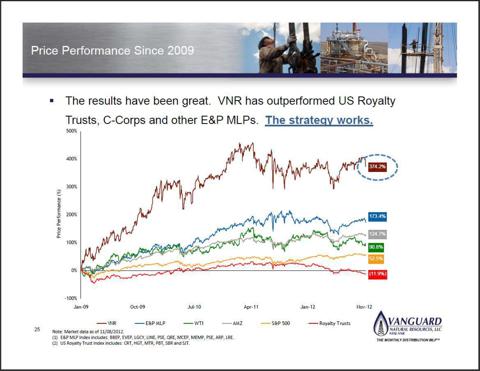 (Source: Company Investor Presentation).
Vanguard also has the highest distribution growth rate since its IPO in October 2007.
Conclusion
VNR is thus my next selection for my Laid-Back Portfolio. As usual, I'll (fictitiously) buy $10,000 worth of VNR units one day after publication on Seeking Alpha at mid-day prices so that I don't have an unfair advantage over you, the reader.
Disclaimer: Material presented here is for teaching and entertaining purposes only. It is not intended to be taken as financial advice, a recommendation to buy or sell the stocks mentioned above. Investing includes risks, including loss of principal.
Disclosure: I am long AGNC, FSC, TCAP, STON, VNR. I wrote this article myself, and it expresses my own opinions. I am not receiving compensation for it (other than from Seeking Alpha). I have no business relationship with any company whose stock is mentioned in this article.
Additional disclosure: I will not alter my positions within 72 hours of the time of publication of this article.