Man, what a hard day it was for Apple (NASDAQ:AAPL) shareholders. The bulls -- assuming there's any left -- witnessed the final strand of price support give out for Apple on Tuesday. The stock has been weak over the past few months, after it peaked in September around $705, but has found support near $500. In fact, often times, the stock would bounce before that, around $505 or $510. But not this time.
Shares of Apple were trading just below $500 in the pre-market -- at around $498 -- before plunging $15 or over 3% in early trading. The stock finally closed at $485.92, the lowest since early 2012, when Apple was in the beginning stages of its parabolic run after a blowout fourth quarter earnings result. So after riding the Apple-train from $450 (or lower) to $700 and seemingly on its way back to $450, many investors are left scratching their heads on what to do.
And what do you do? Do you sell out now? If you're a late buyer, do you cash out and take the loss? Hold? Honestly, it all depends on your view of the stock. Imagine how many investors are screaming at their monitors after coming home from work each day and are praying for a miracle in next week's earnings report.
Albeit, things did get better. On Wednesday -- the day after Apple cracked and closed below $500 -- the tech beast was able regain the $500 mark, with a 4% rally. It finally closed the trading day at $506.09. This was a big relief for current shareholders, but the trend is still down, way down.
Lets take a look at the charts before we go any further. Below are the 1-year and the 3-year charts. The 3-year chart will use the 50-day, 100-day and 200-day simple moving averages to show the long-term trend of the stock. The 1-year chart will show the epic parabolic, volatility-filled run over the last 12 months that has rocked shareholders. Below, the charts:
Apple 3-Year Chart :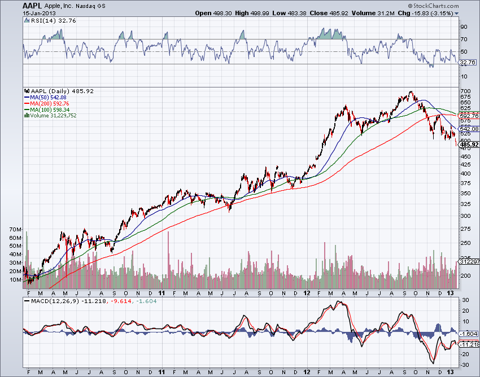 Source: Stockcharts.com
Apple 1-Year Chart :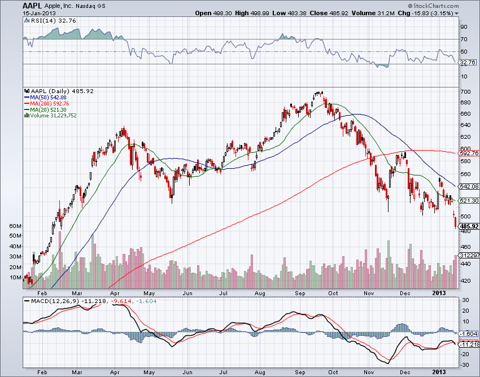 Source: Stockcharts.com
Where do we even begin here? The 3-year chart displays Apple's long-term support, which was the 200-day simple moving average. Not only did Apple severely violate the 200-day sma, but it formed what is known as a Death Cross, where the 50-day sma crosses the 200-day sma to the downside. There's no real support for Apple until it can start to claw back some of the smaller moving averages, such as the 20-day sma or the 10-day sma (not displayed).
But what's actually wrong with Apple? Obviously you can throw the charts in the trash, because there's no price support within a mile. Bulls need some reason to stay on board, or is that why so many have left? There's one huge block in the road, and that's sentiment.
The sentiment surrounding Apple is horrible. Every analyst, amateur trader/investor and headline is filled with pessimistic remarks regarding the once most valuable company in the world. Daily downgrades and supply chain issues seem to litter the financial media landscape, as this stock can't seem to catch a break anywhere. The latest is a headline from the Wall Street Journal, citing weak demand as the new downward catalyst.
But we've seen this play out before, only it was the BlackBerry, by Research In Motion (RIMM). RIMM climbed the latter to the top one day and was shunned the next. Much like Apple, RIMM was the coolest kid on the block, and then suddenly, the nerd who no one would talk to. But will their fates be the same? No, and here's why.
Apple makes great products. It didn't used to make great products, it does make great products. Find an Apple user -- and not the die-hard fan boys -- that doesn't love their iPhone or iPad. That's the thing though, Apple users don't just like their products, they love them. Recent surveys went on to show that an overwhelming support system exists for Apple, and will likely remain that way for quite some time.
For a more thorough analysis on these surveys, read my recent article here.
The accompanying paragraph and chart will help illustrate this fact from the Apple faithful. In a study by Goldman Sachs, it noted:
The survey found that 88 percent of the people who currently own an Apple device are highly likely or likely to stick with Apple for their next smartphone or tablet. The figure jumps to 96 percent among people who own two or more Apple devices. The survey also asked respondents about their decision to switch platforms if the upfront price to buy a device was discounted. 21 percent said that they would stick to Apple's ecosystem irrespective of whatever discount they were offered.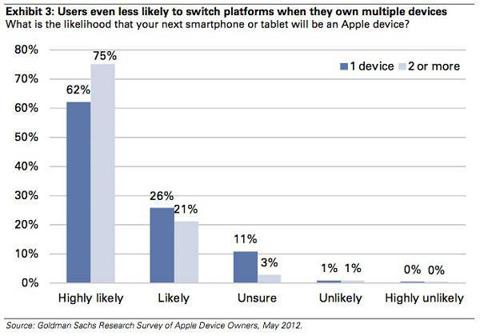 If Apple comes out next week and says they sold 40 million iPhones instead of 50 million, is this a crisis? Probably -- at least in the short-term. If Apple misses in any aspect, you can likely expect to see it selling off harder than it has in most investors' recent memory. Many will probably be kneeling beside their bed at night praying Apple delivers blowout numbers and saves the stock.
Unlike the typical Apple pattern, which involves buying in the weeks leading up to earnings and then a small sell-off, Apple will probably experience the opposite -- at least in the form of selling in the weeks leading up to its earnings report. Where it goes from there, nobody knows. The big question will be, supply issues or demand issues. If it's supply, that can be overcome, but if it's demand, that's a huge red flag in my opinion.
Before we go further, lets take a look at some of the growth Apple has generated. Below are two tables, the first represents revenue growth and the second represents earnings per share (NYSEARCA:EPS) growth. The tables will cover six fiscal years in total: the previous three years (2009-11), the current year (2012) and the next two year's future estimates (2013-14). Below, the tables:
Revenues (In Millions):
| | | | |
| --- | --- | --- | --- |
| Year | Revenues ($) | Change From Last Year ($) | Change From Last Year (%) |
| 2009 | 42,905 | +5,414 | +12.6% |
| 2010 | 65,225 | +22,320 | +52 |
| 2011 | 108,249 | +43,024 | +66 |
| 2012 | 156,508 | +48,259 | +44.5 |
| 2013* | 192,000 | +35,492 | +22.67 |
| 2014* | 221,000 | +29,000 | +15 |
(*) = Indicates that these are based on estimates for the fiscal years of 2013 and 2014.
Earnings Per Share:
| | | | |
| --- | --- | --- | --- |
| Year | Earnings Per Share | Change From Last Year ($) | Change From Last Year (%) |
| 2009 | 9.08 | +2.3 | +33.9% |
| 2010 | 15.15 | +6.07 | +66.8 |
| 2011 | 27.68 | +12.53 | +82.7 |
| 2012 | 44.15 | +16.47 | +59.5 |
| 2013* | 48.81 | +4.66 | +10.5 |
| 2014* | 57.35 | +8.54 | +17.5 |
(*) = Indicates that these are based on estimates for the fiscal years of 2013 and 2014.
As you can see, Apple has generated tremendous growth over the past few years, but it has begun to slow. That's not to say that the growth isn't worth investing in, but it is slower than in previous years. Should the stock price resume its uptrend (as impossible as it may seem at the moment), expect it to make its way up slower than the ride from $200 to $700 was a few years ago.
That's not to say these growth estimates can't be incorrect. I mean, who knows what Apple has up its sleeve these days. It wouldn't be foolish to assume that some form of Apple TV is around the corner, with current CEO Tim Cook hinting at it in a recent December interview, stating, "when I go into my living room and turn on the TV, I feel like I have gone backwards in time by 20 to 30 years." While this isn't any conclusive evidence, it sure does sound like it is.
And lets not forget a deal with China Mobile (NYSE:CHL) is being worked on. In some comment sections here on Seeking Alpha, I've read some people think the Chinese won't buy Apple's pricey smartphones. I think they're wrong. A recent article by fellow Seeking Alpha contributor Geordy Wang suggests that the Chinese will be more than willing to purchase a subsidized iPhone, and I tend to agree with him.
China Mobile has over 660 million subscribers and has the biggest network in the world. To put this in perspective, it has a bigger subscription base than AT&T (NYSE:T) and Verizon (NYSE:VZ), combined. So if you think Apple won't have any more success, you might want to consider how many more phones this giant still has to sell.
The proof? Apple is cool! Nothing has changed. I don't see the Nokia Lumia and Windows smartphones popping up all over the place. Granted, my personal opinion isn't the Goldman Sachs survey that I cited above, but honestly, is there any other cooler device? The iPhone has taken the U.S. by storm and no tablet has compared to that of the iPad, who essentially brought on the tablet revolution. And although it is not the major cash generating asset of the business, has anyone even seen an MP3 player in the last five years that isn't an iPod?
Okay, it's true that the best might be in the past for Apple, there's no arguing that. It revolutionized the music industry, then the smartphone industry and finally the tablet industry. What more could it possibly do? Perhaps TV or something we haven't even thought of. But investors can't be left investing on hope. They can't buy Apple and hope it will have good earnings and hope new revolutionary products will be out soon.
But until then, you still have cool. Apple is everywhere. We pop out our headphones from our iPod and answer a call on our iPhone from a friend -- who's calling from their iPhone -- who wants to FaceTime from their iPad, so we jump on our iMac. The revolution that Apple has started, isn't over yet. There is still China. There is still the U.S.
The fatal flaw with RIMM was innovation. Apple doesn't mind cannibalizing its own sales to keep market share. It will win at all costs. RIMM thought the BlackBerry was the king of the jungle, never to lose its throne. Apple doesn't think that way, and its time isn't up. For those who think Apple is done selling iPhones, I'm sorry, but they're wrong.
The stock might keep slipping. It might break down to $450, $430, even $400. After earnings, depending on the severity, it might be below $400. So again I ask, "where do shareholders go from here?" If I had one piece of advice, it would be this: listen to the conference call. Dissect the earnings report. Apple has made us a ton of money over the past few years, it has earned the right and the benefit of the doubt, at least in this instance. If there is a true problem, such as falling demand, you will find out January 23rd. When the numbers come out and we get to the bottom of this, you'll know if it's time to hold 'em or fold 'em.
There's a small note I make in my notepad, to help me remember what stock to buy and where to buy it at. I use a little note, "HOF," to decipher what actions I want to take. No, it doesn't stand for "Hall of Fame" -- although it could -- but rather, "Hand Over Fist." It means I want to buy loads and loads of so-and-so at a certain price.
For me, that would be Apple on a violent, irrational, non-demand related sell-off next week. I know that the growth Apple generated from 2007-2010 will not likely be replicated. I would rather miss a $50 run and get into the stock late, than get onboard now and have it fall $50 with more bad news to come. But the fact of the matter is that it is still growing revenues and earnings at double digit rates, has a current ((ftm)) P/E ratio of 8.5, and isn't done with its world domination run.
Note: Apple reports earnings Wednesday, January 23rd, 2012, after the close.
Disclosure: I have no positions in any stocks mentioned, and no plans to initiate any positions within the next 72 hours. I wrote this article myself, and it expresses my own opinions. I am not receiving compensation for it (other than from Seeking Alpha). I have no business relationship with any company whose stock is mentioned in this article.
Additional disclosure: I may or may not enter a long position in Apple after it reports earnings on January 23rd. I will not put on a short position.