A good friend of mine named Steven loves the writings of Spengler, and has been sharing them with me. For those who do not know who Spengler is – welcome to the club. Steven claims:
Spengler's identity is not publicized. From comments he makes, he is well-connected. I don't know his real identity and I've never read anyone else who claims to know who he is but he is well-known by his columns.
Spengler's recent column was The devil and Bernard Madoff where he not only railed on the fleecing of the rich and famous, but took a little side trip to destroy the notion that the housing bubble was solvable.
Basically Spengler view is that the demographic shift caused by the baby boomers will cause a 40% surplus by 2025 of large family lot homes.
Although the crux of the article was spot on target, I thought one of the arguments he used was suspect - a graph showing an inversion between people over and under 50 years old in 2015 (I suspect the graph was mislabeled also). According to the U.S. Census Bureau population in all age groups will grow between 2010 and 2020. Yes, the 65+ demographic grows much faster, but the whole population is growing and it should follow that overall more houses are needed.
Then it hit me – the problem is vacation and investment homes which this 65+ demographic owned. I found a 2006 USA Today article which stated that in 2005, 40% of all homes sales were second homes to baby boomers. I tried to find 2008 information from the National Association or Realtors (NAR) but the linked document was removed. So using three year old data the boomers own 20 million homes more than their primary residences.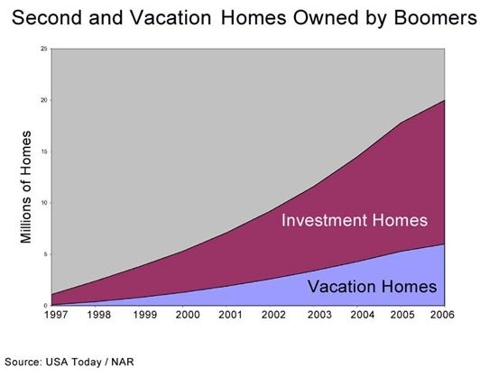 You will note from the graph that the build up of the 20 million homes begins in 1997 as this year the tax laws changed allowing home owners to duck capital gains on their vacation homes. Obviously the boomers were buying vacation and investment properties before 1997 so theoretically the 20 million homes are understated. There are 130 million homes in America.
As the boomers retire, the majority will sell either their main or vacation home. The investment properties which were intended to be cash cows funding their retirements are falling in value. In any event, these homes are rentals and not surplus to society – but the ownership must transfer to the next generation. And the next generation, as well as the boomers has been visited by the barber.
We indeed have a housing bubble – a need to sell housing bubble. This is colliding with the housing value bubble. I agree with Spengler's view, the housing bubble cannot be solved.
Disclosure: Author is a baby boomer with investment property